When Your Husband Has a Lower Sex Drive
Are all men primed to want more sex than their wives? Or do some husbands have a lower sex drive?
Most women come into marriage expecting a chase to the bedroom. All their lives they heard men crave sex like the air they breathe but women? Not so much.
So they prep and lace up for the chase in marriage. But for some, the pursuit never comes.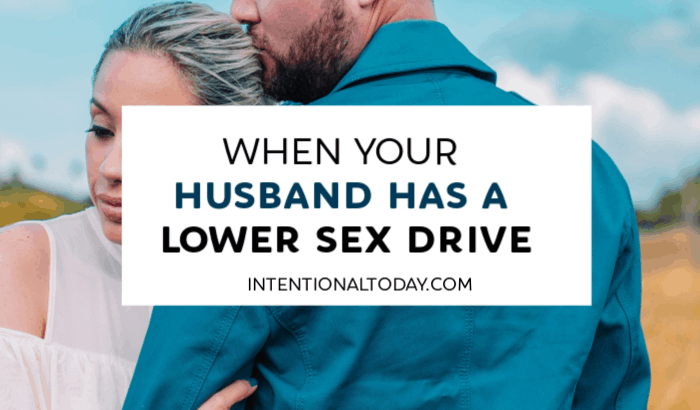 In most marriages, husbands do have a higher sex drive. Being visual creatures, many men desire sex as a more urgent feeling than their wives.* (See note below.)
But there are a number of marriages (about 15- 25 percent) where the husband has the lower sex drive.
There are different reasons for lower libido in men. These include low testosterone levels, medications (e.g., some antidepressants, blood pressure medication), illness, past sexual trauma, stress, aging, addictions, pornography.
Before we dive into what to do if your husband has a lower sex drive, let's talk about other important factors to consider;

1. Sex = effort
Not just mental or emotional energy but physical work and synchrony; husband and wife have to work as a team, understanding themselves and then sharing that knowledge with their spouse.
In other words, great sex is effort. Sadly, as a new bride, these mind-mapping, soul-sharing, body-acrobatics ways of marriage can be overwhelming.
So much so that if you are the chattering type, you might over-the-top communicate your exertion and exasperation to your husband. If you are the not-so-chatty type, you can feel so despondent and send these signals to your beloved.
Since no spouse wants to feel like the source of their mates distress, he may begin to withdraw unconsciously from this thing that is causing her to suffer. His backing-off can result in desire/arousal problems.
In such a case, it's not that he has lower libido; he's merely responding to a stressful situation the best way he knows how.
(And the fact that he might not be aware of psychology at work might throw yet another spanner in the works because now he thinks he can't perform.)
Indeed, a wife should share any discomforts and pain she's experiencing. But its important to learn how to share our concerns respectfully and maturely.
See these posts for communication tips Embracing My Need to Talk and His Need to Process I 6 Things Wives Do That Hinder Communication in Marriage
2. Stress affects desire
No one tells you (or you don't get it until later) that what happens outside the bedroom will affect what goes on inside it.
It was the case for my husband and I. We didn't know how our financial and communication turmoil threw us out of joint as newlyweds.
Our first year of marriage was awash with job loss, financial stresses and a poor business decision that shook us to our core.
But since we were newlyweds, all happy and excited about life together, we expected to coast along.
Not envisioning the rigors of real-life pressures on marriage, we were shocked when he craved his man space more than anything else. He was surprised when I was sad and clingy.
It's important for the new wife to recognize that not all sexual problems originate from the bedroom. Given time, and as the overall stresses of life improve, his sex drive can improve.
Let us look at what to do when your husband has a lower sex drive.
1. Pray
The instinctive reaction of a wife who feels her husband is dropping the ball is not "pray for him." Typically, it's confusion, fear, worry. And a bit of accusing. See this post To The Wife With The Higher Sex Drive.
But here's what I wrote in my book "The Wedding Night."
When an overall-healthy husband fails to pursue his wife sexually, there's a likelihood she will turn inward and question her desirability, even worth. That line of thinking feels reasonable because God did put in her the desire to be pursued by her mate. However, allowing the feelings and questions to take over will overthrow every effort towards healthy intimacy…excerpt from The Wedding Night
God, not fear or blame should be your first stop. There's so much going on within your heart, and your husband's that to just swing by and hope words/actions will fix the issue is imprudent.
Certainly, conversation must be had. Taking the other steps outlined in this post is essential. But if you bypass the Creator of sex; you'll pretty much be running into walls.
See these posts on prayer; 9 Scriptures to Pray For Your Husband. I Fasting For Marriage: The Benefits and How To
2. Investigate
There's a reason we ought to pray as a first option, not a last resort. Because if we just run out and do our thing, there's a high chance our actions will be misinformed and misinterpreted.
But when we prep our hearts through continued prayer, then we have the grace and peace for the next step. The work part.
"But he's the problem! He should be fixing it, why should I care this much if he's doing nothing about it?" Well, you care about his lower sex drive because you care.
Yes, he needs to take ownership because nothing gets fixed until he does. But as his wife, you're par of a team.
Investigating can take different forms: Read up on it (what you are doing now). Consider outside pressures (medical conditions, stresses). Check your own heart (take responsibility for your feelings and reactions first.)Talk with your husband.
Quietly check on his social media and computer history. The latter because you want to rule out any sexual/marital problems.
Porn has become a real cause for lower sex drive in many men. A man who is addicted/has a habit of watching porn can get so used to reacting to images and pictures that his whole arousal mechanism is compromised; he's no longer able to respond to his wife. See this post I found Porn on My Husbands Phone, Now What?
3. Be Realistic.
Perhaps you are the aggressive extrovert who loves to take the lead, and you married a guy with a laid-back temperament. His mellowness in the bedroom should perhaps not surprise you.
Not saying his none-pursuit is okay. But taking his personality into account can be helpful, as you work on restoring balance.
Also, if you are the wife who had one-too-many headaches and "not-tonight," i.e., rejected his sexual advances for an extended period of time, your husband may have switched off.
If you have worked on yourself and changed your perspective, your guy might need time to adjust to the new you. Please check out this excellent blog –TheForgivenWife.com: Chris (a wife) shares her journey of refusal and control and how God changed her and how He can change your marriage too.
4. Get Help.

One of the hardest things I had to do as a new wife was gather my wits and open up to a mentor.
It was pretty early in the marriage, and he waved our modest worry with "Nothing to worry guys! You are newlyweds, and are just tired! Give it time." Well, shortly after that, my husband lost his job and stress shot up.
If your husband has a lower sex drive, or if you are facing hiccups of any kind, talk to somebody. And don't give up!
Just because a girlfriend didn't understand you ("you are so lucky to have a husband who doesn't want sex all the time!") doesn't mean you have exhausted all options.
My husband and I continued hanging out with our mentors for post-marriage counseling, and I can't tell you how much their affirming counsel helped us.
So get back to your mentor, pastor, counselor or doctor. Encourage your husband to see a doctor. And be ready for him to wrestle with that. Here's what I wrote in The Wedding Night;
Many guys struggle to see a doctor for less sensitive matters, so agreeing to see a doctor for libido issues can be hard. As his wife, you can help explain how his lower drive might be a symptom of an undiscovered medical condition. Essentially seeing a doctor is decent preventative care. When it's all said and done, he's still responsible for his health, and you cannot force him to see a doctor. But you can encourage him by reading up on the condition and sharing titbits and encouragement… excerpt The Wedding Night
A lot of times, newlywed wives would rather die than admit their little love is struggling. But one thing I discovered? Pretense won't give you a good marriage. But honesty and authenticity can.
A Resource to Help
There are more than four things (6 in total) a wife can do when her husband has a lower sex drive. In The Wedding Night: Embracing Sexual Intimacy as a New Bride, I cover more ground as far as his libido is concerned.
Also, I show you how God wired you and him for sexual intimacy and how to make it work. We slice out the myths and find answers to your silent questions so you can become a sexually confident wife. Find your freedom here.
Buy Now Amazon Kindle I Amazon Paperback I Nook I PDF I PDF UK & Europe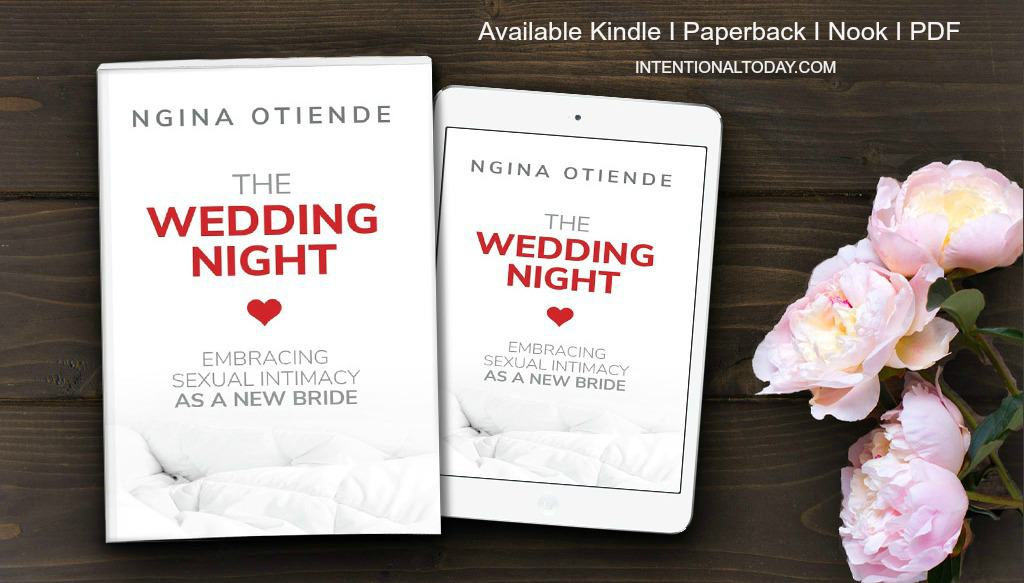 *Note: After almost a decade of wife-ing, researching and learning from other wives, I now know this: it's not that most women don't want sex. We just need to understand and accept our arousal process. And as Sheila Gregoire says, our husbands need to jump on board and make it pleasurable for us too! A lot of times what we think is a lack of desire is merely a misunderstanding of our sexual wiring. I break down the process and explain it in "The Wedding Night."