10 Things Every Bride Should Know Before Her Wedding Night
It was almost 7 pm and my feet were tired.
The hair pins were digging into my head, my make-up was gone, the wedding dress was uncomfortably tight around the waist (note to the bride – a snug fit around the waist will feel tighter after a meal!)
And our good friend had driven off with our honeymoon luggage.
One of my girlfriends offered to help out. Go to her house and have a quick change of clothes.
My husband gave me that look that I've come to understand means "Not the greatest idea?"
Starting our first night at a girlfriend's house instead of a honeymoon suite was not the plan.
And so it was, after a long event-filled happy day, that we finally walked into our honeymoon hotel.
Finally. Just the two of us.
The start of our marriage.
An Update: After one million views, vibrant conversations and emails with brides and grooms around the world, this article has been expanded and is now a book! The Wedding Night: Embracing Sexual Intimacy as a New Bride is a no-fluff, down-to-earth resource to help the engaged and newly married woman become sexually confident in marriage. Check it out on Amazon. Update 2! The Wedding Night book is no longer available for sale, pending revisions and updates!
The Wedding Night
Many of you reading this post are past your wedding night because I write to newlywed wives. However, many brides-to-be are planning for their wedding night (one of my friends is getting married this week!)
I hope we can turn this post into a resource for soon-to-be brides and newlyweds.
For the grooms: I didn't forget you! Please read 12 Things Every Groom Should Know Before His Wedding Night. If you are a bride reading this, make sure to pass it along to your handsome groom!
Without further ado
10 things every bride should know before (and about!) her wedding night
1. Take it slow
It's been a long tiring journey, planning for your wedding.
The running around, the planning, the actual wedding day, it will all take a toll on you and your beloved – mentally, emotionally and physically.
By the end of your wedding day, you'll be tired though chances are you might not even feel it (that adrenaline thing can lie!)
My husband and I knew we were tired. Plus I was recovering from chicken pox, so my tiredness was on the double.
Our plan for the honeymoon night was dinner, lots of cuddles, massage, plenty of rest and sleep.
But things didn't' go according to plan! The saving grace was that we had talked about slowing down, so we were able to extend a lot of grace to ourselves later.
"Slowing down" is easy to say, but not so easy to follow through because you feel like you've been waiting forever!
So you'll need to discuss with your husband-to-be and be on the same page. Have a rough idea how the evening will play out.
For example, a typical Kenyan wedding ceremony might last the whole day. Afterward, a couple will have a long drive – or flight – to their honeymoon destination.
There's only so much you can do after being awake and active for almost twenty-four hours.
There's no hard and fast rule but if you can plan to ease into intimacy, the better the evening/night will be.
2. You won't know everything
Past sexual experience does not automatically make you a "pro" on your wedding night. If anything you might have some unlearning to do (See # 3)
Also on this first night, you might want to err on the side of less "wow".
Perhaps you want to wow each other on your wedding night. You want your night to be memorable and intimate and score a 10 out of 10.
I am not trying to be a wet blanket because there's nothing wrong with planning to wow each other. But sometimes super high expectations can set you up for serious disappointment when things don't go according to the plan.
It's time to shorten the intimacy learning curve and enjoy sex sooner, not later! You don't have to stress about sex! Get on the road to better intimacy in marriage. Amazon Kindle I Amazon Paperback I Barnes and Noble Nook I PDF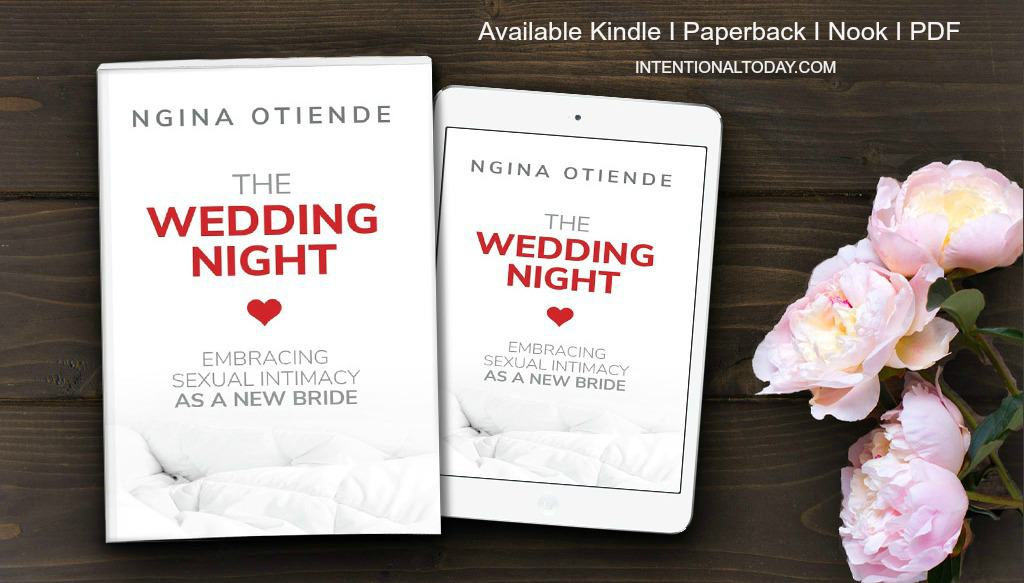 It's so much easier when you come to your wedding night with an open heart and mind. Not because you don't have any healthy expectations but because you're goal is mutual intimacy, not gymnastics. Keeping an open learning posture means you have anything to lose but everything to gain.
So prepare to become a student of your spouse, not just on the wedding night, but for the rest of your married life.
3. Shut the doors to your past
I found this excellent podcast, and you might want to listen in if you are struggling or have ever wondered about sexual history. (it's just 6 minutes long)
Or maybe you come from the other side of the camp- you feel completely clueless about a wedding night because you are a virgin. It's easy to feel clumsy and foolish, easy to begin to think that you'll never learn anything.
There's a little truth in there; you will always be learning something – better get comfy in that student seat! But the whole truth is that you can learn.
No matter what camp you fall under, engage with the truth that you can learn.
4. It might be awkward
I had no idea that one can kiss and breath at the same time! (Yeah, that.) So I held my breath on our wedding night..and nearly fainted!
Okay, I did not faint, but I was breathless lol.
So your delicate lingerie might snap, you might fall off the bed, you might dislike the feel of lubricant, you might gawk, feel your toes curl. (Hopefully not all of them in the same night!)
Here's something to remember – making love is not a precise process. It's not like the movies!
Making love can be awkward, messy and hilarious! Doing it for the first time can be twice as awkward, twice as messy and twice as hilarious!
So you'll need to bring in your "easy genes."
Feeling awkward and thinking of hanging out in the bathroom till you die of old age? Well, be gentle with yourself.
Tripped on your elaborate pair of heels? (see why #2 is such a good idea?) Laugh it off and get along.
Your beloved is going through as much awkward himself and taking things lightly will help both of you.
These awkward moments are "naked and unashamed" in motion; you are learning to be vulnerable with each other.  And making fun memories!
5. Communicate
There's no other place where spouses hope their mate will read their minds the most like the marriage bed.
And you'll discover this on your wedding night, that you might sort-of hope you'll figure out each other without a lot of input from each other.
The reality of the matter is that you are learning each others bodies, so it's not like you are expected to deliver a whole thesis.
As we pointed out in # 2, you don' know everything, it's your first night together (even if it's not, it's still the first night as a married couple)
So you'll need to begin to learn how to communicate and engage, to let each other know what's going on with you.
And to let him know what's going on with you, you'll need to understand what's going on with you first. So tune in and listen (see #6).
Don't fall for the lie that "he's the man; he'll figure it out" He won't figure it out because he doesn't live in your brain. And even if he did, his mind works very differently because he is not you!
So if it hurts or you want to try something else or if you are sore and want a break for a few hours, talk to each other, communicate.
6. You can't just lie there and do nothing : )
It's said that the biggest sexual organ in a woman's body is her mind. That's no old-wives tale.
I remember having a thousand and one thoughts buzzing through my mind –  the guests, the food, the dancing, the music, the ceremony.
And the TV running in the background; I was distracted to pieces, but I did not know what I know now – that sex begins in my mind.
We began to read mentor-recommended intimacy resources a month to the wedding and it was super helpful.
Bottom line, get a resource and learn something. Begin to unlearn untruths and learn the truth.
My book, The Wedding Night: Embracing Sexual Intimacy as New Bride addresses a lot of the new-bride questions: the practical, the emotional, the sexual and the spiritual. You don't have to be stressed about your wedding night.


7. Sex might hurt a little
The first time I heard that brides bleed on their wedding night, I had images of a blood bath in our wedding bed. Not trying to gross you out..but we can be mixed up and loopy about the wedding night!
The first night might be uncomfortable, but that's all it is (or should be)
I like how J Parker, a Christian sex author puts is. Concerning sex on the first night, she says
"You will be sore, just like you were after your first aerobics class. Hey, you're using muscles you haven't used before. What do you expect? But just like exercise, you shouldn't respond by deciding it hurts too much that you have to stop doing it. Be gentle, be careful, but keep up the "exercise." Your body will get used to it, and sex will no longer hurt."
Be gentle, be careful, but keep up the "exercise."
On the other hand, if sex hurts too much, see your doctor immediately. Here are 13 reasons why sex might hurt.
8. The wedding night is not the end, but the start of your life together
Here's the main thing I'd love for you to take away from this post.
You don't have to have a perfect wedding night. In fact, most couples will tell you that they did not have a picture perfect wedding night.
But they loved it anyway.
With all the embarrassments and little issues, it was the start of their married life, and they wouldn't trade the experience for anything. There's so much to be grateful for and so much to look forward to.
So don't exchange the joy and fun for perfect.
Enjoy the evening/night/day and keep in mind that it's not all you have. There are hundreds of nights to come.
You have more time to learn, to grow, to explore, to get better. So enjoy this night/day because you only have one first wedding night after all!
9. It's not just about the sex
Real intimacy is marriage is not just about sex. It's about connecting in all areas – mentally, emotionally, spiritually.
Hopefully, you've been connecting in emotionally, spiritually and mentally before your wedding night.
Work on building your friendship during dating and engagement. Because it's connecting in these other areas that make sex beautiful.
10. Have a mentor
I love online ministry and reading great books and listening to great sermons and teachings.
However, God designed us to do real life with real people. This blog and every other resource are meant to complement real life relationships, not replace them.
Sometimes I'll receive a heartbreaking email from a reader, and the first thing I want to find out is if they have a safe person, someone to talk to and walk with through life's situations.
You need a mentor, someone to share your heart with not just before the wedding but after. We are meant to do life together. Find people to encourage you past your wedding day.
A mentor will have practical tips because they know you. For example, I thought I was weird because we were using added lubrication weeks after the wedding. I mentioned it to my girlfriend, and she reassured me I was normal!
You will have questions, need real-life clarifications from someone who knows you personally.
I can think of some practical things a mentor or close girlfriend can help you with
– If sex is downright painful, like shads-of-glass-tearing-into-you painful, or just too uncomfortable, see a doctor fast.
– Empty your bladder after (and before, if you can get to it). It will help you not catch a urinary tract infection.
– Fall in love with cleanliness. (I know that sounds obvious, but yeah, a reminder is good.)
– Use a lot of lubrication. (Update. Rachel Ramey has an excellent comment on this, check it out below)
– Keep a towel near; like we said, sex can be messy.
– Get something good for your wedding night but be reasonable. That stringy lingerie might look good on a mannequin, but it needs to fit a real life body.
It's impossible to share everything in a single blog post. That's why I wrote The Wedding Night: Embracing Sexual Intimacy as a New Bride. Prepare emotionally, spiritually and physically for married sex, get confidence and the practical answers to questions you haven't dared ask aloud. (So you can be the sexually confident wife you desire to be!) Your wedding night doesn't have to be stressful! Get the book >>
Photo by Pixabay from Pexels
Save
Save