10 Things Men Don't Like in Relationships
Things men don't like in relationships ..

I know, I know…
Not the most exciting headline for women, especially those just tired of trying to be "good wives". It sounds like another list of "here's where you are failing."
I get it. I know the soul-crushing weight of being told that you (and you alone) are responsible for the health of a marriage.
But I've also come to appreciate that we don't heal by over-correcting. Even as we wrestle with inaccurate messages, we have to be careful not to throw out the baby with the bath-waters.
A healthy marriages takes two. You can't have a happy marriage without two happy spouses. The husband matters. And so, today, we are going to cover some basic truths about guys. Also known as things men don't like in relationships.

Some of it might bring up a very real "are we going back to the 50's?" feeling. I hope you can squeeze past that and hear what I am trying to say. If you are single, go ahead and take lots of notes because your future self with thank you.
For the rest of us newlywed wives, let's take the opportunity to get honest with ourselves. How do we measure up, where can we improve? Has your husband mentioned an area to improve, and you've brushed it away?
Explore. Consider. Admit. Improve.

(Our needs are not to be ignored. Take a look 9 Things Women Want From Their Husbands and 9 Things Wives Want in Bed For Deeper Intimacy)

Without further ado
10 Things Men Don't Like in Relationships

1. The always-right
I've met girls who would rather die than admit when they are wrong. They have a bag of reasons in place of "I am sorry." I know because I was that girl who took the long route to a heartfelt apology.
Nobody wants to live with pride personified. Certainly not a guy who has a bit of ego to contend with.
It helps, as you establish a healthy foundation to learn the miracle words: "I am sorry. Please forgive me for … (insert what you need forgiveness for)."
Learn to say these words without him prying them out of you. The person who wrote the note below had a point. (author unknown)

2. Over-valuing material wealth
I thought the "materialistic girl" was a figment of people's imagination. Until in college, I met a girl who seemed interested (exclusively) in men who could upgrade her life.
Most of us are silly when young, but hopefully, we mature as we get older.
Agreeing that your relationship is more than dollar signs on his (or your) forehead is a peaceful place start. Cultivating peace with your ability and financial pace is a beautiful thing.
Even better is living that truth. No pressure to be more than you can be. No unfair comparison and wish-dropping. Sensitivity and appreciation for what he already does.
(Think about it, you want the same things too. Not to be unfairly compared but to be loved for who you are, not just your potential.)
The tendency to consider material possessions more important will rob you: It will kill your sense of gratitude and contentment. It will lead to envy and jealousy.
They do not make for good foundations for marriage.

3. Things men don't like in relationships: Grand expectations
If you came into marriage thinking a man should be able to pour out without needing any pouring in, give without receiving, be brave without encouragement, navigate his way to success, and good cheer, your relationship and heart are in dire need of maturity and compassion.
You see, husbands, while tasked with the noble duty of setting the tone in the home don't live in vacuum. They get their "steam" from somewhere.

Often, it means a wife is learning to support her husband in his specific "support language." She's not crazy-hard to make happy. She gives him space to re-fuel. She understands he's a man, not God.
Her growing sense of worth in Christ means she doesn't crush and burn when her husband fails her. She is intentional in her words and actions, discovering ways to pour into him through the different seasons of life.
The point? Make the effort to be his cheerleader. Make it a lifestyle so it becomes a part of your marriage DNA.

Read my top tips to encourage your man.
And how not to overcorrect and mother him
4. Negative talk
Trash talking men is not an endearing quality.

Obviously, I am not saying men should never be questioned or corrected. But using language and attitude that cuts them down is not how to do it.
The problem with denigrating and belittling men is that it becomes a negative stream in your mind. It cements what you believe and makes you a prisoner of those beliefs.
You don't heal and are unable to explore a new narrative concerning your man.
Hurt people indeed hurt others. If you find your favorite parts of conversation about manhood revolves around insulting and devaluing them, you might want to look at your heart.
Realize that you can't create the marriage of your dreams while sabotaging your efforts with poisonous language.
5. Head in the clouds
Men and women are equal in value and potential, but different in many other ways. For example
Men have more testosterone than women

In general, men are more muscular (hence physically stronger) than women

Women and men think differently

Most women have a better sense of smell than men

Women navigate maternity and childcare differently

Younger women might be less confident compared to their male counterparts (source)
When we get married and insist on being identical in wiring and at our core, we kill a considerable part of what makes marriage breathtaking.
When we get married and insist on being identical in wiring and at our core, we kill a considerable part of what makes marriage breathtaking.
Our differences don't mean one is better than the other. It just means we bring different strengths into a relationship. And we thrive when we encourage each other.
There isn't a right and wrong way to do life, based on gender: there's just a godly way.
When we refuse to celebrate, even acknowledge our differences, and how they enrich our relationship, the journey ahead becomes bumpier. And annoying to both parties.
6. Things men don't like in relationships: The super-chick syndrome
The way many husbands are wired, they love to solve their wives problems.
They just do.
It's in their DNA to love their wives in that way.
Being a Type A achiever, I did not lean into my husband's wiring at the beginning of our marriage. I was competitive and felt like I needed to prove something to him and myself.
So I had countless chin-up moments, where I wanted to just figure out things by myself without involving or inquiring.(To be honest, it didn't even occur to me, sometimes, to lean into his strengths.)
But I learned.
Now I make a point to pick his brain, especially in his areas of interest. Sometimes I ask questions, not because I don't have possible answers but because I am curious as to what he thinks. Regularly, I am blown away by how good and gifted he is.
His "fixing" my problems is a deposit to both our love tanks: He loves me the way he wants to, and I am loved the way I need. Win-win.
You are smart. You are talented. You are amazing. And so is he. Allow him in and watch amazing things happen.
Two are better than one, because they have a good reward for their toil. Ecclesiastes 4:9 (ESV)

7. What men want in a relationship: No in-law issues
Okay, some in-laws are impossible to get along with. And a sober man will recognize it when his family member is hard to love.
But not getting along with his people doesn't mean being disrespectful. Instead of complaining and back-talking, we can create firm and clear boundaries and continue being grown-up about it.
We can make peace with who we are and who they are.
Let your spouse see you made an attempt. Because one of the ways you love your man is through loving (or attempting to love) the people he cares about.
One of the things that men don't like in relationships? Not making the effort or where relationships were already strained, being disrespectful.

8. Gatekeeping
Most people consider the wedding night the highlight of a couple's sex life. Nonetheless, it's opposite: It's the start of a new life, and like all new beginnings, it comes with a learning curve.
Which brings us to the man.
When most guys get married, they believe they are signing up for a lot of sex (that is, if they do not have a lower sex drive). Their anticipation is valid because sex is holy, and his wife is the only person he can have sex with.
Different things can inhibit sexual desire for a woman. Today, I am talking about disinterest in healthy intimacy and an unwillingness to learn how to pursue it.
If you are struggling sexually, or sex is too painful, or you just can't make it work for you, consider;

9. Talking too much

Not all women are talkers and certainly not all over-talk. In fact some of us need to embrace our need to talk and connect.

But if you have the gift of garb, it's easy to take your need for verbal connection to unhealthy levels.
A major pet peeve for most guys is audio over-stimulation by women. I am pretty sure there's science out there that explains why men detest nagging or being worn down verbally.
Whatever the case, our goal as newly married women is to develop self-control in all areas of our lives, including verbal. Understand when to talk, how to speak, and some of the things that hinder excellent communication.
Remember, we over-talk for all kinds of reasons: It can be a power play or from a fear of not knowing what to say. Wherever your tendency springs from, make a point to grow.
Understand that a moving mouth doesn't mean you are communicating.

His lack of talking doesn't mean he has nothing to say.

Just because understanding each other is hard doesn't mean you shouldn't try or you made a mistake getting married.
10. Things men don't like in relationships – Double standards
What you promise and what you deliver are two different things. And I am not talking about push-ups and shape-wear. *smile*
I am talking about when we claim to be of faith, but our lives are different. When we expect him to pursue us, but we don't make an effort to pursue him.
When we want his folks to be nice to us but we don't make an effort. When we want to be heard but complain about pursuing his heart. When we expect amazing sex but without our intentional participation.
Here's what I shared on Instagram last week
Don't look to your spouse to be what you are not willing to be for yourself. When you don't invest in yourself, your marriage becomes hole-y—areas where you aren't maturing, but you have a tremendous appetite for your spouse to fill them. The kindness, generosity, forgiveness, hope, friendship, support, the fun we want to get from our spouses? We must give it to ourselves first. And then it's not so hard to give it back to our spouse when they need it.
In summary, the 10 things men don't like in relationships.
Today's thoughts come from conversations I've had with men (I have 4 brothers, 1 husband, lots of couple friends), observations I've made and talks with women friends.
There are more than 10 things guys dislike in a relationship. And guys want more than 10 things from their wives.
But these are some of their dislikes in a relationship
1. Women not easily admitting to wrong
2. Unhealthy attachments to wealth

3. Lofty expectations
4. Insulting/disrespectful attitude
5. Not acknowledging or celebrating gender differences
6. The superwoman
7. In-law issues
8. Gate-keeping
9. Verbal over-stimulation
10. Double standards
It's your turn! What do you think. What did I miss? What stood out to you? Let's chat in comments!

Get rid of the overwhelm, break out of average and mediocrity.
It's my absolute joy to support wives who are in the trenches of figuring out where they end and where their relationship begins. Allow me to support your journey.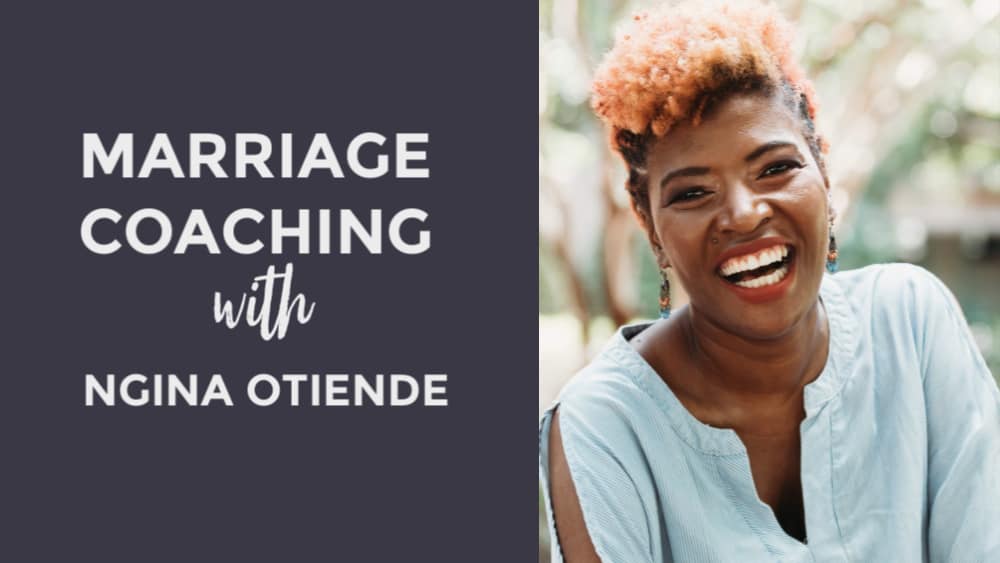 "I had clarity and peace at the end of every session. I highly recommend Ngina for anyone who is struggling with their marriage or for anyone who has problems within themselves." Britney, Oregon
Get rid of overwhelm, break out of average and mediocrity, gain clarity, learn to love deeper. Sign up for coaching with me here. You can also use the form below to request your 20 minutes free assessment call.