15 Things We Think God is Obsessed With (But He Isn't)
Some Christians, especially those of the evangelical/fundamentalist flavor (of which I was a part), believe God is obsessive.
Directly taught or implied, we are taught that our connection to God is less about relationship and more about keeping to the rules, restrictions and commands of the Divine.
To be clear, I don't believe "obsessive" is part of God's character or that Belonging is all about dotting the i's and crossing the t's*. So this post could very well be titled "15 things Christians are obsessed with."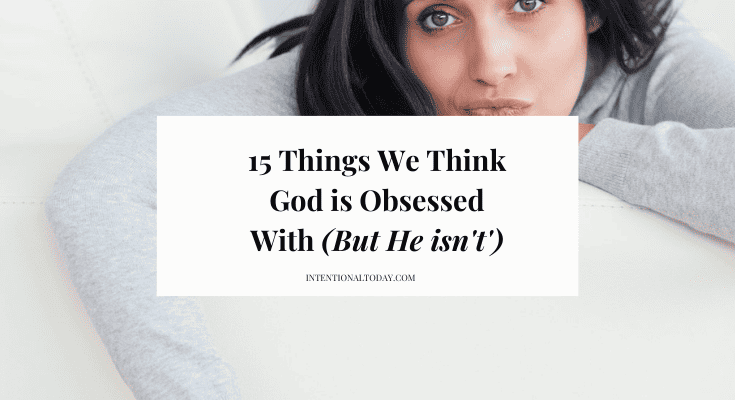 But let's talk about 15 things God is not obsessed with… but we think He is.
15 things God is not obsessed with (but some Christians believe He is)
Getting the pastor's approval before making decisions, e.g., asking for permission to obtain a life-saving divorce.
Keeping all marriages intact.
Women staying small (er than men)
Men's sexual "needs." See Do You Owe Your Husband Sex? Duty Sex in Marriage
Women not preaching.
Girls carrying themselves in ways that do not "stumble" boys. (See She Deserves Better)
Christians not examining or re-examining what they believe.
External good behavior vs. actual character. See When a Spouse Won't Address Harmful Character Issues (Clarity For Wives)
Suffering in relationships to demonstrate His love to a harmful hardened person. See No, God Doesn't Say We Sacrifice Ourselves For Harmful Spouses
The Church looking the same the world over.
Checking one's emotions, pain, and personhood at the door before one can belong.
Moving to another part of the world and passing on your country's cultures and ideas about God (missionary work, some versions of it.) See Shiny Happy People – An African American Perspective
Protecting the reputations of spiritual leaders who've harmed people/have protected those who did.
Exhausting church volunteerism. See 14 Signs You Might Be in a Spiritually Abusive Church
New church campuses.
9 Ways Pastors Cause Harm
And while we are discussing things people obsess about, can we also talk about pastors thinking they are pro-safety (they don't tell women to stay in abusive marriages) but their actions tell a different story?
It goes something like this:
Pastor: I don't tell women to stay in abusive marriages. Also Pastor:
Teaches wife submission (vs. mutual submission.)
Presents Christian marriages as under attack and instructs spouses to fight for their marriages. See Dear Church, She Wasn't Averse to Regular Marriage Conflict
Has little to no training on how to discern, prevent and respond to abuse within their congregation (consequently, zero resources and services available to the congregation.) See How Pastors Enable Domestic Violence From the Pulpit
Rejects the idea of women in leadership or teaching positions.
Offers no clear teaching on why spouses might seek life-saving divorces, instead talks about how God hates divorce. See Does God Hate Divorce?
Uses "boys will be boys" and other phrases when speaking about irresponsible, immature, exploiting, neglectful, harming behaviors in men. See 18 Things Normal Guys Don't Do in Marriage (And 12 Things They Pursue)
Teaches modesty for women.
Presents sex as a need for husbands that wives should meet..or else. Related Why Women Are Not To Blame For Men's Sexual Sin
Hosts marriage seminars and conferences without a single abuse advocate in the line of speakers.
It's not just a phrase! There are many ways to keep spouses spinning in harmful relationships. See Why Women Don't Know If Their Marriages Are Harmful
What can you add? How else do pastors cause/perpetuate harm? Or what can you add to the list of things God is not obsessed with (but Christians think he is)? Let's chat in the Comments!
---
FOOT NOTES:
*Indeed, there is such a thing as an outward, clear, tangible expression of our beliefs in how we live our lives and relate to one another. That out of Belonging in Christ, we bear good fruit. (James 2:14-17 What good is it, my brothers and sisters, if someone claims to have faith but has no deeds? Can such faith save them? Suppose a brother or a sister is without clothes and daily food. If one of you says to them, "Go in peace; keep warm and well fed," but does nothing about their physical needs, what good is it? In the same way, faith by itself, if it is not accompanied by action, is dead.)
---
Is This Abuse? Perhaps Your Marriage isn't Just Hard
Explore the different categories of mistreatment and danger that are all part of Domestic Violence. "Is This Abuse?" is a FREE resource by abuse recovery coach Sarah McDugal. GET IT FREE NOW.
---