42 Inspiring Quotes For When Marriage Feels Hard
What's a wife to do when marriage feels hard? Sometimes I look at the search phrases people use to find my blog and recently someone found me via searching "quotes to help in a difficult marriage."
I have written a ton of articles on what to do when marriage feels hard, but today's post is a compilation of quotes to encourage spouses during difficult seasons of marriage.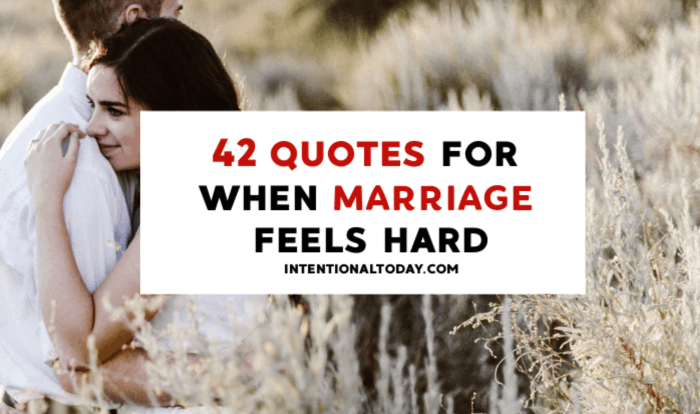 At the bottom of the post I have linked other articles to strengthen your marriage.
I know. A wife cannot create a happily-ever-after all by herself; her husband has to be an active participant. So this is not an article to shift responsible to one spouse. If your spouse is toxic or abusive or your general relationship dynamic is awful, please get to a safe place, create boundaries and get counseling.
For the rest of us who are not experiencing patterns of abuse or toxicity in marriage, it's important to note that in moments of difficulty, God can use the one heart that will listen to shift a relationship. The willing spouse can become the little cog that begins to turn the bigger wheel.
Ultimately, it takes both spouses for a marriage to be healthy and happy. Your husband has to want the marriage (and do the work required) too.
However, at the onset, one spouse can make the difference. It can be the husband or the wife reading this post. If your marriage is at a growing place place, I hope the quotes inspire you to greater intentionality!
Be encouraged that God is for you and wants you to thrive!

42 Inspiring Quotes For When Love And Marriage Feels Hard
1. In marriage it is never about not falling, it is always about getting back up. – Dr Emerson Eggerichs
2. When tensions mount in marriage conflict, spouses don't regret what they didn't say. Hold your tongue, until God has a hold of your heart. – Mathew L Jacobson
3. True love doesn't happen by accident. It's deliberate, it's intentional, it's purposeful and in the end its worth it. – Darlene Schacht
4. Marriage is meant to keep people together, not just when things are good, but particularly when they are not. That's why we take marriage vows, not wishes. – Ngina Otiende
5. Let your gentleness be known to all men – Philippians 4:5
6. Don't let doubt convince you that your marriage is not worth fighting for. – Jennifer Smith
7. Great marriages are contagious, if you want a great marriage, surround yourself with couples who have one. – Mark and Laquilla Lane
8. She has the power to build him up or tear him down. Every wife is a king maker. How will you use your power today?  Matthew L Jacobson
She has the power to build him up or tear him down. Every wife is a king maker. How will you use your power today? Matthew L Jacobson
10. Where we are most broken, then surrendered, we come out the strongest. – Ngina Otiende
11. A marriage is a like a house. When a light bulb goes out, you do not go and buy a new house, you fix the light bulb. – Happy Wives Club
12. Happiness flows from joy and contentment first–not from our husbands. – Sheila Gregoire
13. I do not want to be defined by my circumstances, but rather refined by the trials I face because God's designed a good plan for me. – Beth Steffaniak
15. A wise woman keeps God first. – Elizabeth George
16. Things don't change in a marriage until the spouse who is taking responsibility for a problem that is not hers decides to say or do something about it. – Henry Cloud and John Townsend
17. If a fellow believer hurts you, go and tell him—work it out between the two of you. If he listens, you've made a friend. If he won't listen, take one or two others along so that the presence of witnesses will keep things honest, and try again. If he still won't listen, tell the church. If he won't listen to the church, you'll have to start over from scratch, confront him with the need for repentance, and offer again God's forgiving love. Mathew 18:15 – 17 (The Message Bible)
18. People say love doesn't last. Well, neither does bathing. That's why we recommend renewing it daily – Tolovehonorandvacuum.com
19. Happily ever after in not a fairy tale, it's a choice – Fawn Weaver
20. Form the habit of finding the good in people, not their flaws. – Joyce Meyer
21. No matter how you started out, God can re-write your story and give you an ending you never thought possible. Ngina Otiende (see Romans 8:28)
22. Regardless of where you are in your marriage, you have the ability to love so stubbornly that Christ can't be denied. -Darlene Schacht
23. I asked an old man "which is more important? To love or to be loved?"
Old man replied "which is more important to a bird, the left wing or the right wing?" – MarriageHumor, Instagram
A happy marriage is a selfless journey in which the happiness of another person is essential to your own. -George & Yvonne Levy
25. The reality is we married sinners and that reality makes marriage hard. – Women Living Well
26. More than the "act" of repentance, the LORD desires our hearts. That is the purpose of repentance. It's not a ritual to fulfill empty requirements. The purpose is to have God's people's hearts return to God's desired state; Communion with God. Repentance is the tool by which to return to Heart-to-heart communion with God. – Tom Otiende
More Quotes For When Marriage Feels Hard
27. No husband can meet all his wife's needs. Don't expect him to do God's job! – Sheila Gregoire
28. The more you invest in a marriage, the more valuable it becomes. -Amy Grant
29. Even if we disagree about everything, we can still be kind to each other – Mathew L Jacobson
30. Your biggest responsibility is not to understand the future, your biggest responsibility is to trust that God knows and to follow! Ngina Otiende
31. No relationship is all sunshine, but once you've learned how to play in the rain, you've discovered the secret to surviving the passing storm together – Happy Wives Club
32. True love isn't found, it's built. One day. One kiss. One conversation at a time. -Maggie Reyes  
True love isn't found, it's built. One day. One kiss. One conversation at a time - Maggie Reyes
34. Real love is when you are completely committed to someone even when they are being completely unlovable.  – Dave Willis
35. A one flesh marriage consists of a husband and wife each giving 100% rather than 50/50 – Jolene Engle
36. You married the man you respect, now respect the man you married. – Matthew L Jacobson
37. She will do him good, not evil, all the days of her life. – Proverbs 31:12
38. A happy marriage is the union of two good forgivers – Robert Quillen
39. And the two will become one flesh.' So they are no longer two, but one flesh. Mark 10:8 

40. The couple that laughs together can weather any storm – Sheila Gregoire

41. You are a walk-on-water kind of God and that's where You want me to walk with you today. No boats, no bridges, no swimming. No drowning! Only Your arms guiding and empowering me to stay with You above the waves…because I am a walk-on-water kind of gal! – Beth Steffaniak 

42. More inspiration for when marriage feels hard in the posts below:
Marriage Boundaries With a Difficult Spouse: 5 Important Guidelines
When Your Husband is the Problem But Everyone Tells You to Change
What To Do When Your Husband Doesn't Talk To You 
My Husband Doesn't Respect me; 5 Things To Do
36 Bible verses to encourage your marriage
49 quotes and sayings to inspire your marriage
~
Are you wrestling with the overwhelm of new marriage and desperate for a step by step guide on how end the confusion, fussing, misunderstandings? Would you like to restore healing and happiness to your marriage? Or maybe you just want to understand marriage so you can love better, create the relationship of your dreams, God's way. My book Blues to Bliss: Creating Your Happily Ever After in the Early Years can help! Pick it up here
Amazon Paperback
I
Amazon Kindle
I
Barnes & Noble
I
PDF
Sharing with Wedded Wednesday, Wifey Wednesday