Hi friend!
I'm Ngina (pronounced NGAY-nuh) and I'm a certified marriage coach, author, and blogger.
Through my books and courses, coaching, free marriage library, and articles in this site I help women find clarity so they can begin to address problems. I examine unhealthy relationship advice and how elevating the marriage institution above individual welfare has harmed us.
I believe God wants you to thrive. And that "thriving" might look different depending on the dynamics of your relationship.
Our Story
Fourteen years ago, my husband and I waddled into marriage, fresh-off Singles Highway. We were filled with grand ideas and bucket-loads of expectations.
Most of which were great. Unfortunately, we were a mess. We loved each other but we were immature and proud.
For a long time, we enabled unhealthy behavior. We were passive-aggressive with each other. We expected instant results for ingrained individual (non-toxic) habits. Our communication broke down so often we wondered if we made a mistake getting married.
Eventually, we figured out that a great marriage is made up of two healthy individuals. So over the years, we began to get healthy by allowing God to transform us, through boundaries, accountability and taking personal responsibility.
The Shift
Back when my marriage was a bustling construction zone, I learned to focus on the one person I could control. Myself. My husband needed to grow too but I discovered I couldn't change him. So I learned to hold my space and keep my spouse accountable.
And because accountability, boundaries, and personal growth worked for our relationship, for years, my approach was to help wives in those areas too.
What I didn't realize was that women married to chronically problematic men would read my words and double down, working on themselves as if they were the problem.
And so in 2022, I made a shift which I outline in this blog post Why I've Deleted My Books, Courses, and Over 200 Blog Posts
I am now pro-HEALTHY-marriage, not just pro-marriage. In this site, we talk about healthy marriages and we also call out unhealthy dynamics. We discuss erroneous teachings that elevate marriage above God's children and how we can do better.
I typically share fresh insights once a month on the blog.
I share weekly bite-size thoughts and tips with my email subscribers so make sure to sign up for the emails and freebies!
You'll find me on Facebook @intentionaltoday (daily) and Instagram @NginaOtiende (daily-ish) sharing about unhealthy marriage dynamics, how we can do better and how to actually create a marriage that honors both God and spouse (as that's how God intended it!)
Helpful Websites and Pages For Toxic, Abusive or Difficult Marriages
If you suspect your spouse is toxic or abusive or chronically problematic, if they are engaged in unrepentant sin (repentance comes with fruit!) please get to a safe place and talked to a licensed counselor who is trained in relationship abuse and trauma. Please talk to someone safe. God loves you. You are valuable. Here are a few resources and websites to check out.
2022 Update: My books, courses and coaching are currently being revised and updated and are not available for purchase.
Sign up for Marriage Coaching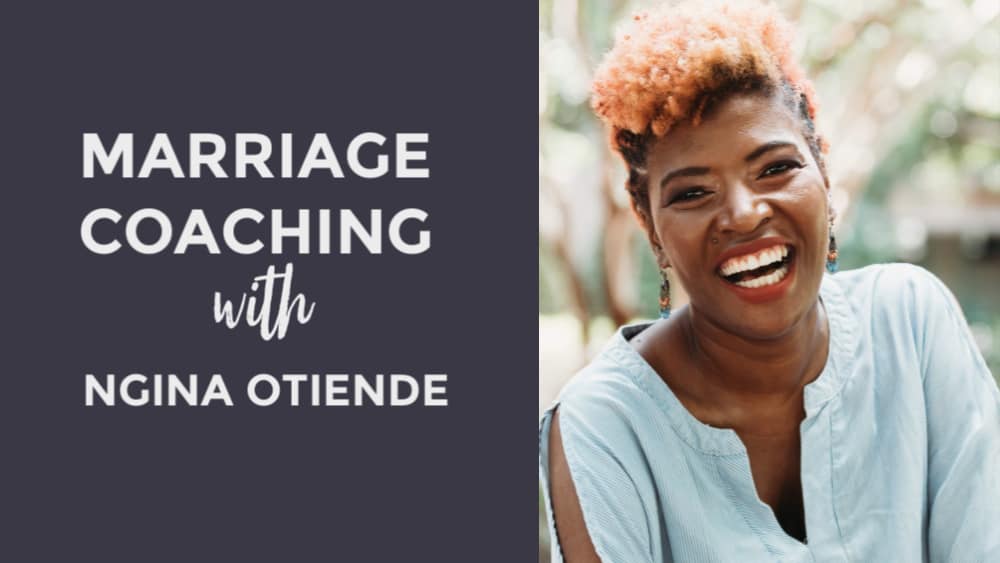 Are you wrestling with feelings of overwhelm in marriage? Wanting to overcome relationship obstacles so you can enjoy marriage again? Do you want to restore the fun and romance in your marriage? I can walk with you through my one-on-one Marriage Coaching For Wives program. Click here to learn more.
Check out my Books & Courses
Courses
Do you want deeper connection and intimacy with your husband? Maybe you are frustrated because you can't talk about problems without triggers and escalations. Or perhaps you have a fun and healthy marriage but you want clarity and confidence to help you address every-day marriage issues.
How to Navigate Conflict in Marriage is a conflict resolution course for wives who are interested in healthy communication, who understand that healthy communication takes two and who desire to learn their part of that process.
WATCH NOW (Use the code 25OFF to get 25% off)
Books:
This posts includes affiliate links. See disclosure
Connect with me
Grow your marriage daily! Connect with me on Facebook, Pinterest, Instagram and Twitter
What I believe
I believe God created marriages to thrive. For a husband and wife to make intentional choices that are spouse honoring and aligning to His heart and intention for marriage: mutual, respectful, honoring.
I believe in one perfect God who exists as a three-in-one Being ; God the Father, God the Son, and God the Holy Spirit.
I believe the Bible inspired by God.
I believe in Jesus Christ as the Son of God and Savior of man kind. He was born physically of a virgin birth and He lived a sinless life on earth.
He was crucified and died on a cross, was buried, and then rose again on the third day according to Scriptures and now lives at the right hand God as our great High Priest.
I believe God created mankind for fellowship with Him.
I believe the Holy Spirit is a divine Person, sent to guide, indwell and empower the believer, and to convince the world of sin, of righteousness and of judgment.
Thank you for visiting!
Disclaimer:
Ngina Otiende is a certified marriage coach, author and blogger. She is not a licensed therapist. She provides no diagnosis, therapy, counseling, treatment or mental care services. No promises regarding the outcome of life or relationships is given or implied. All decisions belong to the reader. If expert and licensed assistance is required, the services of a licensed professional should be sought.
Save
Save
Save