20 Things We Should Never Say to People in Destructive Marriages
Well-intentioned people can disperse bad Christian marriage advice the way a farmer disperses seed during planting season: confidently, effusively, and methodically.
But unlike the wise farmer, well-meaning Christians make already-bad situations worse.
And they do it because they can't tell the difference between "destructive marriage problems" and "normal marriage problems". They see all problems as something a couple needs to work on.
So let's talk about the difference between "normal marriage problems" and "destructive marriage problems" so we have clarity right out of the gate.
What are normal marriage problems?
Normal marriage problems are marital or individual issues between two well-adjusted individuals pursuing a healthy "one-flesh" journey.
"That is why a man leaves his father and mother and is united to his wife, and they become one flesh." Genesis 2:24.
The individuals operate as a team to overcome pride, immaturity, trauma, grief, difficulties and all others issues within the healthy-growth-spectrum.
Both individuals are willing to take responsibility for their individual issues. They display empathy, a willingness to receive correction and engage with the process of change and growth. They continually exercise confession and repentance when they fail God or their mate.
They are not perfect. In fact, they might also display a season of hardheartedness. They might struggle to overcome ingrained negative mindsets, habits, and attitudes.
But what differentiates a healthy person from a destructive person is their willingness to take individual responsibility (with fruit to show) for their individual sins and ways they have hurt their spouse or injured their relationship.
Healthy people do not have patterns of destructive behavior. If they display destructive or abusive characteristics or behavior (often as incidents or short seasons, never as repetitive patterns), they take responsibility for them and change.
Healthy Christian spouses display the fruit of the spirit. They grow in "love, joy, peace, forbearance, kindness, goodness, faithfulness, gentleness and self-control" – Galatians 5:22-23.
They walk in love as described in 1 Corinthians 13:4-7 "Love is patient, love is kind. It does not envy, it does not boast, it is not proud.5 It does not dishonor others, it is not self-seeking, it is not easily angered, it keeps no record of wrongs.6 Love does not delight in evil but rejoices with the truth. It always protects, always trusts, always hopes, always perseveres."
Healthy Christian spouses despise the fruitless deeds of darkness. "But among you there must not be even a hint of sexual immorality, or of any kind of impurity, or of greed, because these are improper for God's holy people. Nor should there be obscenity, foolish talk or coarse joking, which are out of place, but rather thanksgiving. For of this you can be sure: No immoral, impure or greedy person—such a person is an idolater—has any inheritance in the kingdom of Christ and of God. Let no one deceive you with empty words, for because of such things God's wrath comes on those who are disobedient. Therefore do not be partners with them. For you were once darkness, but now you are light in the Lord. Live as children of light (for the fruit of the light consists in all goodness, righteousness and truth) and find out what pleases the Lord. Have nothing to do with the fruitless deeds of darkness, but rather expose them."Ephesians 5: 3-11
Healthy spouses have good intentions for their spouses, and it bears out over time. They do not exhibit a chronic or unrepentant pattern of repression in marriage. They are not seeking to destroy the "personhood" of their spouse so that they can be the top dog in the relationship.
Overall healthy individuals do not enjoy the suffering of their spouses. On the contrary, they have disquiet, a soul churning, when the relationship is not mutual or equal.
Now, let's talk about destructive marriage dynamics.
Simply put, you can take everything I've said about a healthy individual and marriage and flip it and you'll have the characteristic of a destructive individual.
Also check out my free eBook 16 Things You Won't Find in a Healthy Marriage.
Please note, a destructive individual might present as healthy some or even most of the time. In fact, many abusive people have fabulous personalities (that's how they get married to begin with, they are charmers) but it's all a front, especially to their target. Their "angelic" parts are nothing compared to the darkness they exhibit to their mate.
Here's another thing about destructive individuals: They have big expectations of their spouse.
They demand – overtly or covertly – to be treated with dignity, consideration, respect, understanding, patience, maturity, love, and all the gifts of healthy relations without giving the same gifts to their spouse.
They want all the perks of marriage and very little, if any, of the responsibility. They want their spouses to be healthy while they remain unchanged.
And that is why Christian marriage advice that might work for healthy marriages is deadly when directed at destructive marriages. The relationship dynamics are completely different.
Bad Christian Marriage Advice: Don't Say This
A few weeks ago, I was curious to hear what bad Christian marriage advice is given to people in destructive marriages.
I got a lot of feedback from many women who've been in the valley of toxicity and destruction. The following pointers are part my thoughts and part the feedback I received.
I know that some people who give bad Christian marriage advice to individuals in destructive marriages don't intend to cause harm. Many are speaking out of their own misguided beliefs about grace, forgiveness, marriage e.t.c.
But their words are harmful nonetheless and we need to learn the truth so we do better. (Those who give bad advice because they are aligned to the abuser – not because they are well-meaning but uninformed – are abusers themselves.)
Let's jump in.
Bad Christian Marriage Advice We Should Never Give To People in Destructive Marriages
1. "Do not give up on your spouse."
Healthy spouses in the destructive marriages shoulder the burden of commitment.
They are often thinking about their spouse and marriage – how to make it work, what they might be doing wrong, how they can address issues without triggering their spouse, e.t.c.
In other words, their own welfare is the farthest thing on their mind. The welfare of the marriage is center stage.
So while "don't give up on your spouse" is relatively good advice when both individuals are healthy and equally committed to each other (with long term fruit to show), it is deadly when only one person is committed.
The suffering spouse in a destructive marriage needs to be encouraged not to give up on THEMSELVES – their own welfare, safety, and health.
2. "God wants all marriages to thrive, and you need to fight for yours."
The truth is that God wants all individuals to be healthy and whole.
He wants people to take responsibility for their actions and decisions. God created marriage to be a blessing, not a seed of darkness.
We also need to realize that long term, one person can't fight for the marriage when they are the only ones fighting.
3. "You're part of a team. Act like it."
Destructive people have little-to-no concept of a "team."
They are only happy when the marriage is on their terms. They are happy when their spouse bows to their way, wish, voice, and will. There's little room for anyone else in that intimate space.
Teaching one spouse to operate with a "team mindset" while the other spouse operates on a selfish, entitled mindset is a recipe for unending destruction.
4. "Be vulnerable and open to each other. Always tell each other what you need."
It is unsafe to be open and vulnerable with someone who intends to harm you, coercively control you or take zero responsibility for themselves.
"Do not give dogs what is sacred; do not throw your pearls to pigs. If you do, they may trample them under their feet, and turn and tear you to pieces." Matthew 7:6
5. "Seek to understand your spouse, not just to be understood."
The healthy person in a destructive marriage is often pressured to over-understand and over-empathize with their problematic spouse.
Meanwhile, their spouse shares no such ambition.
6. "We all sacrifice a little for what we love. Keep going the extra mile for your mate."
A healthy marriage is mutual. It is reciprocal.
Healthy couples experiencing typical marriage problems can go the healthy extra mile because their marriage is already standing on a foundation of mutual love, honor, respect, kindness, faithfulness, and all those good things every marriage needs. There's no power imbalance.
But for destructive marriages, there's no "extra." It's not "an extra mile" if it's all you have.
If a marriage is primarily about serving one spouse, when the relationship is about understanding, cherishing, respecting, etc, your spouse and never getting these things yourself, it's a one-sided relationship.
It's not "an extra mile." It's all the miles. And that's not a healthy marriage, and that's not love.
7. "Stressful seasons are hard on everyone. Keep praying and working on things because you'll overcome this if you don't give up."
Stress is not an excuse to be destructive or chronically unrepentant.
Chronically unhealthy individuals are stuck on their pride, desire for control, trauma, immaturity, e.t.c, and it takes massive amounts of initiative and surrender to God for change to happen.
The healthy spouse does not have control over that process.
The healthy spouse in a destructive marriage desperately wants the marriage to work. So they are already doing everything they can, which often involves bypassing their own need for safety, wholeness, and health.
8. "It takes two to tango. You must be doing something wrong too."
Abuse is not a dance.
Chronic neglect of your spouse is not a dance. Willful unrepentant sin is not a dance. Hardheartedness is not a dance. There's no mutual goal, no flow, no partnership, certainly no enjoyment for the victim.
These are attacks. Attacks on the soul, spirit, and body of another human being. Attacks on the fabric of a marriage. These are aggressive or clandestine desires to be god over another human being, to subdue and to control them.
We need to call out the sin and the sinner. Not shift blame or equalize responsibility.
9. "Just submit more.."
Biblical submission is mutual submission.
Isn't it odd that few people want to discuss that "love your wife to your very death" (metaphorically) part in Ephesians 5:25 (Husbands, love your wives, just as Christ loved the church and gave himself up for her)?
Most want to talk about how she's supposed to submit (22 Wives, submit yourselves to your own husbands.) And it baffles that we blatantly skip past this seemingly more considerable responsibility to husbands.
How is death to self not the ultimate act of submission? (Also, see us sidestep Paul's call to mutual submission between believers (verse 21), of which both husband and wife are.)
More Bad Marriage Advice Thoughts from Facebook Comments.
I asked my Facebook community to share bad Christian marriage advice they received or have heard. Please note the following is a mix of overall awful marriage advice and advice that can work if both spouses are healthy.
10. "Just seek marriage counseling for your problems."
Marriage counseling is for well-adjusted couples experiencing common marriage problems (see the introduction.)
Marriage counseling, also known as couples counseling, is dangerous for couples experiencing individual sin and direct/coercive control problems. Abuse is a heart and sin issue; it's not a marriage problem.
11. "If you divorce him, you are in sin."
Divorce for life-saving reasons is not a sin. Read Should Divorce Be The Very Last Option For Women in Destructive Marriages?
12. "You should attend Bible study together."
"1:1 Bible study together when one party doesn't feel safe from threats, manipulation, and lies is dangerous and immoral."
13. "Just compromise more."
"Truth: you can't compromise to your own demise."
14. "Don't talk about your marital problems with other people."
"My ex used to say this frequently. 'We don't talk about our problems with others.' Here's what it really meant. 'I can abuse you and you can't talk about it.' Because the reality is, we don't always recognize abuse. Abuse isn't always being punched in the face. It's cruel and degrading comments. It's control. It's not having access to money. It's threats. And sometimes you need someone else to tell you that you are being abused and get you help."
15. "Give the benefit of the doubt."
"In a healthy marriage, that can mean just trusting your spouse, who has shown themselves to be trustworthy. But sometimes things don't add up because you're being lied to."
16. "Praise in public, correct in private."
"By the time I finally said what was really going on, no one believed me. He used my (public) support and praise to convince everyone that he could never do such a thing."
---
Unholy Fruit: Guide to Discerning Toxic Character Workshop
Are you in a chronically problematic marriage? Or perhaps you know someone who is and you desire to support them.
In this Workshop and Checklist (affiliate link), Coach Sarah McDugal empowers your ability to discern the Fruit of an UNholy spirit. If you have felt confused by the dissonance between someone's pious words and their exploitative actions, this workshop offers clarity and some possible next steps in your healing journey.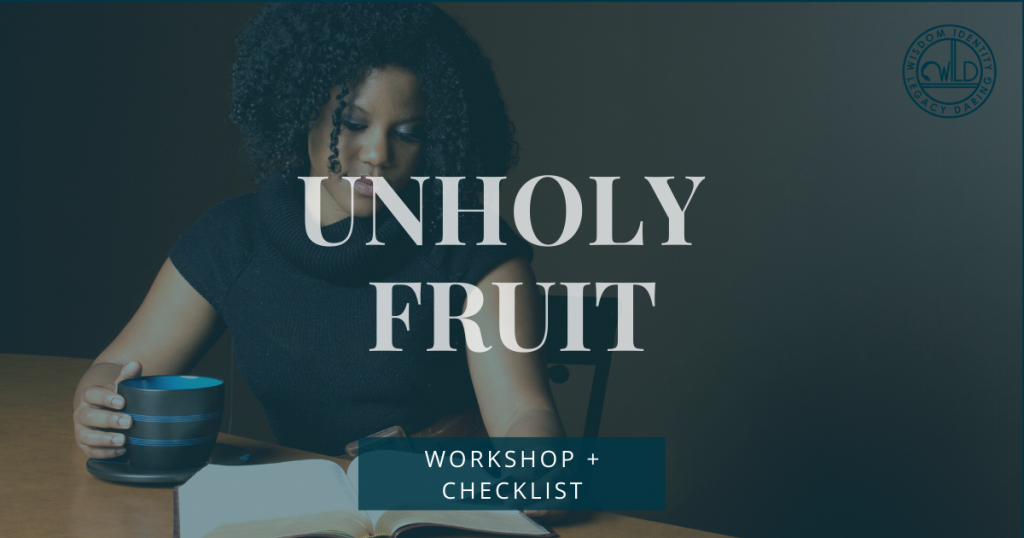 ---
17. "God can do anything."
"True, but he allows free will."
18. "If you pray enough then God will capture your unrepentant spouse's heart…let me tell you this story of someone else I know that had that happen…"
"We have free will and though God can use all circumstances for his will (Pharaoh) that doesn't mean your spouse will be converted or have a change of heart."
Read The Spectrum of An Abuser
19. "Remember to be sexually available whenever your husband wants it, so he won't watch porn or have an affair."
Addictions and adultery are individual sin, not something a spouse can help with or prevent.
Read
20. "Marriage is hard."
A healthy marriage is indeed sanctifying. But sanctifying and destructive are two different things.
Signs of a bad marriage: The typical target of bad Christian marriage advice
In conclusion, here's an insightful reflection from a commenter.
"I've noticed that so many of these advice tidbits are aimed at the woman in the marriage in the way of women's Bible studies or Christian counselors. It perpetuates the cycle of self-deprivation, overworking, taking on more than fair obligations in the marriage, and putting up with harmful behaviors from men. The advice always seems one-sided. "Just give, work, sacrifice, and suffer a bit more…"
Right?
Like we saw in #9, God's idea of a godly husband is a man who sacrifices as Christ did.
But when we heap all the responsibility on the wife to sacrifice and feed the beast of entitlement, and when we ostracize her for walking away from a bad marriage, (or not offer her the support and help she needs), we're setting up a different dynamic from God's set up.
And we have to ask ourselves why.
There's a lot more "good advice" and "bad marriage advice" we shouldn't say to people in destructive marriages.
What else can you add? What unhelpful/harmful advice did you receive if you've been in a destructive marriage? Or what advice have you heard being passed around with no context? Lets chat in the comments!
---
Helpful Websites and Pages For Toxic, Abusive or Difficult Marriages
If you suspect your spouse is toxic, abusive or chronically problematic, if they are engaged in unrepentant sin (repentance comes with fruit!) please get to a safe place and talk to a licensed counselor who is trained in relationship abuse and trauma. Please talk to someone safe. God loves you so much. Here are a few resources and websites to check out.