Sex is not a comfortable talking point among Christians.

The whole of last week we were discussing the importance of framing the sexual conversation, starting at a young age.
I introduced a resource to help moms give their daughters "The Talk" and in the course of the week, shared bits and pieces of my story with my email subscribers.
Are we friends on email yet? Join hundreds of wives around the world for weekly marriage encouragement and receive access to my library of marriage resources..FREE. >>Join here<<
Today, I want to go deeper and invite you to tag along as we explore sexual misconceptions and how to get to a healthier place.
But let me start by saying I understand why sex is an edgy subject.
I am African (Kenyan to be precise) and in our culture there's a bunch of stuff we don't talk about. Sex is one of those things you don't speak of with parents or adults.
A lot of times, kids grow up filling the blanks for themselves. I know I did. The sex talk I received from my mom consisted of a one-liner: "you are a big girl now, don't play with boys," delivered to me when I started my period. (Not to fault my mom, most parents bumble a bit.)
But I found "don't play with boys" weird because I literally played with boys; I was a shepherd girl after all. I figured my mom meant sex, but I didn't know how that worked either and I couldn't ask her. So I filled the blanks for myself.
Sex and Embarrassment

For many women, myself included, a lot of the conversation we heard about purity and sex centered around discomfort and fear, rather than education and affirmation.
Perhaps you know of girls who were ostracized and excluded from church circles because they got pregnant, or were discovered to be having sex outside of marriage.
Certainly, sex out of wedlock is wrong, and we should be convicted when we sin. However, the church should be a place of refuge, direction and restoration for the sinner, not the location for ridicule and shame.
The first purity message I heard was how much God hates sexual immorality. The horror of premarital sex was headlined. The notion of having sexual feelings as a single person was scorned.
Presumably, only married people had sexual stirrings, and everyone else was supposed to be dead, sexually speaking. It was a rare occurrence, for a single person to be taught how to deal with sexual feelings, other than stuff them and deny their existence.
Instead of acceptance and practical guidance on how to deal with sexuality healthily, singles were expected to deny a part of their wiring as a sign of "good Christianity."

But shaming and scolding someone for having a sexual nature achieves the opposite; "There's something wrong with sex." "Sex = secrecy, embarrassment, fear and shame and distance from God"
In the spirit of openness: I did not do a great job when I was a leader in the church.
Granted, I was single and grappling with many cultural and familial influences but I look back and I am saddened by the opportunities I missed to nudge people back to God when they fell out of relationship.
All because I was trying to live by "rules," not grace.
Now, the scandal of grace breaks me. I see how my calling as a Christian is to make it easier for people to find God, not harder. Restoration is a messy messy process and if I am not ready to get dirty, I need to re-learn what it means to be a Christian.
Going back to my formative years..
When you are a young person growing up, the idea of "losing a part of yourself forever" and being in "God's bad books" puts you on freaked-out mode.
Sex becomes something God is withholding, ready to whack you over the head should you stumble. And woe unto you if you fall; it becomes that thing you will never recover from.
(Which is opposite of what 1 John 1:19 says "But if we confess our sins to him, he is faithful and just to forgive us our sins and to cleanse us from all wickedness.")
Granted, parents and good mentors don't intend to freak anyone out.
They just want to help us avoid the heartache associated with premarital sex. Which is wonderful. But we run the risk of scarring the ones we hope to help when we slice out affirmation and education.
I have heard from many women who are struggling sexually because they were trained to feel bad about their sexuality.
To the degree that the best examples of spirituality were women who seemed most distant from their husbands. The ones who wore long dresses and no make-up. The ones who aspired towards the more traditional roles of womanhood (homemaking, wife) vs working outside the home or running a business.
There's nothing wrong with outward shows of modesty or being a homemaker. But I believe people don't need rules, they need Jesus. A real authentic relationship with their Creator which changes who they are, what they love and how they love.
I believe we need to headline "fruit,", not rules. (See John 15: 1-8 and Galatians 5:22-23) Because when you collide with Jesus, you don't stay the same. He will meet you where you are but won't leave you there.
When God and sex don't compute.
While many women have left the stringent ways of a conservative/inaccurate theology on sex, the unconscious assumptions have followed them in marriage. It's hard to celebrate what you are embarrassed/shameful/fearful about.
I am not going to tie up the post with nice tidy thoughts because I am still learning. But I do want to invite you to consider how your view of sex has influenced your marriage.
Is embarrassment, silence, threats, shame your soundtrack when it comes to sex? These things have shaped your view of intimacy in marriage.
One of the ways I found to combat wrong thinking myself was knowledge. The Bible tells us "You shall know the truth and truth shall set you free." It's not the truth that sets you free its the truth that you know that sets you free.
So I started learning about sex in marriage, outside my then circle of culture and influences. Before then I was quite happy with my level of knowledge. Until that information didn't explain why I was struggling.
So I dug around to figure out what was going on and how to deal with it. You can read a part of my journey here -> Libido: Figuring Out My Sexuality as a Wife and here -> What I Wish I Knew About Sex as a New Bride
Perhaps you are wading through sexual blues and don't even know where to start. Perhaps you are the higher drive wife who feels like a misfit because everyone told you men crave sex but yours doesn't. (Read this post)
Or you are single, hoping to get married someday but gag at the thought of sex in marriage. (Read this post) Or you are masturbating and it bugs you sometimes but not too much. (Read this post)
I want you to know that your present predicament can tip you towards solutions: I invite you to snap on your learning cap and find answers.
It's far too easy to talk about our problems and not do enough to get healing. But I would rather believe the Bible when it says "I can do all things through Christ that strengthens me." (It doesn't say I can do all things easily, just that I can.)
Resources to Help
If you have lingering questions, shame or fear around the topic of sex, I invite you to check out the following resources.
Some of the sections might contain affiliate links. That simply means should you make a purchase, I will get a referral commission at no additional cost to you: it helps me continue providing you with free content.

1. The Wedding Night: Embracing Sexual Intimacy as a New Bride
This is my second book; a no-fluff, down-to-earth resource to help the newly married and engaged woman become sexually confident in marriage. Plus it teaches you how to keep sex fabulous beyond the newlywed years. Purchase your copy Kindle I Paperback I Nook I PDF I PDF UK & Europe. Or Click here to learn more.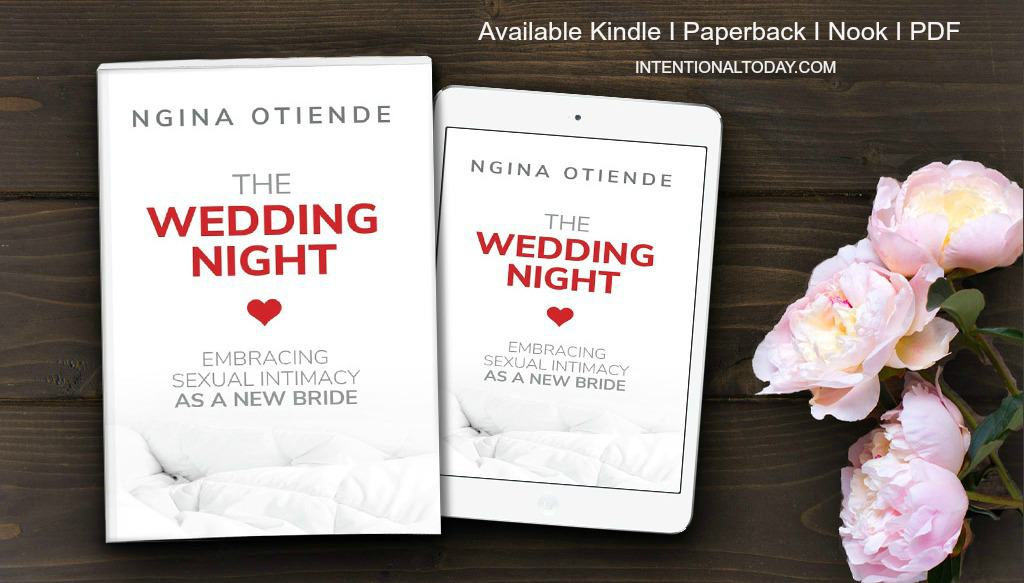 2. The Whole Story Not-So-Scary Talks about Sex, Puberty and Growing Up
The Whole Story is a unique, video-based course to help moms and single dads – or aunts, big sisters, even grandparents – guide their girls (either aged 10-12 or 13-15) through the highs and lows of growing up. Make sure your girl is affirmed and educated in a natural easy way so she doesn't blanks for herself. Read all about the course here.
3. Boost Your Libido
This is an online course for wives who feel like their sex life has become blah. If you feel more tired than sexy and a bubble bath and chocolate sound more exciting than your husband at the end of a long day, the course will set you on a better path. Click here to check it out. I wrote an in-depth review here.
4. Hot Holy Humorous
Is a blog by J Parker who talks about sex by God's design. It's one of the best Christian sex blogs that I have grown to love. J is thoroughly Biblical and quite hilarious. Check out J here
5. To Love Honor and Vacuum
Is authored by Sheila Gregoire and it's where I first landed when I was seeking help for my marriage. Sheila goes beyond the pat Christian answers and offers new perspectives to niggling old problems. Check out Sheila here
6. Single Life
This is a list of posts I have written on single living. Browse through for tips on how to thrive as a single person, including how to deal with sexual feelings before marriage. Click here
I know that's a bunch of resources to go through. But I hope you pick one or two that pique your interest. Do something today to help you get into a decent frame of mind so your marriage/life can thrive.