First Year of Marriage Problems And 10 Helpful Solutions
The first year of marriage can be tough.
My husband and I struggled in our first year of marriage. Even with common values, we were as different as night and day. 
The difference was odd because just a few months prior, when dating, we felt like two peas in a pod!
Our dissimilarities and the problems they created broke my heart.
It took a long time to accept our newlywed adjustments as a good thing.

Today I am going to share what we learned. Because I want you to thrive, not just survive your first year of marriage.
Many couples throw in the towel because the thrills and expectations of dating require a little effort in marriage. 
You don't have to throw away your marriage. You don't have to agonize with endless questions. You can learn to embrace the effort of growing a good marriage. You can thrive past your first year of marriage problems.

To help you navigate the first year of marriage, I am going to answer ten questions most newlywed couples have. The list is not exhaustive, but it will get you started in the right direction.
First year of marriage problems and ten tips to help smoothen the learning curve
1. Was getting married a mistake? 
There's nothing as crushing as doubting your decision to get married, right after you got married. Granted, doubt is gut-wrenching, no matter how old your marriage is. But it's especially gutting in your first year of marriage.

When my husband and I were dating, a marriage mentor told us, "a man or woman may be a wrong choice before the wedding, but once married, they become the right choice."
There was a caveat to that statement of course (there must be goodwill on both sides) but I took his words so seriously that I broke up with my then-boyfriend-now-husband; I did not want to marry the wrong choice!
We did get back together, but only after we had lengthy conversations about our expectations. 
Many couples will experience a "break-up" moment, even in marriage. Seasons when the relationship will demand more than they are willing to give. Times when they'll feel as if the only option is divorce. 
So how do we navigate the "did I make a mistake getting marriage?" question?

First, accept there's an ease and bliss to dating that is absent in marriage. Marriage is about growing up and growing up together is hard.
Second, remember it's okay to feel overwhelmed. After all, we have not been down this road before. Instead of being paralyzed by fear, remember we can take action even when we feel afraid. We can begin to boldly explore why marriage feels or looks like a mistake.
Third, we must accept there's a season of adjusting to married life. Just because it feels wrong, doesn't mean it's wrong.
Finally, we must remember that a healthy marriage takes two. Abuse, addiction, abandonment are not to be tolerated. You can't heal from what you don't confront. Don't make excuses when you should be taking action.

2. Why does marriage feel so.. bleh? 
Most newlyweds don't see it coming…the everyday-ness of marriage. I didn't see it, and when it hit, it hit hard.
Dating, engagement, the wedding, the honeymoon are highs—incredible, adrenaline-pumping highs.
Marriage is the landing. 
No, I don't mean marriage is boring. I mean marriage is normal. The wake-up-brush-your-teeth-go-to-work-fix-dinner-watch-a-movie kind of ordinary.
Now, it's important to add twists and fun to our routines. But these perks don't take away from the main framework of marriage, which is two people, doing life together. There's a sweetness and ordinary-feel to everyday life.
Instead of wondering where the butterflies went, start to embrace your new life as your new normal and remember that what was effortless in dating takes a little bit of effort in marriage.

3.

Is it normal to fight and have first year of marriage problems?
As newlyweds, my husband and I were crazy in love. But we drove each other nuts.

I had an intense desire to create a perfect marriage, and in my mind, "perfect" included the absence of conflict. Or the next best thing; the ability to resolve issues quickly and effortlessly.
My husband, on the other hand, had a deep desire to be left alone. He was in no hurry to straighten every crook of our little marriage. Mostly, he wished to be accepted and loved as-is as a path to the marriage of our dreams.
It was a recipe for the perfect storm.
What we didn't know then, but what I want you to know now is disagreement doesn't mean the end of a marriage. It merely reveals our humanity and areas we need to grow and change.
Couples will disagree because of being different individuals. In fact, not being replicas of one another is what attracted them to each other. Once married, they must find ways to iron out differences and irritations without throwing the marriage under the bus.
Now, if you are always disagreeing, you might want to look at your value system because we are happiest when the marriage is rooted in our core values. 
You can find a free Values Worksheet when you join my VIP marriage community. Once you sign up, you'll get instructions on how to access the Values download, which is located in the VIP Marriage Library.
4. Okay, but we are so different! How can I change him?

As a new wife, I preferred to talk about e.v.e.r.y.t.h.i.n.g.
But while I talked through problems (and we had plenty of them), my husband liked to process – quietly – and speak only when he figured out some answers.
Further, I was the "rules breaker," and he was the systems man. I was the emotional feeler, and he was cool and logical. 
I hated our differences.
Years of marriage later, I would discover that having different personalities wasn't our main problem. Our problem was how we approached those differences. We had the option of using them to our advantage. Or allowing them to tear us apart.

If you both made the mature decision to get married, you can likely get along, with some effort. Otherwise, you would have broken up.
I am not minimizing personality differences. But assuming "if he were like me, we'd be happier" is precisely the wrong way to navigate problems in the first year of marriage. Attempting to change him is even worse.

Here's how you can navigate personality differences in marriage so you can get back to feeling like a team again.
5. Why is everyone all over my business?
Folks say the newlywed years are the best years of marriage.
I don't believe it's true for everyone.

In fact, I wrote about my irritation in my book Blues to Bliss: Creating Your Happily Ever After in the Early Years

"How is marriage?" A few months married, the question is as common as my morning cup of tea. I know what folks want to hear. That marriage is fun and exhilarating, and I am swinging from the chandeliers in absolute glee every morning.

Regrettably, and while marriage is sweet and exciting, it's not always amusing.

Almost every newlywed goes through what I call the "irritating questions" phase. One of my chief irritations as a newlywed was the assumption that I would be giddy 24-7. Oh, I was happy, and my husband rocked.

But our marriage was made up of more than linking hands and smiley faces: it involved successfully working out the hard details of a relationship without falling out of love.

That was tough! I craved for people to understand that new brides had their moments; it wasn't always sunshine in marriage-ville. Excerpt, Blues to Bliss: Creating Your Happily Ever After in the Early Years
So here's the deal. Do you. Don't try to mold your marriage into what people think it should be. Do you. Correctly divide up the truth – not every marriage advice is good for your marriage.
I am not saying don't listen to anybody because you sure need to listen to somebody. But I am saying being a student of everyone will sink your ship.

Also, understand that everyone's journey is different. A husband and wife with a stable income will navigate the newlywed years differently from a couple who don't have jobs.
People who have experienced pain and trauma will navigate differently than those who don't have as much pain from the past.
Couples with trust issues will approach conflict and connection differently.
So don't compare your marriage. Instead, learn what it takes to create a great foundation so you can joyfully navigate the first year of marriage and build the union of your dreams.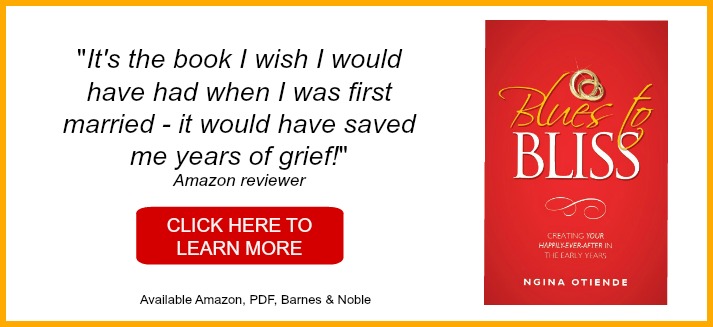 6.

Why is the first year of marriage hard?
New couples are in a big hurry to grow up.
I know because I was a newly married wife on a racing track, desperate for maturity. I also coach wives who are frustrated by marriage problems and they want quick turnarounds.
Now, it goes without saying that we should address first year of marriage problems (and every problem after that!)
If he's still living like a bachelor or thinks you should be his mom, you definitely want to address that because things don't change until we do something about them.
Go ahead and establish healthy foundations. Read the books. Get counseling. Have boundaries. But alongside those, recognize there's still a lot of relationship growing to be done, and you are in the early stages of it.
Think about it this way; if we gave up on learning on the first day of school because everything felt confusing and impossible, no one would get an education.
If you had given up on the relationship the first time you disagreed, you wouldn't be married. If you didn't give yourself permission to love and be loved, you definitely wouldn't be married.
So accept there's a process. Don't give up because of a learning curve. Accept the education as part of growing a marriage and grow.

PS: No amount of love or understanding will "grow up" an abuser. They need to own up to their problem and get the help they need. If there are addictions and or you've been abandoned, please talk to a counselor or trusted friend (see #7)

7.

Do we really need counseling for first year of marriage problems?

If there's a group of people who hate looking for marriage help, it is newly married couples and especially those in their first year.

My husband and I were incredibly blessed to have mentors, but we struggled to let them in. We didn't want them or anyone else to think less of us.
So we tried to keep a happy Christian face and live up to that "honeymoon" expectation everyone seemed to have of us.
We were happy most of the time, but we needed help! We needed outside perspective, someone to facilitate a safe place for hard conversations.
Marriage is marriage. In other words, it doesn't matter how long you have been married. Get outside input when you need it. It doesn't matter if you've been married two months or twenty years.
If you've been married three days and you think your marriage can benefit from counseling, you are not crazy to get it.
If you feel like you don't need therapy but can benefit from someone helping you navigate the overwhelm of being a wife, I can help you. Learn more here.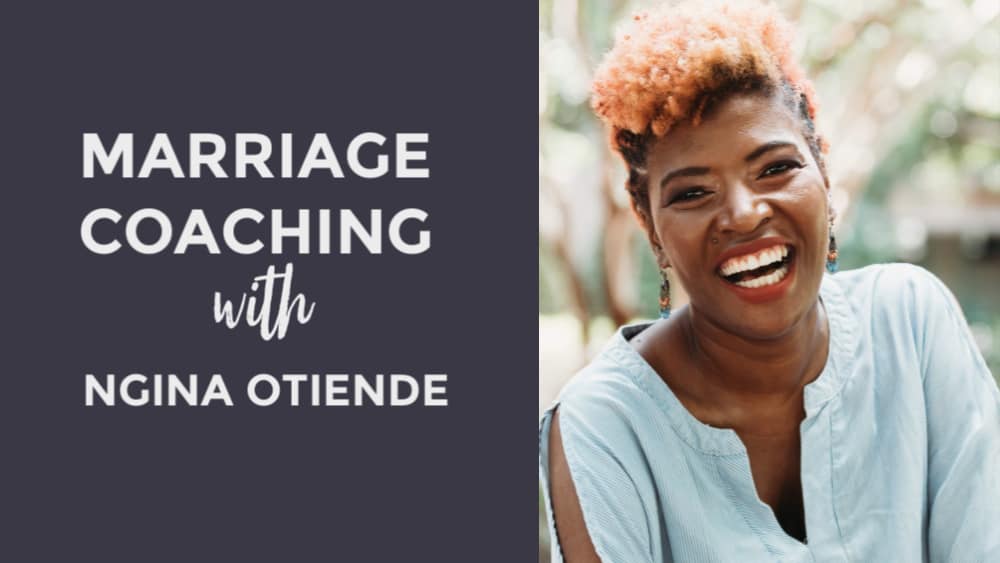 8.

But I am scared to get help, what else can I do?
Often, we hope marriage will change us, but marriage tends to reveal who we really are. It's impossible to change a marriage until we address the beliefs and values that came with it.

Still, many people get married, hoping their spouse will grow because they got married. Like there's marriage bug that changes a person's values and beliefs the moment they say "I do." But here's the truth
An abuser will abuse you while wearing your ring.

A person who doesn't respect women gets a woman to disrespect.
An immature person just has more responsibility to ignore.

A financially reckless person gets a little extra income to play with.
That's how much marriage doesn't change us. Our beliefs and values are baked into the individual, not the relationship.
To change a marriage, we must address the beliefs and values that came with it because values are baked into the individual, not the marriage
To fix a broken marriage, you need to start on the inside: the people and their foundations. You must go beyond surface fixes. You must want a healthy marriage more than you are scared.
As we said, you can take action even when scared. That's what courage is – taking a step forward, even if it's little, even when you feel afraid. (If you feel unsafe in marriage, if you are scared of your husband, enlist the help of a counselor, a trusted friend, or authorities. Your safety first!)

9. My husband and I are great friends, do we really need other people?
One of the mistakes new husbands and wives make is isolation.
There's nothing wrong with building your friendship and being the biggest fan of your love story. But couples need other couples. They must plug into something outside of themselves to flourish.

I am not talking about building a massive community of friends because that is not possible for most people. I am proposing finding one or two friends to hang out and do life with.
Couple friends are gold because they teach you things you wouldn't learn by yourselves. You learn by watching, observing, seeing how they relate, and getting inspired.
Further, having people in your lives helps you realize you are not all that different (or crazy) after all. And it makes navigating those first year of marriage problems easier.
10.

How do we navigate personal loss?
My husband got laid off four months after our wedding. I was volunteering for nonprofit at that time, without pay.
I didn't understand how stress affects people. That our personalities can shift because of outside stressors. That we can go out of character as a coping mechanism.
So I didn't understand why my husband was withdrawn and moody. Wasn't he happy to be with me? Wasn't I enough? Wasn't being a husband no longer satisfying?
In marriage, a personal loss is a relationship loss. In the sense that what goes on "out there" affects what goes on between the two of you. While you might not be the one going through the financial loss, for example, it will still affect your resources and the feel of your marriage.
So the next time you have a breakdown, or conflict or difficulties, start by asking yourself, "what else is going on in our lives?" You ask the question, not to excuse errant behavior but to bring much-needed awareness and understanding. 
And those are my ten answers to ten questions on navigating first year of marriage problems! What point resonated the most? What else has helped you navigate your early years of marriage? Let's talk in Comments!
~~
Are you wrestling with the overwhelm of new marriage?
Or maybe you are madly in love with your spouse but suspect marriage can be better? Perhaps you are the imperfect girl married to an imperfect guy who is tired of fighting, fussing, misunderstanding and distance. You long for healing and happiness. There's hope! Blues to Bliss: Creating Your Happily Ever After in the Early Years will help you work through the kinks, find joy in imperfection, positively influence your marriage and create the marriage of your dreams, God's way. Buy it
Amazon Paperback
I
Kindle
I
Barnes & Noble
I
PDF
.
"It's rare to get such honesty about the Christian marriage, with the recognition of the fact that real life is messy!" Reviewer