No Really, We Should Stop Telling Women to Forgive Their Cheating Husbands
Forgiving an unfaithful spouse: I had many people respond via email and Facebook comments to my last post and while many agreed we could do better, some thought I was overreacting.
And so I want to talk about what I think Christians are getting wrong.
But first make sure to read my last post Why "Forgive and Reconcile" is a Terrible Message To Betrayed Spouses.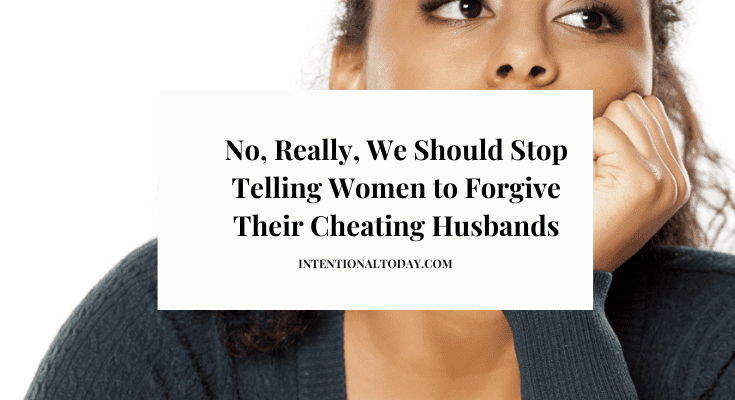 Okay, lets talk about forgiveness.
Say you're walking down the streets, and suddenly you see someone, bruised and bloodied by the roadside. What would be your first (healthy) instinct?
"Hey, you need to forgive and reconcile with the person who did this to you."?
I suspect not.
I suspect the healthy instinct would be to get the victim the help they need so they don't bleed out and die. I suspect many of us would focus on the VICTIM'S NEEDS. Not discussions around how to fix the relationship with whoever did that to them.*
But here in this conversation, we keep leading with, "But women need to know they can forgive and reconcile and their marriages can be saved!"
As if these betrayed women didn't know that already!
Most Christian wives are not scanning and running for the exits the moment harmful behaviors or patterns begin to emerge in their marriages. They actually want their partner to stop their bad ways so they can have a healthy marriage.
On that basic level, we all can determine that somewhere deep within, they want to "forgive and reconcile" because they desire their relationship to be saved.
So we're not saying anything new when we talk about forgiving and reconciling.
What we are doing, however, when we choir-up "forgive and reconcile," is further encourage the bypassing of her needs for safety, trust, respect, and stability.
The "forgive and reconcile" messages encourage women to ignore what their bodies and god-given instinct are saying. They pressure them to focus on their spouse and the relationship.
Forgiving an Unfaithful Spouse: Infidelity is a Choice
Infidelity is a choice.
I don't think we understand how truly intentional of a choice it is. There's no "oops" or "I don't know how I ended up in her inbox?" There's no "I really don't know how that happened." It's a choice.
Yes, a marriage can be saved after infidelity, as Misty Terrell shared their story.
But that marriage is saved because, first and foremost, someone owned up to the terrible evil they did and followed up with the hard work of recovery and fruit-bearing.
The marriage is not saved because their spouse just chose to forgive them. No marriage HEALTHILY survives infidelity because someone just forgave and forgot. There's got to be deep work by the cheating spouse.
Yet many of us want to force the "deep work" on the betrayed spouse. To "forgive and forget" as if THEY are the bad guys, the ones who broke trust, the ones who drove a knife into their heart.
Again, there's work on the relationship level, IF the relationship can be saved. Much healing. Growth. Choices to be made.
But we need to understand that the "forgive, forget and reconcile" message should never be a leading conversation. It should never be emphasized and highlighted with all the doodle marks.
We must allow wounded people to explore their options and offer clarifying feedback that does not add to their distress and grief.
We must allow hurt people to lead the conversation about how they want to live their lives. Let them invite us into their conversation. Let's stop assuming we know the "what," "how," or "when" of their lives.
*(Betrayal is one of the worst kinds of marital injury. "Beaten, bloodied and left on the roadside to die" does not even begin to describe the pain of betrayal by someone you trusted with your whole life.)
Unholy Fruit | Your WILD Guide to Discerning Toxic Character | Workshop with Sarah McDugal
Rise above the dissonance between pious words and exploitative actions.
Are you in a chronically problematic marriage? Or perhaps you know someone who is and you desire to support them.
In this Workshop and Checklist (affiliate link), Coach Sarah McDugal empowers your ability to discern the Fruit of an UNholy spirit.
If you have felt confused by the dissonance between someone's pious words and their exploitative actions, this workshop offers clarity and some possible next steps in your healing journey. Click here to check it out.