Adjusting to Married Life – Has Your Husband Replaced God?
Adjusting to married life can be hard.
Newlywed wives are often surprised by the depth of changes awaiting them in marriage.
One of the areas of adjustment in marriage is the spiritual life.
Inside every wife is a woman who has been called to follow Jesus.
That seems obvious, until you realize how easily we lose sight of the fact that we are Christians first, before we are wives.
Many times as we start out in marriage, hubby will occupy huge spaces in our hearts.
At least that's the way it was for me,  our blues notwithstanding.
As a single girl, I pursued and served God with every fiber of my time and my being.
When I fell in love with my Tommy, I continued to serve God. But then I had to make time for regular dates.
We liked to meet early mornings for breakfast, so that meant I had to wake up earlier to have my quiet time. Sometimes my devotions didn't happen.
After the engagement, many waking hours were taken up by wedding preparations.
I wasn't able to do everything or be there for everyone anymore. And it wasn't just time-wise; my energy levels and margin were diminishing. I was changing.
I still loved the Lord with all my heart, but there was another love, another man slowly taking space in my life.
Adjusting to married life
After the wedding, it was a struggle, trying to figure out the place of Tommy and the place of  my Lord.

Jesus was no longer all I had. At least that is how it felt. I had a physical man to hug, to love, to hang out with, to bounce off ideas.
A few weeks married, I sat in our study, sobbing.
My relationship with God had moved from a vibrant, service-filled, energetic fellowship to a quiet, almost detached relationship.
I was ashamed that I no longer felt the same vivid love towards God I had before the wedding.
My quiet time was dry, sometimes it didn't happen.
I was a new wife, living a new life, trying to figure out the place of God in her marriage.
Through the tears, I heard the Spirit of God speak
You are dry because you no longer run hard after me
I knew I needed to make adjustments but this word was unexpected. Instead of a "stern" word, I wanted a soothing word. I was not ready for heavy conviction.
(PS: Years later, I would also learn that spiritual change is one of the common areas of adjustment in the early years of marriage. God was very much aware of these changes. He was simply reminding me to continue nurturing my relationship with Him, even in the new season.)
The reason I am sharing this today is because I am not the only wife who has struggled to prioritize her relationship with God after the wedding.
Many times it's not because we decide Jesus isn't important any more.
Often it's because we are not ready to go harder after God. No one told us we would need a new intensity in the marriage because the new relationship brings all kinds of emotions, changes and stretches.
Primary, your heart will be full, filled by the love of a man.
It's easier to lay in bed and talk to this man instead of waking up to spend time with a Man you cannot see.
You might even discuss Scripture with your earthly man and feel like it makes up for personal, one-on-one time with God.
That day, I felt like God said to me;
If you want to grow and continue to know me more, you have to run harder. You have to be more intentional and purposeful about your Christianity now because marriage can steal all that away. It's a new season, and with it, a new responsibility.
Adjusting to married life and couple devotions
Don't our couple-devotions count? you wonder.
Sure, it's powerful when couples read the Word of God and pray together.
My husband and I pray together almost daily.
But we were made for a one-on-one relationship with God. (John 3:16) His death was personal, His pursuit is singular.

Joshua, one of the great men of faith, stood before a nation and declared
But if serving the LORD seems undesirable to you, then choose for yourselves this day whom you will serve…But as for me and my household, we will serve the LORD." 24:15

It's great to have a "household faith" but it starts with a personal faith.
I cannot depend on my husbands spirituality or our joint spirituality.
I must make up my mind to stay on course and fan my own flame.
God is always teaching me how not to be emotions-driven in my Christianity. 
My relationship with God, while it's sweet and intimate, has to be a discipline.
I have to get off the couch, shut the bedroom door me and get on myself before God. My life needs it, my marriage needs it, my husband needs it.
Has adjusting to married life nipped your relationship with Jesus?

Are you looking to your honey to meet all your needs? Are you so enthralled by this gift of marriage you have lost sight of the Gift-giver?
Jesus is calling you. Not in condemnation, but a gentle beckoning.
Over time, (if you haven't realized it already) you will see how your husband can't complete you or fill you in the ways you want.
Only Jesus can do that.
If you are frazzled and out of balance, trying to figure out how to prioritize your relationship with God in marriage, ask Him to show you how.
He will speak! Those early mornings, lazing in bed, scrolling through your phone, chitchatting with hubby, you might begin to hear the call to fellowship!
Not that it's wrong to do these things, (it's not!) but don't use them as an excuse not to spend time with God anymore.
God will show you how to make your relationship with Him a priority – doing your quiet time as a discipline, not just when it's convenient.
Distractions are not limited to the early years of marriage.
What you are doing today is good discipline for what will come tomorrow because married life doesn't get any less busy.
Adjusting to married life – when your husband is not spiritual
Maybe you are married to someone who is not as spiritual as you are, (please read this post) or someone who doesn't know the Lord yet.
And you feel held-back and incomplete because of the unequal yoking. You want him to be the spiritual leader but he's not there.
It's hard and I feel for you.
But you are without excuse.
Your husband's lack of spirituality should not stop you from pursuing Jesus for yourself.
Your husband's lack of spirituality should not stop you from pursuing Jesus for yourself.
You might not be able to pray together or discuss scripture but you can pursue personal time with God everyday.
God Himself through His spirit, will teach you, affirm you, lead you into all truth.  (John 16:13)

It's a personal relationship with God and every Christian has to cultivate it, regardless of who they are married to.
Your turn! How are you adjusting to married life ? Have you struggled to prioritize your relationship with God after marriage? Any tips you can share to help us prioritize our time with God? Let's talk in Comments below!

Additional reading
Please read these posts for more insights on developing a quiet time with God.
2. Is Christ instructing your marriage today?
Are you wrestling with the overwhelm of marriage?
Or maybe you are madly in love with your spouse but suspect marriage can be better? Perhaps you are the imperfect girl married to an imperfect guy who is tired of fighting, fussing, misunderstanding and distance. You long for healing and happiness. There's hope! Blues to Bliss: Creating Your Happily Ever After in the Early Years will help you work through the kinks, find joy in imperfection, positively influence your marriage and create the marriage of your dreams, God's way. Buy it here
Amazon Paperback
I
Kindle
I
Barnes & Noble
I
PDF
.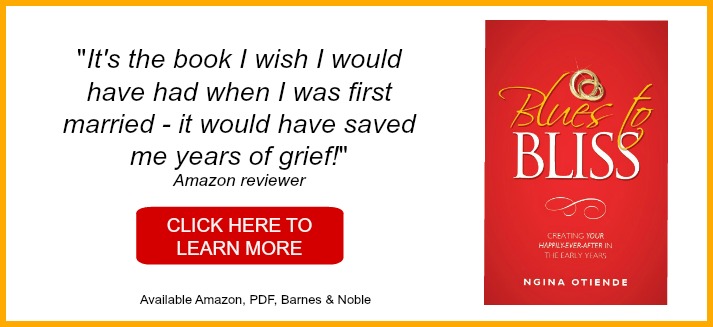 Linking with Wedded Wednesday, Wifey Wednesday