When Your Husband Talks to Another Woman – 12 Things To Do
So your husband talks to another woman, and it hurts you, but he doesn't see why it does.

A lot of wives reach out to me asking what they might be doing wrong because their husbands are talking to other women and they think it's okay.
By talking, I don't mean a normal or passing conversation, but a closer relationship that rattles the woman in the marriage relationship.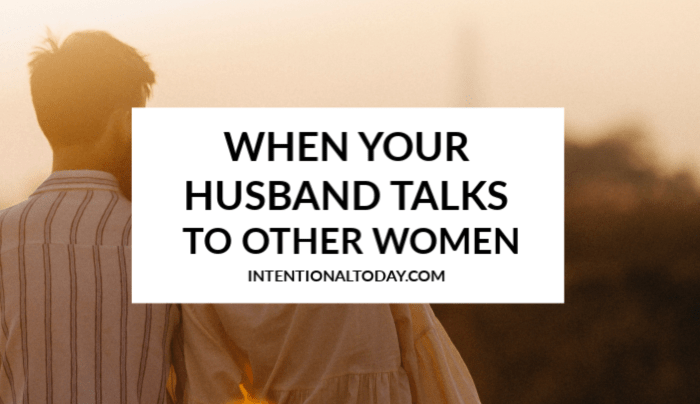 But husband doesn't see it; he feels his wife is just jealous or blowing things out of proportion.
Before I share my twelve tips, let's first get our own house in order as women.
If you think your husband is texting, calling, pursuing, confiding in or generally encouraging a borderline relationship with another woman, be aware
– It's possible to imagine a relationship that doesn't exist
Just because a woman is coming on to your husband doesn't mean your husband asked for it, is encouraging it or is interested in her.
Always try to have some context and don't be quick to judge. We'll talk about this in greater detail below.
– Female friend's don't disappear because he got married
He had a life and friends before he met you. These friends, male or female don't evaporate after "I do" (unless they NEED to.)
Hopefully during the dating and courting stage, you met his friends and got to know a few. Some of these friendships won't make it past the early months of marriage because our priorities, focus, and energies change.
But a few stay a little longer. If the dynamics need to change, they do so gradually. Overall, the friends who remain tend to be your friends too.
– You can't control his work life
If he's an employee, he's likely not in control of most of his work life in terms of who he sits next to, travels with, meets with for work.
Yes, he should have personal boundaries in his work life and should be able to take action if those boundaries are getting infringed upon.
But he doesn't have a lot of control there. Yes, talk about any relationship that makes you nervous but also appreciate the whole picture and not just the pieces that matter to you.
– Check your heart
If you are insecure and tend not to trust easily, you'll likely project your issues onto your husband.
The best place to start, when you think your husband is cozying up with another woman or the woman is too comfy with your husband is to ask, is it me?
Then work from there.
Certainly, you can be both insecure and correct in your assessment of a relationship your husband has. But your insecurities might interfere with your ability to communicate well and hijack your ability to resolve healthily.
With that foundation laid, let us dive into the 12 things to consider when your husband is talking to other women
1. Cut off your friendship with the other woman
This is for the wife who's "best friend" is chatting up her husband, and she feels pressured to keep the woman in her life because she's being told (by the friend and her husband) that there's nothing going on between the two of them.
Obviously, the first step is to have a talk with your husband and request for the infringement to stop.
But as far as your friend goes, you should walk away because she is not a friend.
"She's such a nice person! Plus I don't want her to think I am petty and weird."
Well listen, if my best friend hinted that she's uncomfortable with my association with her husband, I would drop the connection with her husband like a hot potato. Because friends listen to each other like that.
Anyone who inserts themselves between a married couple is paddling the wrong way. It doesn't matter if the married couple is right or wrong: it's none of your business at that point. Pack up your ego and leave.
So to you dear wife. If losing your friend makes you uncomfortable, if drawing the line and insisting someone respects you feels wrong – take a minute to consider what you would rather lose; a friend or your marriage?
Your marriage is worth it.
2. Talk to your husband
I can't count the number of times I've made assumptions about my husband. Like he should know how specific actions make me feel.
I know this is an obvious point, but it needs to be said: if you need to say something, say it. Presuming "he should know" or giving vague hints or sulking doesn't cut it. Neither does punishing him for things he doesn't know of.
If letting your husband know you are uncomfortable with a relationship he has, consider your end goal; it's not to prove something but to communicate your heart and to hear his.
This is not about who is right and who is wrong. This is not a battle: it's a relationship. Don't be afraid of stepping out for your marriage.
Plus you would rather speak your heart than rage with hidden problems. Those issues tend to leak out anyway.
3. Understand how men are wired
I hear the uproar all the way up here in Texas but I am making a different point: what you see and what he sees might be two different things.
We women are wired with an uncommon sense; we just know things. We pick up when another woman is flirting with our husbands or encroaching our marriage boundaries; it's a gift we have.
However, most husbands don't have that gift in the sense that some relationship dynamics are lost to them. A wife can read all the warning signs while her husband thinks the other woman is just nice and friendly.
So if a woman is flirting with your husband or being too cozy and your man is convinced there's nothing to it: he might not be seeing it.
If a woman is flirting with your husband or being too cozy and your man is convinced there's nothing to it, understand where he's coming from: he might not be seeing it. But here's a caveat
He's not covering anything; he's just blind complex cues and calls.
Obviously, once you've shared your heart and even if he doesn't understand it, he should listen to you. If he doesn't, the problem is broader than connection blindness. He's choosing not to honor his marriage.
4. Remember correction is painful
I heard a husband share how he asked his wife to be his accountability partner because he was struggling with looking at women.
One day while relaxing on a poolside, a sharp pain pierced his side.
He turned to find his wife pinching him hard. "Just helping with accountability, dear."
Apparently, she saw right through his dark glasses as he stared and "escorted" a woman passing by.
Point of the story: correction is painful. Not always physically (because I am not suggesting you keep your husband accountable in that way) but in many other ways.
It's unpleasant and uncomfortable to be admonished. Expect your husband to squirm, just like you would if the tables were turned.
Don't act like he should just bounce along like your observation was nothing. Read this Instagram post on how my husband and I keep each other accountable in this area.
5. Seek counsel
When it comes to your husband talking with other women, the problems are as diverse as the individual couple. So it's not possible to offer specific insights in such a general post (though we'll attempt below.)
That's why I encourage every wife who writes to me or leaves a comment on the blog to find a trusted friend or a mentor or a pastor to share her dilemma.
An article like this will help in a general sense, but it can't walk you in "fine print." For that, you need community; someone to pray with you, a person that listens to the Spirit of God and who believes in the sanctity of the vow.
We must develop a community; don't just show up to church when you have a problem. Cultivate fellowship as a lifestyle.
Then should you need your community in this way, reaching out becomes a natural part of your fellowship, as easy as calling a friend for coffee.
6. If your husband is talking to another woman, it's not your fault
I get it.
We marrieds have a unique privilege and responsibility. When we got married, we became the only option for our spouse, and we are to choose to be a blessing to our mates all the days of our lives.
We can't dismiss the things that matter to them and expect the marriage to fare well.
If you are intentionally turning away from your husband and making light of what matters to him – you are doing your marriage a great disservice and you need to get help.
You can't drag your marriage through hot coals and then turn around and complain about being burned. While your husband is responsible for his actions, you are also responsible for yours.
Get the help you need.
Are you struggling with low libido? Work on it. And join this group of wives for encouragement
Are you turned off by bad communication? Pursue health
Are you too busy for marriage? Learn to prioritize
Are you feeling disrespected? Address it
Are frustrated with your marriage? Look inward
Are you feeling like you married the wrong person? Read this
That said, allow me to inspect the other side of the coin.
Whatever problems a wife is experiencing, they are not a ticket for her husband seek refuge in the arms of another woman. He can't fish outside his marriage covenant because "my wife isn't attractive to me anymore."
Because, as the popular saying goes, you don't go looking for a new house when the light bulb goes off, you fix the bulb.
You don't go looking for a new house when the light bulb goes off, you fix the bulb. When your marriage light dims, you don't look for another marriage, you fix it.
So for the husband who feels his wife has "let herself go" and consequently no longer deserves his affection or attention; you have a problem that is deeper than the physical; you are forsaking your commitment to your wife.
I am not minimizing the disappointment you might be facing. It is heartbreaking when a marriage no longer brings joy because your wife switched off in the areas that matter to you.
However, when we got married, we vowed to love hard, till death do us part or Christ takes one of us home.
Love isn't a feeling but a decision.
It's choosing to be patient and kind. To not demand our way or be irritable and keep a record of wrong. It's rejoicing in truth and never giving up or losing hope. 1 Corinthians 13: 4
You can practice these decisions even when disappointed.
Continue to encourage your wife instead of turning away. Explore your heart, confess of any sins of fear or comparison. Encourage her to be a part of a healthy community.
And join a community of other men who love God and family so you can be challenged and encouraged as a man.
Also never stop praying for her. Because if she's turning away from the things that matter, her issues are deeper than your marriage.
7. Plug the holes
So Intentional Today, this website, is a newlywed website. My audience is mainly made up of wives who are in the early years of marriage.
So, if you are experiencing opposite sex problems this early in the marriage, the chances are that they are not anything new. Your husband was this way before you married him.
In fact, I've heard of husbands who said to their wives, "but you knew I liked to talk to women before we got married, why are you getting bothered now?"
So let's be honest. While your husband has an undeniable problem, you allowed him to get away with it. You have some business to take care of, questions to ask yourself and some growth to do.
Ask yourself, why did I settle for low standards? Was I naive and assumed things would change once we got married? Was I fearful of losing him? Was I too proud to back off when I saw the red flags?
Talk to God and name the problems that arise. And then start to deal with them.
Again, you can deal with both issues at the same time (yours and his) but just remember you can't heal what you don't confront.
Prepare for a more thorough journey ahead; purpose to heal from the roots up. Realize that the more address your issues, the better equipped you'll be to deal with his.
God sees you and loves you and wants to make you whole. He's not upset or angry at you.
So far, we've covered 7 possible steps to take when you find out your husband is talking to other women. In the remaining points, we'll explore a few scenarios and some possible action steps.
8. When you stumble on compromising pictures of another woman on your husband's phone, exercise restraint.
DON'T fly off the handle.
Just because there is a picture doesn't mean what you think it means. It doesn't mean the picture was solicited.
For example, certain messaging Apps like WhatsApp automatically download images into the phone gallery. So if your husband is in a group on Whatsapp and someone shares a picture there, it will download on his phone gallery.
Certainly, you should talk about it, but the point is to avoid jumping into conclusions.
I love something blogger Sheila Gregoire says
In marriage, we tend to judge ourselves by our intentions and our spouses by their actions.
Think higher of your spouse instead of always assuming the worst without any evidence. Listen to his side of the story first.
9. Give yourself space to grieve. And plan
So you found out that there was indeed a conversation before a picture was sent.
Or you stumbled upon texts or encounters that reveal it's not accidental or unsolicited or one-sided. Maybe you find him engaging instead of shutting down another woman's pursuit.
Or he's blatantly pursuing intimate or borderline connection. Or there's a girl who makes you uncomfortable, and you've talked about it and he promised it wouldn't happen again, but you discover he never ended it.
It's heartbreaking, and I am so sorry you are going through this.
I don't mean to unload another bag on you, but you need to accept you have something bigger than a minor infraction; you are likely dealing with marital infidelity (emotional or sexual.)
One of the best things you can do is to try and deal with your hurt emotions before you try to confront him.
Give yourself a little space to grieve and feel. But also space to think and plan for that conversation.
Prayer is crucial. Without talking to God, taking time to linger in His presence, allowing Him to affirm you and comfort and give you wisdom, you will stumble.
10. Create some boundaries
Maybe you've confirmed he's having an emotional affair.
Your heart and trust are broken and connecting sexually is the last thing on your mind. But he wants sex and thinks you should carry on as normal or as close to normal as possible. And you are conflicted and worried.
I want to know that it's normal to feel disconnected from your husband.
Our emotional responses are mechanisms that actually serve a purpose. For example, most humans have a fear of jumping in front of a moving vehicle. That is a healthy fear; an inbuilt system that keeps us safe.
In the same way, the "check" in your heart, the loss of sexual attraction should not be stuffed or ignored; it's serving a purpose in your marriage.
Instead of assuming it's wrong, bring it to God. Talk to Him, tell Him how you feel. Read your Bible and allow it to speak to you.
Then explain to your husband why can't make love right away. You might say something like
I love you and want to make love, but I feel like our intimacy and trust has been shattered. We need to start rebuilding that first. Making love is not just a physical experience for me; it's deeply intimate.

I want to go back to that place of vulnerability so we can enjoy being together again. I feel your addressing the issues we are facing will help us get there.
Here's what you've done; you've allowed your hesitation to help you both take personal responsibility for the issues and to heal from the roots up.
Now, your husband might not like your boundary or even understand it and you don't control over that.
But you have control over how you communicate to him. And how you take responsibility for your own stuff, like getting healthy emotionally, staying Biblical, determining to be controlled by the Spirit of God, not emotions.
Please Note: As far as sexual boundaries are concerned, we are talking about a very specific scenario here and I am not saying we should respond this way on every marriage problem.
11. When you don't know what to do, find someone who does
Now let's talk about seeking counsel from the outside; it's normal to be so heartbroken that you don't know what to do.
No matter how you feel, I want you to remember that God is still bigger than the storm that is brewing inside you.
He is bigger than what you face; so big that He can speak and you can hear His voice despite the rage within and without. He is powerful and loving and involved in your life. Romans 8:31-39
So don't ever stop talking to Him because you feel confused, angry or numb; keep praying, keep reading His Word, and you'll be astounded by what He does.
Alongside nurturing your relationship with God, seek out community, perhaps a small group leader or close friend or a counselor.
God speaks through people, and that's one of the reasons we must do life in a community. Even if you think you know what to do, make a habit of filtering your natural responses through the Word of God and godly counsel.
One of the benefits of outside counsel is being able to bounce your thoughts off someone. Sometimes just hearing your own ideas will bring clarity.
Also, you'll learn new angles you hadn't thought of and discover how others have dealt with their difficulties.
Is your marriage a safe place? Are problems being addressed or do you feel like everything is swept under the rug? How do you address issues when your spouse hates talking about the things that matter to you? You deserve more! Sign up for my FREE course and start creating a vibrant, healthy marriage where problems get addressed, not ignored. Click Here to Sign Up!
12. When your husband talks to another woman, don't wash your dirty linen in public
Sharing with trusted counsel is not the same as blasting out your husband's indiscretion on social media or telling all your friends about it.
Definitely not the same thing as sharing "truth bombs" on social media directed at your spouse.
Blasting your husband's indiscretion on social media or telling all your friends about it is not the wisest move for a wife interested in restoring her marriage. Folks won't forget as quickly
When you feel the urge to lash back in this way, ask God to help you process your anger in a healthier way.
Remember that all these folk won't be as forgiving after you are all made up with your husband. His image is tainted forever, or for a more extended period.
Don't just protect your marriage when it's sunshine, defend it even when it's raining.
In conclusion
There are so many things you can do when indiscretions and emotional cheating knocks on your wedded doors; today's post is meant to affirm and shine some light on your path.
You can get more specific answers when you get in touch with me through my Marriage Coaching Program for Wives. Click here to see we can walk together.
I pray that your marriage not only survives this storm but comes out stronger than before.
Read these related posts
Married but attracted to someone else? What to do
When you don't trust your husband
11 signs of an untrustworthy husband
5 guidelines for setting limits with a a difficult spouse
~
Are you wrestling with the overwhelm of new marriage and desperate for a step by step guide on how end the confusion, fussing, misunderstandings? Would you like to restore healing and happiness to your marriage? Or maybe you just want to understand marriage so you can love better, create the relationship of your dreams, God's way. My book Blues to Bliss: Creating Your Happily Ever After in the Early Years can help! Pick it up here
Amazon Paperback
I
Amazon Kindle
I
Barnes & Noble
I
PDF
Photos: Creative Free Stock, Plush Design Studio, Studio 7042 from Pexels.com