Marriage Coaching with Ngina Otiende
Are you
Feeling overwhelmed in marriage?
Drifting away from your spouse because of unresolved conflict?
"Going with the flow" but inside you're unhappy and wishing for things to be different?
Unable to bring up hard topics without walking on eggshells?
Frustrated by a spouse who won't engage or address problems?
Unable to explain to your spouse what you really want?
Feeling unheard and unloved?
Seeking to break cycles of miscommunication so you and your husband can feel like a team again?
Unable to work through problems because constant triggers?
On the verge of giving up on your marriage even though you are relatively new in marriage?
Your marriage can change.
Update: I am currently not taking new clients for 2022.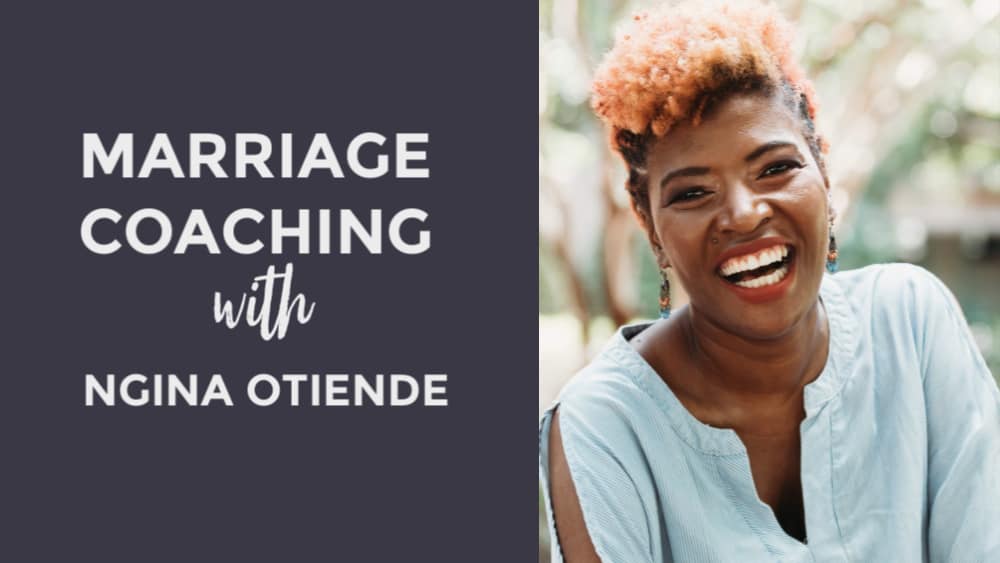 My name is Ngina Otiende, and I am a Certified Marriage Breakthrough Coach™. I help wives nurture marriage and confidently address relationship problems so they can thrive.
I have mentored and written on marriage for over ten years and I am excited to help you create a vibrant, intimate relationship where everyone feels heard.

Marriage Coaching with Ngina Otiende
Here's what you can expect from our coaching relationship:
Coaching is an opportunity to work on areas you want to see growth and change. While I coach on a variety of areas, my specialty is communication in marriage. Coaching with me is a supportive and collaborative process that helps you achieve your desired results.
We will talk about your area of concern. I will ask questions to help you process the situation, see more clearly and move forward with confidence.
Coaching with Ngina has been a tremendous blessing and the best dollar I have ever spent on coaching! It has been an investment in myself and it has paid back. Ngina asks the tough questions to help you get honest with yourself. I could tell from our first conversation that she loves marriage. I will recommend her to my friends and small marriage group here in San Antonio! ~Michelle S, San Antonio TX
Our Marriage Breakthrough Coaching Sessions:
Each coaching session includes
1 (One) 60-Minute private coaching session by phone or Skype
1 (One) post-coaching email
Depending on your specific needs, printable worksheets to help dig deeper into your growth journey.
Cost $85 per session.
Sessions are added as needed. Scroll to the bottom and use the form provided to reserve our initial session.
Benefits of Coaching with Coach Ngina
To get the best value from our time together, it's essential
You're committed to stretch and implement, not just talk about an issue. I want to be more than a sounding-board.
Be emotionally stable and at a place where you can visualize a positive future and do the hard work of growing.
If you are currently in counseling, you must have made significant progress. Coaching requires significant emotional and mental bandwidth and the ability to do the heavy work of building a better future.
Be willing to take personal responsibility for yourself and growth, even where your spouse is wrong.
You will be coached by a certified marriage coach with over eleven years experience helping wives and marriages thrive.
During your coaching sessions with me, you can expect to work on any of the following
Identify personal limitations and obstacles.
Keep each other accountable and stop settling.
Learn your common values so you can live a more authentic life.
Communicate in a way that allows for both of you to be heard.
Get support and accountability for critical areas of communication.
Work through difficulties without alienating each other.
Learn how to bring back feelings of closeness and intimacy.
Breathe new life to your marriage.
And more!
My session with Ngina was an eye-opener: I was particularly excited to realize that I have solutions within me and verbalizing them with her assured me I was on the right path. I know my marriage is going to thrive because of the conversation we had and I am certainly looking forward to more of these precious moments with her. 

Another big takeaway was learning that coaching with Ngina wasn't a platform to fault or criticize but a deliberate effort to build my marriage; that's what I loved the most; a platform with positive conversation ~ Elsie O
Is Coaching the Same as Counseling?
Coaching is very different from counseling or mentoring. A marriage coach partners with a client to help them navigate an issue or challenge with clarity and confidence.
Coaching is not a therapeutic process and does not help a person heal from past pain and trauma. Instead, a marriage coach helps a relatively well-adjusted personal to build vision and move forward in confidence. Coaching is about the future, about growing and changing.
In marriage coaching, the client is firmly in the driver's seat. The coach's past, knowledge or experience are not a blueprint for the coaching partnership. Instead, the coach helps the client discover solutions that work for them. The best coaching is done by listening, asking questions and responding appropriately.
Coaching with Ngina provided the space to freely share my thoughts and feelings without judgment. I was able to open up and identify specific areas I want to improve for myself and my marriage. Ngina gave me suggestive feedback and challenged me to dive deeper into things I wanted to process. We maximized the time we had together and I got better insights and understanding. I recommend her coaching services to anyone who needs a marriage coach! Lucy, South Carolina.
Marriage Coaching Can Change Your Marriage
Most married couples go through seasons of challenges and adjustments – it's part of the process of becoming "one."
But difficulties can be especially overwhelming in the early years of marriage because two people are still developing goodwill and learning how to grow together without falling out of love.
Marriage coaching saved my marriage. My husband and I had a rocky start but through counselors and coaches, God anchored and secured our relationship.
Coaching can be a game-changer for your marriage. You can break out of average and mediocrity. You can gain clarity, learn to love deeper as you understand your husband and this marriage deal you signed up for.
I found Ngina from her online blogs. I loved how she challenged me to analyze myself in order to understand the root of my problems. I was able to identify and understand my weaknesses and come up with strategies to work on those weaknesses in the healthiest way possible. Ngina was very empowering through her questioning approach.  

She made it easy for me to figure things out for myself by guiding me to them instead of putting words in my mouth.  She was very reliable and consistent and I loved the follow up emails with readings that added to our conversations. I had clarity and peace at the end of every session. I highly recommend Ngina for anyone who is struggling with their marriage or for anyone who has problems within themselves. Britney, Oregon.
NEXT step: Reserve Your Free Initial Assessment Session
I am looking forward to help you create a healthy connected marriage.
The first step in our partnership is reserve a FREE 20- minute Initial Assessment where we'll explore if coaching with me is a right fit for you. In the session, we'll talk about your area of concern and I will answer any questions you might have, in regards to coaching. I will email the payment link after our assessment call.
Use the email Contact Form below to request your Free Initial Assessment Session

After reserving my free assessment call, what next?
After requesting your Free Initial Assessment Session, I will contact you within 24 hours (weekdays) to set up our call. I am looking forward to help you work through your challenges so you can enjoy marriage!
Marriage Coaching with Ngina Otiende FAQs
As a coach, what do you believe?
I am a Christian who holds a Biblical worldview. While you don't have to be a Christian to engage in a coaching relationship with me, it's important to know that I have Biblical values and they shape my worldview. For more information about my beliefs, click here to visit my About page.
Will coaching with you fix my spouse and marriage?
Coaching with me is not a means to "fix" your spouse, nor does it "save" a marriage. Coaching is, first and foremost, about you – your change, your transformation, and how that creates momentum into the future you say you want.
What is your refund policy?
If you make a purchase and change your mind before coaching has began, we offer a full refund, less any transaction and scheduling fees.
If I make a purchase but I am unable to start coaching immediately, how long do I have to redeem my sessions?
Once coaching session(s) have been purchased, you have up to six months to redeem all your sessions (unless with prior agreement with your coach.) We do not offer refunds for expired sessions.
I am not available during the week, can I be coached on weekends?
My business hours are Monday to Friday 9am to 4pm Central Standard Time. I am closed Saturday and Sunday.
Important Disclaimer:
Ngina Otiende is a marriage coach and author. She is not a professional therapist. She provides no diagnosis, therapy, counseling, treatment or mental care services. No promises regarding the outcome of life or relationships is given or implied. All decisions belong to the client. Those who visit her site, purchase coaching, buy her books and courses or use any of her services, to the fullest extent permitted by law, release, indemnify, and hold harmless Ngina Otiende, from any and all claims, obligations, demands, damages, judgments, costs, expense or liabilities of any nature, which may have or may ever have against her, arising out of the programs and services provided by Ngina Otiende, including, without limitation, all liability with respect to injury, disability, death or loss of damage to personal property.
Use the email Contact Form below to request your Free Initial Assessment Session.