Could masturbation be God's "way out" for single Christians struggling with their sex drive?
After publishing this post and hearing from my single readers, I realize perhaps I left a few gray areas, specifically on the area of masturbation. So today I'd like dust away the cobwebs and flesh out my thoughts on masturbation.
I encourage you to read the original post, To The Single Woman Confused About Sex, to understand the context of today's article. My goal in writing the initial post was to help the single woman understand herself and how God created her.
I explained how sexual feelings in a girl are natural. Typically we believe that only guys feel things. But girls feel things too. Our triggers are different, but we are the same.
However, since sexual expression and intimacy are reserved for a marriage relationship, God gives us wisdom and grace to live pure holy lives in our single years (and married years too.)
Desires and feelings are not supposed to control us and in my post, I shared several tips on how to keep yourself unmastered by sexual feelings.
Today I want to address the issue of masturbation. Because I've read articles where authors interpret 1 Corinthians 10:13 as God's "way out" for single men and women struggling with sexual drives.
No temptation has overtaken you except what is common to mankind. And God is faithful; he will not let you be tempted beyond what you can bear. But when you are tempted, he will also provide a way out so that you can endure it. 
I do not believe that masturbation is God's answer to singles struggling with sexual drive, for one simple reason; God does not contradict Himself.
Elsewhere in the Bible, we are commanded to pursue purity of soul, body and mind.
"RUN from sexual sin" 1 Corinthians 6:18 (emphasis mine)
"Do not awaken love until its time" Song of Solomon 8:4
"Fix your thoughts on what is pure" Philippians 4:8
"do not think about how to gratify the desires of the flesh" Romans 13:14
"How can a young person stay pure? By obeying your word." Psalm 119:9
So let us as look at different Scriptures and try to gain some clarity;
1. Masturbation does not lead to more freedom, only bondage
Indulging an unhealthy craving does not necessarily cure or satisfy the craving. If anything, it exacerbates it; the more you entertain it, the less likely you are to stop. If you want a healthier path, you have to be willing to say "no" to urges and appetites.
Jeremiah 17: 5 says
This is what the Lord says:
"Cursed are those who put their trust in mere humans,
who rely on human strength
and turn their hearts away from the Lord.
The good news for anyone who has a personal relationship with Jesus Christ (if you do not, you can do so now) is that you never have to fight alone.
Unfortunately, we tend to forget that simple truth. And an early sign of deception in the human heart is believing that it can save itself; thinking that somehow we can work things out without our Savior's help. That is deception.
We cannot save ourselves; that's the whole idea behind needing a personal Savior. Our Lord not only delivers us from eternal separation from God, but He also frees us from ongoing battle against sin here on earth.
Our attempts at self-deliverance in the form of fixing our sexual drive through masturbation leads to more hopelessness, defeat, and despair as described in the next verses
6 They are like stunted shrubs in the desert,
with no hope for the future.
They will live in the barren wilderness,
in an uninhabited salty land.
Verse 7 and 8 describe the joy and freedom of relying on God;
"But blessed are those who trust in the Lord
and have made the Lord their hope and confidence.
They are like trees planted along a riverbank,
with roots that reach deep into the water.
Such trees are not bothered by the heat
or worried by long months of drought.
Their leaves stay green,
and they never stop producing fruit.
God is waiting for us to surrender our desires to Him. He wants to help!
When we make the Lord our hope and refuge, instead of our abilities, we are assured of victory. It might not be an overnight sprint, but as we continually rely upon and trust Him, victory will surely come.
2. Sexual intimacy is reserved for marriage
God created sexual intimacy as a way for husband and wife to bond beyond the physical; sex in marriage is so deep it is defined as becoming one flesh. Intimacy was never meant to be a solo self-gratifying experience.
The more someone learns to gratify themselves sexually the less likely they are to want to connect and serve their spouse sexually.
And since great intimacy is a journey, not an overnight dash, even the usual adjustments and challenges common to most marriages become insurmountable.
You've trained your mind and body to respond to images and unrealistic stimulation and experiences which cannot be recreated in a real life relationship.
That is why masturbation goes against God's plan; it is selfish, unhealthy and perverts His goal for intimacy. I am not beating on you if you are struggling at this moment; I just want to help you see it as God does so you can go to Him for help.
The name of the Lord is a strong fortress; the godly run to him and are safe. Proverbs 18:10
3. We should not be mastered by anything.
As my husband noted sometimes back "There is something curiously powerful about sex. There's a reason why even the most accomplished and affluent of men are undone by this physical and "natural" act."
Sex is powerful. The drive is real. It is easy to be mastered. However, Apostle Paul wrote,
"I must not become a slave to anything" 1 Corinthians 6: 12 – 14
Romans 6:11-14 says
"Count yourselves dead to sin but alive to God in Christ Jesus. Therefore do not let sin reign in your mortal body so that you obey its evil desires. Do not offer any part of yourself to sin as an instrument of wickedness, but rather offer yourselves to God as those who have been brought from death to life; and offer every part of yourself to him as an instrument of righteousness. For sin shall no longer be your master, because you are not under the law, but under grace."
Sexual purity is not just a principle for single-hood, it's also a charge for the marrieds; you have to keep yourself to your spouse.
If you cannot keep it together as a single person, you will struggle to keep it together as a married person because matrimony does not cure sexual hangups; it exposes them, sometimes makes them worse.
4. It is a dangerous slippery road
Masturbation is an exercise of imagination and visualization; typically there is no interaction with another human being.
The truth, however, is that the mental fantasies and recreations come from somewhere; the ideas and images did not plant themselves in your mind. You watched something, read something, listened to something.
"Before porn and masturbation was an issue, my major tussle with the Holy Spirit was my movies and series in my laptop. They had sex scenes and half naked women but I saw no need to be so strict about them because after all, I was doing pretty well with my spiritual disciplines" shares one man who was delivered from masturbation.
Like other types of sin, masturbation does not leave you where it found you. The way human beings are made, we need more of the same thing to attain a similar high.
It might start with sensual shows on TV but soon slides to watching pornography on the internet. And current research shows big connection between pornography and human trafficking and slavery.
Most people will not end up in human trafficking or slavery, but indulging in masturbation and pornography is supporting the industry.
In closing, here are takeaways I'd like for you to remember;
– Sexual intimacy is a beautiful gift from God to a married couple. Before marriage, God has another grace for the single person – the grace of chastity.
"But I wish everyone were single, just as I am. Yet each person has a special gift from God, of one kind or another. 1 Corinthians 7:7 NLT
– God will help you not to "awaken love until it's time." Sexual feelings are not "wrong." (Read To The Single Woman Confused About Sex)
– To overcome masturbation, you need accountability. Confide in a trusted mentor/pastor/counselor and allow them to walk you through to freedom.
– Someone raised the question "what if a person is only is addicted to the feeling – no porn or external stimuli or sexual imagination involved, just that feeling of bliss?"
Here was my answer;
"It's still not helpful or healthy. Purity is a matter of the heart, about what is going on inside you, not just what triggers it. Plus the problem with learning to satisfy oneself is that it becomes a problem later (in marriage) because we've built an unrealistic expectation of how "sexual bliss" feels like.
Sexual intimacy is not merely physical – it's two hearts learning to become one, learning how to make the relationship work. Masturbation, even when no outside stimuli is involved, short circuits that process because it trains the mind to be self focused."
For specific steps to overcome masturbation read the following post: How Did You Get Out of Porn and Masturbation?
PS: Comments Policy – I welcome your comments and appreciate your feedback! While you are free to disagree with my views or those of another commenter, you must remain respectful. Comments that contain profanity, that are disrespectful, insulting, hateful or anti-faith will be deleted. I reserve the right to delete comments that contradict the mission of Intentional Today: to help couples (and couples-to-be) create intentional Christ-centered marriages. If in doubt, read my Comment Policy here.
~
Engaged to be married (or newly married) and long to understand and enjoy how God wired you for sexual intimacy in marriage? Check out  The Wedding Night: Embracing Sexual Intimacy as a New Bride.  It's a handbook for engaged women and guide for newlywed wives who desire deeper intimacy and confidence with their husbands. Buy the book from Kindle I Paperback I Nook I PDF I PDF UK & Europe. Or Click here to go to book page.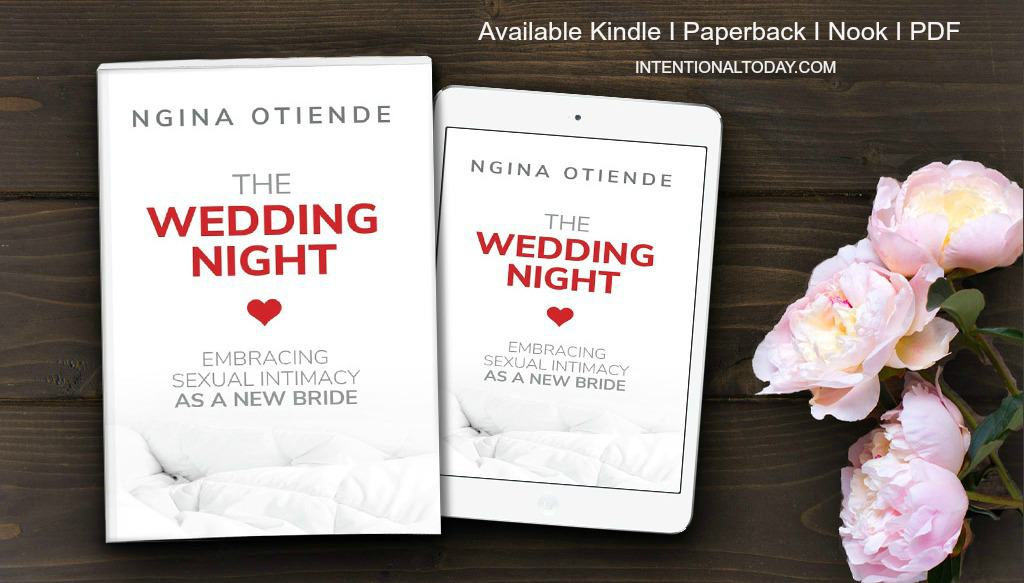 Photo by VisionPic .net from Pexels
Save
Save
Save
Save
Save
Save
Save
Save
Save
Save
Save
Save
Save
Save
Save
Save
Save
Save
Save
Save
Save
Save
Save