56 Empowering Quotes For When Fighting For Your Marriage 
Are you fighting for your marriage and need motivation to keep moving in the right direction?
Most of the women I coach and many who read my blog desire to see breakthroughs in their relationships.
I believe in turnarounds because my own marriage is a story of hope. Besides personal experience, I've seen other marriages experience breakthroughs as both spouses did the necessary work.

Based on my experience and working with others, a key factor for turnarounds is a willingness to take responsibility for our own personal growth vs. focusing on making your spouse grow. 
Your husband (or wife, if you are a husband reading this) might very well need to grow. But you can't make them.
When it comes to fighting for your marriage, your real options lie with taking ownership of your side of the relationship and understanding what is yours to do and what is not.
Today's post is a list of my favorite quotes, which I've written or talked about over the years, to help you wrestle with the different dimensions of a difficult marriage.

There's a lot more to do and I've talked about it here and here. But sometimes in the course of working through marriage problems, we need quick reminders to keep us moving forward.

Enter inspiring quotes for when fighting for your marriage.
I appreciated bite-size reminders when my own marriage was struggling. Sometimes I didn't have the margin for lengthy details, because problems can get you overwhelmed.

So today's quotes for when fighting for your marriage are for the wife who needs those middle-of-the-day reminders when she's feeling overwhelmed and can barely remember what she's fighting for.
They are also for the wife who is in a mostly-healthy marriage but who needs to stay balanced – quick,  digestible tips to keep your marriage steering in the right direction!
I hope these sayings motivate you to fight for your own health and for wholeness in your marriage. 
Without further ado,
Quotes for when fighting for your marriage, by yours truly : )
1. We can't move forward (won't make any progress) if we keep looking backward. To have what we say we want, we must change the reference point. Pick a lane and stick with it.

2. When we ignore warning signs and allow our spouse to manipulate and control us to silence, we set ourselves up for even more trouble because we can't resolve what we don't confront. And what is unaddressed gets worse, not better.
3. Until you know how to fight together, you will be fighting against each other. 
4. Wifehood: Being the kind of woman that brings health and wholeness to her marriage instead of expecting her marriage to bring health and wholeness to her.
Wifehood: Being the kind of woman that brings health and wholeness to her marriage instead of expecting her marriage to bring health and wholeness to her.
5. We cannot control our spouses. But we can take ownership of our issues and reinforce a healthy environment. 
6. There's no short cut to a healed marriage, only intentional work. 
7. We can't fold our hands and expect love to thrive and grow, unattended. 
8. A marriage can recover from infidelity and become even stronger. Nonetheless, it is due to spouses who are willing to go through the hard work of healing and rebuilding whenever recovery occurs.
9. Sometimes marriage issues are just a reminder we are humans: sinners in need of a Savior.
10. While there is sanctity within the bonds of matrimony, the sacredness doesn't extend to hiding sin and wrong in the name of "personal concerns" or "protecting our Christian image."
11. Don't run away from growth opportunities hidden in trials and difficulties. Even where you are right, and your husband is wrong, you have a growth opportunity. Something to learn about yourself, about God, about the world we live in, and the marriage you have. 
12. Seek counsel from someone who shares your values, who values marriage as much as you do, one who will root for the health and healing of marriage, not it's demise. 
13. Someone has to be rooting for the health of the marriage. If you think your husband has checked out, who else is left but you? You and God are a majority.
14. It is okay to grieve the loss of the marriage you thought you had and the spouse you thought you married. Grief can lead to acceptance, and acceptance is an essential step to healing.
15.God does not desire divorce. Yet He recognizes humans are given to transgression and provides circumstances under which a spouse may be released from a marriage union. (Adultery – Matthew 5:31-32, Abandonment – 1 Corinthians 7:15, Abuse) Released, not because God has failed or desires a marriage to fail, but because one or both spouses have decided to be released. God is divine, and part of His divine mystery is that gift of choice.
16. Quotes for when fighting for your marriage : It's much easier to hold back words that create offense. Harder to win back the heart of an offended spouse.
17. You can't take short-term steps and then check out, expecting permanent results. You have to be consistent. 
18. A happy marriage is a personal choice. The same way you decide to get married? It is the same way you choose to stay happily married. 
19. Our need to be valued does not decrease the longer we are married. Couples who have great marriages have learned to prioritize one another no matter what is going on with the rest of their lives. 
20. No matter the season we are in, if we look hard enough, we can find something to be grateful for instead of something to complain about. 
21. Matrimony exposes every fear we never knew we had while testing all ability to endure to the very end. It forces us to grow up in areas we did not realize we needed to mature. 
22. Your husband is not above God's will or God's Word. Marriage is not permission to sin or dishonor another human being.

23. Quotes for when fighting for your marriage: The only way not to feel overrun and overwhelmed by burdens is to remember God surrounds our lives. 
24. A miracle happens when I stop using my insufficient wisdom and inabilities as a measuring stick for God's possibilities.
25. While God is love, He also teaches us how love does not look like, so we know what to do when it's absent.
26. Being a Christ-centered woman doesn't mean you never slip up or make mistakes. It merely means you allow God to redeem the broken places and grow the healthy ones. It means you allow Him to form you into the woman He created you to be.
27. Marriage is meant to keep people together, not just when things are good, but also when they are not. That's why we take marriage vows, not wishes. 
28. Marriage is about growing up, and growing up together is hard. 
29. I've seen wives get really frustrated with their husbands because he's passive in an area she's passionate about. Then we talk about other areas or how we was when they were dating, and you discover the man has not changed; He's still the same laid back guy, but her expectations changed.  Truth is, marriage reveals more of who we are. It's not that we can't change or we shouldn't ask for change. But we also need to look at the larger picture of our history and our personalities to gauge the type of motivation we can expect from our spouse.
30. Marriage doesn't get better or worse by itself: It takes someone doing their part or not doing their part.
31. Sometimes we fail to extend forgiveness to our spouse because we have areas in our own lives where we have not accepted God's mercy. It's tough to give what you do not have.
32. When you are wracked with guilt and condemnation over your own failures and shortcomings, you tend to be hyper-vigilant and stingy with love. 
33. God can heal any marriage. But we must be willing to give Him the broken pieces. 
34. Spouses who are committed to building a healthy marriage understand that quitting or disengaging in any area of marriage is not an option. 
35. Forgiveness does not equal amnesia: You will remember the past. But when you do, you will also not forget that you forgave. Forgiveness is a muscle you exercise every time the hurt and pain comes back to mind. 
36. Sometimes we need to feel the depths of desperation to begin to make sense of where we are and where we need to be.
37. Are you in the middle of yet another discussion/disagreement? Don't bring up a past issue – or another issue – while in the middle of something else. Pick your lane and stick with it.
38. Your spouse doesn't have to prove himself to earn your forgiveness. He has to prove himself to win back your trust.
39. It's frustrating, trying to prove a right to someone who doesn't understand what right is. Or maybe they do, but they are not ready to admit it yet. You don't have to prove yourself to everyone. Sometimes the best thing you will do for your health and well-being is to walk away from mind-numbing fights.
40. If you are waiting for the perfect, most convenient, least uncomfortable time to address problems in your marriage, you'll miss all opportunities for growth and your marriage will suffer.

41. No matter how you started out, God can rewrite your story and give you an ending you never thought possible.
42. Sometimes we just want people to think we are okay. So we craft an elaborate story to tell ourselves and others. And then spend the rest of our lives protecting a broken narrative.  Meanwhile the real "us" couldn't be further from the image we are projecting.
43. The truth is we were never meant to live opposite of our reality. God doesn't need us to gloss over issues or pretend we are happy in the name of "faith" or being "a good Christian couple."
44. Our hope for a better relationship doesn't start in denial or pretense. Healthy marriages start with authenticity and vulnerability.
Are you wrestling with the overwhelm of new marriage?
Desire healing and happiness in your marriage? Or maybe you just want to understand marriage so you can love better and create the relationship of your dreams. My book Blues to Bliss: Creating Your Happily Ever After in the Early Years can help! Pick it up here  Amazon I Barnes & Noble I PDF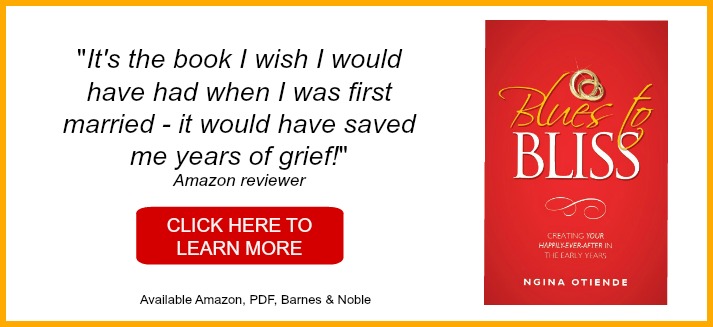 45. A thriving marriage needs unhurried moments of connection. That means saving some energy and margin for the relationship.
46. Marriages fall apart when the two people are unwilling to evolve and become one. We all waddle into marriage as single units, unfortunately we still carrying around the illusion of continuing our single ways in marriage. Habits, lifestyle, behavior, they don't automatically change because we got a ring and said, "I do". It takes time, effort, sacrifice and practice to let go of single ways and mindsets and adapt to new thinking and living styles.
47. When we've run into walls, we are at our best position to receive a supernatural intervention.
Quotes for when fighting for your marriage: Bible Verses 
48. Don't worry about anything; instead, pray about everything. Tell God what you need, and thank him for all he has done. Philippians 4:6 
49. Above all, clothe yourselves with love, which binds us all together in perfect harmony. Colossians 3:14 
50. I pray that God, the source of hope, will fill you completely with joy and peace because you trust in him. Then you will overflow with confident hope through the power of the Holy Spirit. Romans 15:13 
51. Always be humble and gentle. Be patient with each other, making allowance for each other's faults because of your love. Make every effort to keep yourselves united in the Spirit, binding yourselves together with peace. Ephesians 4:2‭-‬3 
52. Never let loyalty and kindness leave you! Tie them around your neck as a reminder. Write them deep within your heart. Proverbs 3:3 
53. Trust in the Lord with all your heart; do not depend on your own understanding. Seek his will in all you do, and he will show you which path to take. Proverbs 3:5‭-‬6 
54. Don't look out only for your own interests, but take an interest in others, too. Philippians 2:4 
55. Make allowance for each other's faults, and forgive anyone who offends you. Remember, the Lord forgave you, so you must forgive others. Colossians 3:13 
56. Love never gives up, never loses faith, is always hopeful, and endures through every circumstance. Corinthians 13:7 
I hope these sayings and quotes for when fighting for your marriage motivate and inspire you in this season of life. For more help, click here to find out how I can help you navigate marriage obstacles so you can enjoy marriage again.

Ngina was very empowering. She made it easy for me to figure things out for myself by guiding me to them instead of putting words in my mouth. She was very reliable and consistent and I loved the follow up emails with readings that added to our conversations. I had clarity and peace at the end of every session." Marriage Coaching client
Like what you just read? Get access to my library of marriage resources FREE (which includes the popular eBook 49 Things Every Newlywed Couple Should Know) when you join thousands of wives around the world for weekly marriage encouragement! Get access here.
Scripture from New Living Translation (NLT) Holy Bible, New Living Translation, copyright © 1996, 2004, 2015 by Tyndale House Foundation. Used by permission of Tyndale House Publishers, Inc., Carol Stream, Illinois 60188. All rights reserved.