What should a wife focus on to strengthen sexual intimacy with her husband?
I am trying to write around monthly topics, and this month we are journeying through sex and intimacy.
We started with Dear Christians, Let's Talk About Sex where we explored sexual misconceptions and how to overcome them.
Then last week we looked as 6 things a wife can do when her husband has low libido –> When Your Husband Has a Lower Sex Drive.
Today I want to look at priorities; specifically my priorities as a wife when it comes to building sexual intimacy with my husband because sex was such a hot-spot in our early years.
Please note: we haven't "arrived." We still go through seasons when the sex isn't so great and are always working on it.
I hope to encourage the wife who is going through similar bumps and angst, and hopefully point her to a more serene place.
Newlywed Surprises
When you are newlywed, you have a lot of unique expectations as far as sex is concerned. Mostly, we expect sex to be off the charts.
And for a lot of couples, sex is fabulous, right out of the gate. For others, sexual intimacy isn't so great. (See this post 4 Myths Every Wife Should Know About Sex.)
For both groups, the main trip-up happens when we expect all sexual encounters in marriage to be sizzling-burning-hot every.single.time.
We hear "come up with ideas to keep the fires burning," and conjure wild acrobatics and spice to have what is considered a great sex life.
What I am about to share today is my focus and what has worked for me and le hubs. In no way am I saying our way is the only way.
However, I hope to encourage the wife who feels like she's chasing shadows; she likes what they have, thinks it could be better, and they are always working at it.
But she's worried they'll never get there or have what is considered "a great sex life."
Tommy and I will be celebrating ten years of marriage next year, and we've seen and done a lot in our few years of marriage.
In the early days, I was troubled with the mechanics of sex. I worried easily when it seemed like some guru advice didn't  jive with our marriage. After all, what did I know, being so young in marriage.
But between year six and year eight, I started to breathe. Like, relax and accept my lot; aka figuring out ways to be hot and spicy our way. Not some guru way.
So here are four things I now focus on to build sexual intimacy with my husband.
1. Our whole marriage
The best sex flows out of a healthy marriage. What you are outside the bedroom is what you bring to the bedroom.
The best sex flows out of a healthy marriage. What you are outside the bedroom is what you bring to the bedroom.
There's no shortcut; if you can't spare a few minutes to cool down so you have better communication in your marriage, there's no use investing money on that fancy piece of lingerie to rocket the sex.
Sex cannot make up for lousy communication.
Certainly, a good tumble can smoothen communication because it knocks down barriers and increases goodwill. But make-up sex should not be the go-to path to normalize communication.
I have learned that the more I invest in growing a healthy marriage overall, the more robust our sex life.
So when the days slide by without a single sexual encounter and instead of panicking, I consider the rest of the marriage: are we still friends? Are we still talking, laughing?
After that, we figure what needs to be adjusted or addressed.
2. Prayer
There are specific things I pray for when I pray for our intimacy
The purity of our hearts, eyes, mind.
Faithfulness to God and each other.
Fear of God; that we'd hate sin.
My libido – Based on how the day went, making love in the evening can be a faith project. Not because I don't want to, but because I don't always feel like.
But I've learned that excusing myself out of lovemaking because I don't feel like it, or refusing to pursue my husband because I don't feel like is, well..lazy.
Because I can talk to God about how I am feeling right there and ask Him wake me up and help us have a good time. And I've found God is faithful to answer my sincere prayers.
And even when lovemaking ends up not being so starry, I feel super connected to my husband and can sleep knowing I fought a struggle and won. (Because there are days I don't win this battle.)
Prayer is powerful. Check out this post by J Parker, A Prayer for Sexual Intimacy
3. Sexual intimacy with husband and normalcy
As a new bride I thought I had to keep everything on the up and up.
I had tonnes of sexual intimacy ideas, from reading and research. Some of my ideas worked great but others backfired, rather spectacularly; I got very discouraged.
In the last three years, I have learned to rejoice in normalcy. I know "business as usual" sounds like terrible sex advice. But I am sharing from a few years of chasing shadows.
Normality is underrated. Seriously, there's something sweet and powerful about routines. While out-of-the-ordinary is superb, it's not always sustainable.
Plus it's easy to lose the joy and fun in marriage if the only time we feel good about our sexual intimacy is when we aim for the stars.
Most couples have their trusty repertoire; something they fall back to; he knows where to touch to make you sing, you know what to do to make him purr.
Couples need that go-to plan, where they don't have to overthink things. It's that kind of ordinary stuff that makes for a great marriage.
4. Fun and friendship
Being able to laugh together in the bedroom and not take ourselves so seriously is amazing. An example.
My husband and I don't consider ourselves officially old, (although we are nine years older) but in the last two or so years, we've discovered creaks in our bodies that didn't exist nine years ago!
These strains, which tend to show up at the oddest moments have made for fun surprises and goofy afterglows. Instead of grieving the loss of suppleness and dexterity (can't believe I am writing about growing old y'all) we are learning to laugh and enjoy who we are today.
Genesis 2:25 talks about Adam and his wife Eve, being naked and unashamed "Now the man and his wife were both naked, but they felt no shame."

For most couples, this level of vulnerability and depth is a journey, not an immediate endowment right after "I do." Or better put – closeness gets better with time when you work at it.
My point? If you invest in building a good friendship, lovemaking can become a fun adventure. You laugh about falling off the bed, instead of fussing at his eagerness.
You savor the crests as well as the valleys because you now understand your relationship is deeper than the physical.
And while you still relish sexual intimacy, your whole love story, the mingling of hearts and tears and moments is too big of a story to be sliced up and divided into sections.
So those are the four things I focus on for better intimacy with my husband. Here are three things I don't focus on.
1. The latest/expensive fad
Nothing wrong with the latest and expensive (as long as it's God-honoring and spouse-valuing, of course. See What Is Permissible in The Married Christian Bed?). I am all for that. But not everyone can afford luxuries.
So I don't feel like I am missing out in our love life when I can't splurge on the latest intimacy conference, fancy candles or edible underwear.
These are nice (if you fancy them) but they probably fall in the category of aids and spice, not necessities.
2. Things that add no joy
I am all for stretching ourselves and adding a little spice but what I don't focus on? Things that bring me (or him) no joy. Or cause excessive discomfort. We try new things, but we don't park there (like never) if it's not working.
3. The 3rd party
Tommy and I were talking about sex toys the other day. (If you and your husband use sex toys, the following is not judgment, just my opinion.)
The natural progression of sex toys is  "I want of the toy to sustain this excitement" not "I want more of my spouse."
In other words, instead of depending on our real human spouse for intimacy, we start to depend on toys for those levels of pleasure: I don't think that's a good thing.

A penis-shaped battery-powered toy can do things that my husband can't do. It will last forever, keep its "erectness," and provide zero need for connection.
Toys won't help me connect to my hubby; they'll set up an expectation he can't meet.
My husband and I like to err on the side of caution and that's why sex toys are not part of our intimacy repertoire.
Sheila Gregoire does a good job in this post Should Christian Use Sex Toys? Check it out
And these are my four "dos' and three "do not's" of healthy sexual intimacy with my husband. Anything you can add?

The longer I am married, the more I discover new areas to be less-uptight about. I don't know about you, but there's a ton of things to evaluate and figure if they are helpful to our marriage or just stressing us out.
Today's post is one such where I hope to encourage you to breathe a little…a great marriage isn't all that complicated. You don't have to do it all to have a great sex life.
The healthiest happiest couples are often the most normal! Stretch a little bit, get out of your comfort zone sometime, but for the sake of your marriage and sanity, don't be bent out of shape, chasing unrealistic sexual goals.
Further reading
Why Sex Should Not Be The Only Indicator For Health in Marriage
9 Things Wives Want in Bed For Deeper Intimacy
~
If you haven't done so, check out The Wedding Night: Embracing Sexual Intimacy as a New Bride; a no-fluff, down-to-earth resource to help the newly married and engaged woman become sexually confident in marriage. Plus it teaches you how to keep sex fabulous beyond the newlywed years. Purchase your copy Kindle I Paperback I Nook I PDF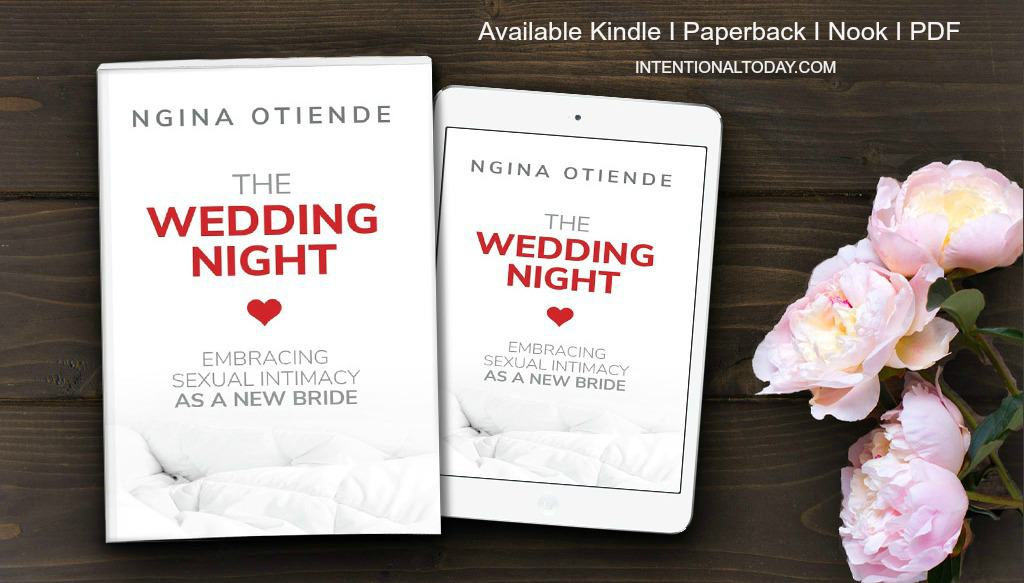 Photo by NIX PHOTO from Pexels