I know I am not the only wife who struggles to come up with thoughtful gift ideas for her husband.
Sometimes, the person closest to us can be the hardest person to buy a gift because it's just hard to communicate the depth of our love with gifts and experiences.
But no matter how difficult it is sometimes, it's still possible to convey our care with a meaningful gift-especially when it doesn't break the bank!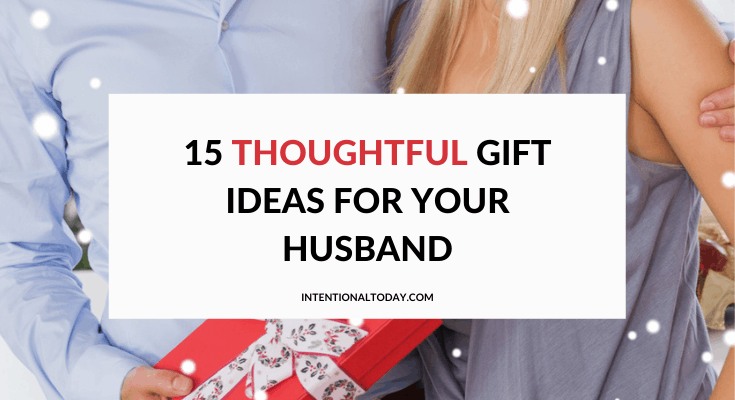 It's Ashley on the blog today to help you with some thoughtful gift ideas for your husband!
These 15 curated options will bring a smile to the special man in your life and serve him for many years to come.
Let's dive in!
This post contains affiliate links.
15 Thoughtful Gift Ideas For Your Husband
Study Bibles are a vital tool in any Christian man's arsenal, and this one is top-notch. It is bound and covered in beautiful, durable black leather.
Its pages are full of charts, maps, notes, cross-references, book and character overviews, and more to help him connect to God's Word.
It also features book tabs, making it a breeze to flip from Isaiah to Jude. What better gift could there be?
If your husband prefers a different translation, you can also find a beautiful leather-bound NIV Version and an NLT one.
When you hear "prayer journal," you might picture a men's designed notebook, but the Undated Men's Prayer Journal from ValMarie Paper is not that kind of journal.
It is a compact and concise tool that exists to help him to organize his prayer life. It will give him a place to keep a record of all the needs in his life and the lives of those he loves.
This 6-month journal features blank spaces to record prayer prompts for the world, his community, his family, his friends, his work, and his personal life.
It also includes three unmarked sections that he can customize. It gives space for groups such as his men's small group or baseball team.
There is nothing more meaningful than prayers for friends and loved ones. This gift will help make that easier for him. It's the most affordable and thoughtful gift you could give!
If your husband is like mine, anything warm and cozy is a huge hit as a gift.
This Sherpa lined hoodie is just the ticket for checking the warm and comfortable boxes. My husband was gifted one a few years ago, and is by far his most worn item.
It features super-soft Sherpa lining in the middle and hood, but not the sleeves, so it retains body heat without being bulky.
And it comes in a variety of colors to fit every husband's taste and style.
Does your husband work in a warehouse or outdoors? How about around the yard?
Then he NEEDS these pants.
My brother-in-law purchased them for himself and has asked for more pairs on his Christmas list.
They are thick and durable. That makes them perfect for cold weather and getting work done outside.
They will be the perfect addition to your husband's wardrobe.
This gift idea for your husband is unique and incredibly useful. It is a functional space to hold all the gadgets your husband likely uses daily.
There is designated space for watches, cell phones, wallets, keys, reading glasses, and earphones. It also serves as a charging station with clean, out-of-sight cord management.
It is durable and made from high-quality Ash wood that will help him stay organized for many years to come.
6. Foot or Neck Massager
Does your husband work on his feet all day? Or spend his days hunched over a computer screen?
Show your husband just how much you appreciate him with a luxurious electric neck or foot massager.
Neck Massager
Foot Massager
Both are easy to operate and highly rated.
My in-laws have a very similar heated, electric foot massager, and my husband pulls it out every time we visit.
Maybe that's a hint for me too, huh?
7. Thoughtful gift idea for your husband: Upgrade His Office Chair
In 2020, a lot of people have transitioned to working from home.
Many are either home full-time or at least part-time. If that is your husband, now may be the perfect time to upgrade the chair he works from all day.
This option offers both superior comfort and support.
Even if he isn't working from home, he will appreciate the luxury a high-quality chair can afford.
If your husband is a coffee (or any other warm beverage) drinker, he will love this luxury item.
I know firsthand how easy it is for a cup of good coffee to get cold. Instead of running back and forth to the microwave, he can keep that cup good and warm right at his desk.
Solving those small inconveniences communicates that you notice them and that you care!
I know a lot of men who struggle to keep their metal wedding rings on all the time.
There are many circumstances where it can become uncomfortable or even unsafe. For these occasions, a high-quality silicone right is a perfect option.
I discovered these shortly after my husband and I got married. He took his metal ring off when he was working out, doing the dishes, or working on Army vehicles during his military drill weekends.
Wearing a ring was (and is) very important to him, so the silicone was a great gift for him. I am sure it will be for your husband too!
This gift is really one for both of you.
It is a journal that exists to serve your marriage and help put you in a routine of deep communication.
This journal is designed for couples to work through a set of 6 questions every week that keep them on the same page. These questions help you connect emotionally and also discuss topics like finances and social engagements.
There is also space to ensure you are praying for each other's needs every week. It is one of the most thoughtful gifts you could give your husband (and your marriage).
Another thoughtful gift option is the gift of health, and that includes healthy personal care products.
I spent most of 2020 researching and swapping out our home and personal care products when I came across a company called Primally Pure.
Many conventionally made deodorants contain chemicals and parabens that can disrupt our body's natural hormones. This can cause a variety of adverse effects on the body, including issues with sex and fertility.

This company specializes in making products that are full of clean ingredients that also work really well. I currently use their baby bar, deodorant, and cleansing oil daily.
After I tried and loved my new deodorant, I gifted my husband this version, and he has used it ever since. He comments all the time about how well it works during his 12-hour shifts at work.
I'm sure your husband (and his hormones) will love it too!
These luxurious tablets are made with essential oils that turn any shower into a spa.
Very similar to bath bombs, but for those that prefer a shower. If your husband is like mine, showers are his choice as well.

Help him relax and enjoy some of his own self-care with these shower steamers in various scents.
If I had a dime for every time my husband went looking for a tape measure, I could buy a hundred of these.
This one is a level up with double-sided print and magnetic ends to make it easier to measure without assistance. It will likely become his favorite one in the toolbox.
This is a gift to yourself and your husband will love it!
What would life be like if you could flip a switch and be "in the mood"?
Okay, maybe there's no switch. But you can totally change the way you think about sex!
If you'd rather cuddle up with a book and hot chocolate than make love to your husband, you need Boost Your Libido course!

In this practical and fun (seriously, Sheila is hilarious) course, you'll dive into different topics to help boost your libido so you can get your sexy back!
Topics such as

What is Libido? (because everyone wants to know!)

Making Sexy a Good Thing! (And dealing with sexual baggage.)

Why Multi-Tasking is Bad for Your Libido

Making Hormones Your Friend

When sex Doesn't Feel that Great

And much more!
Bring back the fun and fire into your marriage bed! Check it out!
You want to feel heard and loved. You want to solve that never-ending conflict that makes your marriage feel like a tornado just passed through.
But it's hard to solve problems when the process makes you feel like enemies.

Or maybe you have great communication, but you'd love some tools to help you work through every-day annoyances and irritations.
How To Navigate Conflict in Marriage course is a conflict resolution course by Ngina Otiende (founder of this ministry!) and is designed to help you solve conflict and deepen your connection – without nagging or begging.
Give your marriage the gift of done when you check it out here.
I hope these ideas sparked some creativity with your gift-giving!
Whatever you choose, know that your gift is simply a tool to communicate something much bigger than an object.
Don't put too much pressure or expectation on yourself as you give.
The most important thing to remember is that your love is measured by a lifetime of moments and not money. The thought behind the gift matters the most.
Be sure to share this gift guide so other wives can find thoughtful gifts for their husbands too!
~
About Writer: Ashley Nicole Harris is a writer and Bible teacher, whose mission is to see women's lives changed by learning to know God intimately through His Word. She enjoys writing at Faithfully Planted , reading while sipping a La Croix, and enjoying God's beautiful creation with her husband of 7 years, Mark.