Do you struggle to come up with unique Valentine gift ideas?
I feel you.
After eleven years of marriage, most of my quick-and-easy-gift-ideas have been utilized multiple times.
So I thought I'd share simple but unique ideas that can work for any relationship.
You won't fail to find at least one idea that can work for you this February 14th!

Without further ado,
Six unique Valentine gift ideas for couples 
1. Give him a gift he cares for
I have discovered that one of the best ways to love my husband is to invest in my personal growth.
One of the best ways to love your spouse is to invest in your personal growth
Generally, I look at change as my gift back to God – He gave His life for mine and allowing Him to form me is the least I can do with my life.

Certainly, not all personal change will be evident to my beloved. Sometimes only God will see how I have allowed marriage to shape me because there isn't enough vocabulary to express the soul-etching ways of a relationship.
Still, when I walk out that change in my one-flesh relationship — my growth benefits my husband in tremendous ways.

So this Valentine's season, think about ways to gift your husband a gift that truly matters. A changed self.
Examples of areas you can start to work on with suggested blog post ideas:

Humility: How Humility Changed the Course of Our Marriage
Prayer: Two Powerful Keys to Help You Pray For Your Husband More Often
Mindset: The Bad News About Marriage (7 Ways A Relationship is Bad For You)
Priorities: Priorities: The Unpopular Gospel of Putting Your Marriage First

Boundaries: Boundaries In Marriage: 5 Guidelines For Setting Limits with a Difficult Spouse

Date night: Why a Boring Date Night is Better Than No Date Night

Comparison: Comparison in Marriage: 3 Simple Steps to Defeat It

Triggers: Pressing Through Relationship Triggers So Your Marriage Can Heal

Sex: 5 Ways To Create Time For Sex in Marriage
2. Try #365DayValentine
This is not the loveliest of unique Valentine gift ideas for couples.
But here it is.
Go ahead and skip the whole Valentine thing if it brings more stress than joy.
Not everybody likes the idea of Valentine's day. Sometimes the person who doesn't like it is married to someone who does.
If the day brings more stress than love, consider skipping it all together because it's not the only day of the year that you can celebrate love. There are other 364 days.

I get the heart behind Valentine's day but is it worth it if we gripe and compare and despair?
Shifting your focus from 1-day-Valentine's to 365-day-valentine's can dial down the stress level in your relationship.
Is Valentine's worth it if all we do is gripe and compare and despair? Shifting your focus from 1-day-Valentine's to 365-day-valentine's can dial down the stress level in your relationship.
So if for some reason, you are upset about (or your spouse doesn't care for) 14th February, ask yourself these questions
Do you love on each other the rest of the year??

Do you commemorate moments, go out on dates?

Do you practice being present? 

Is your marriage healthy (or working on it)? 
Then you are all right.
Don't pull out hairs over a one-day event. Focus instead on the good things your marriage is for the rest of the year.
3. Invest in a shared experience 
Sometimes the headache of Valentine's day is planning what to do.
One of the ways to take out the headache is to look for an event that you both enjoy that you didn't have to plan.
Example
My husband and I attended this event last year and it was a blast. Find out when it's in your city (or a simulcast) or a city near you.

Brainstorm with a couple-friend
And go on a double-date that requires the least amount of planning.
4. Valentine gift ideas for couples: Invest in your future
Most people start to look for help just about when they need help.

Typically, that's the worst time.
Because a lack of margins, urgency and plenty of stress don't produce a favorable environment for seeking or learning
Simple advance preparation goes a long way in helping spouses weather storms. In other words, the best time to look for marriage tools and resources is when we are not overwhelmed.
Here are a few tools and resources you can invest in as a gift to yourselves. 
If you are seriously dating or engaged, invest in your future with a resource like this one
If you are newly married, pick up our Blues to Bliss book to help you build your marriage on the right foundation. 
If you are married and want intimacy to be fun and exciting for you, not just for your husband check out (affiliate link) Boost Your Libido e-course here.
5. Make memories
The human brain can remember events, skills, habits, and experiences. The sum of what is remembered is called a memory. Frank Knoll
One of the things I love about marriage is its generosity with moments, both special and ordinary. Even painful times can become beautiful when we use them as teaching opportunities.
This Valentine's, give yourselves the gift of creating special moments with your beloved. These are the things you want to take into your future.

Making memories doesn't have to be expensive.
This can be as simple as grabbing a friend and taking photos of each other
Or your favorite memory from an anniversary
Share moments from your love journal
Last year, I collected my favorite memories from my "Why I Love My Husband Journal." I did a simple print and shared them with my husband. I admit I had more fun putting it together but he enjoyed the gesture and we laughed as we walked down memory line. Try it this year.
6. Get personalized help
Sometimes we just want to get our relationship to a place where we can feel like celebrating again. It's just hard to be happy when marriage hurts.
When my husband and I had blow-ups at the beginning of our marriage, we made a bee-line for our marriage mentors.
We still had to do our own growth, but their insight, encouragement, and y'all-get-it-together attitude helped us weather terrible storms.
That's why I am a marriage coach – I love to do for others what was done for us. Helping women problem-solve and nurture their connection with their husbands is an absolute joy and privilege.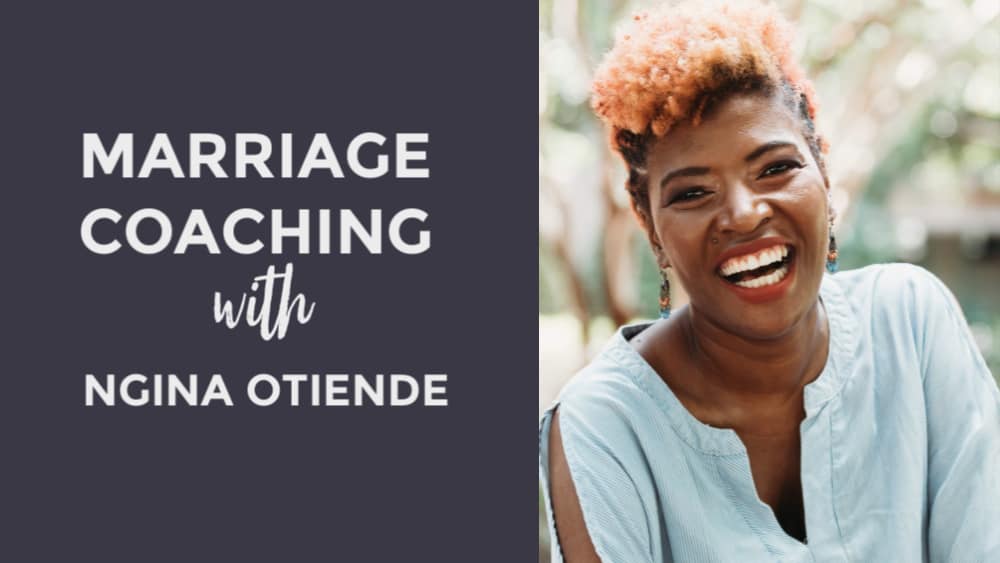 I know the difference mentorship and coaching make because it literally saved our marriage, and I know it can strengthen yours.
Are you stressed and drained but don't know how to work through frustrations without making your husband feel alienated? 

Do you want to break cycles of miscommunication in marriage so you and your husband can feel like a team again? 

Are you worried that you and your husband are no longer "one" and really desire to bring back those feelings of closeness and intimacy again?

Are you on the verge of giving up on your marriage even though you are relatively new in marriage?
I loved how Ngina challenged me to analyze myself to understand the root of my problems. I was able to identify and understand my weaknesses and come up with strategies to work on those weaknesses in the healthiest way possible.

She was very empowering through her questioning approach. She made it easy for me to figure things out for myself by guiding me to them instead of putting words in my mouth. She was very reliable and consistent and I loved the follow-up emails with readings that added to our conversations. Britney, Oregon
Sign up for coaching with me here.
PS: I recently added marriage coaching by chat/text. It's a blast!

Summary Top 6 valentine gift ideas for couples 
Share a valuable gift

Do you. Be his 365-Valentine

Invest in a shared experience

Invest in your future

Make memories

Get personalized help
Your turn! Do you celebrate Valentine's day? What is your favorite Valentine's day memory?
Photo by Adrienne Andersen from Pexels