The wedding night – every bride's longing, yet often every bride's cause for anxiety.
The first night of marriage can be a mixed bag of emotions for most brides. A lot of sweet expectations but also a lot of tension.
I remember the "S" talk with our mentors. It was the night of the wedding rehearsal, just one day to the wedding.
We stood on a grassy patch, away from everybody else and our lovely mentor discussed wedding night delicates.
We tried not to shuffle. Or giggle. The talk was over in less than five minutes.
Thankfully, it was not our only conversation with mentors.
We had spent weeks and months talking and preparing; learning about marriage, intimacy, life, dreams and everything an engaged couple needs to know about marriage and life.
The final tips while standing on that grassy slope were like the icing on a cake: sweet but gone too soon.
Every marriage has a mission
And that mission always involves others.
It's easy to enjoy God's ministry to my marriage. What is not so easy though, is taking God's goodness and passing it to others.
That plus sex is not an easy topic to talk about. In fact, some quarters still believe we should leave it to the couple to figure it out.
But many new brides and grooms don't figure out. At least not as quickly or painlessly. Having a mentor, someone to drop insights and truth to their lives makes a huge difference.
I know this because mentorship made a huge difference in our marriage and inspired me to write my 2nd book!

I am so thrilled to release my newest book The Wedding Night: Embracing Sexual Intimacy as a New Bride in two weeks! Update – the book is now available! Check it out here. Or find purchase links Kindle I Paperback I Nook I PDF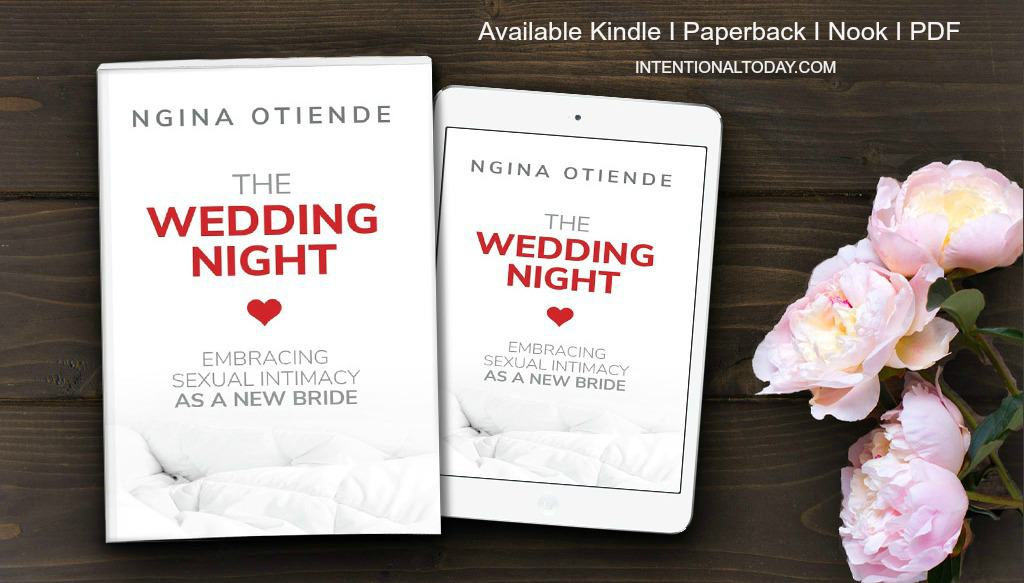 The Wedding Night dives into the details of the first night of marriage (and beyond), to give the engaged woman and new bride practical tools and tips to help start intimacy right.
It's a book for every engaged woman and newlywed wife who desires to shorten the learning curve, find confidence and have an intelligent delightful start to married life.
Perfection is not required
As a wife, you don't have to have it all together to help an engaged woman or fellow new bride.
In fact, your untidy marriage, even sex life, can be a source of encouragement to the bride-to-be who already feels the pressure to be a perfect spouse.
It's refreshing to hear that wedding night sex is not perfect, and great marriages involve a lot of intentional work.
Please note: In speaking with a bride-to-be about the wedding night, I am not suggesting we regale them with lurid details. (please. don't. ever.) However, we can help remove the mystery and fear by offering big picture ideas, discussions, common-sense tips to help her start intimacy right.
So here are 6 reasons married women ought to help engaged women/newlyweds prepare for the wedding night (and beyond).
1. You have accurate wedding-night information
Experience is a beautiful thing. Anyone can research facts, read information or try to figure it out in their head but nothing beats real-life personal experience.
When a bride-to-be sits across from someone who has walked through what she's about to walk through, it may very well beat anything she may read off a book.
Which leads us to #2
2. Wedding night mentoring takes back intimacy where it belongs
A lot of myths and hype surround wedding night intimacy and intimacy in marriage in general.
So if Christian wives, the ones mandated to teach younger women (Titus 2:3-5) won't talk about first time intimacy, then who will?
You would think that with the explosion of the internet and information, brides would be better equipped. But that's not always the case – readily available information does not always translate to accurate information.
In the end, new brides don't need more information; they need accurate information.
3. It's a blessing to give
The Bible says, in Luke 6:38 "Give, and you will receive. Your gift will return to you in full–pressed down, shaken together to make room for more"
In the course of writing this blog, I have been blessed to hear from many of you. Your kind words and encouragement have blessed me in my moments of need and inspired me to work hard in my own marriage.
God has used you to encourage and bless me.
So perhaps you might see your meeting as a coffee date with an eager bride-to-be, but God sees it as service to Him. He counts it as obedience, and He's no man's debtor. He will bless your effort when you step out of your comfort zone, for His sake.
4. Wedding night mentoring reminds you of your own.
By far, this is one of the best outcomes when you help a bride work through wedding night and newlywed anxieties; it reminds you of your own.
Memories of your first night are good for your marriage; you cannot sit across a dreamy love-struck woman and not be stirred deep in your soul. Walking with a bride inspires you to do better to rekindle your love.
And if your first night was not a great experience, you can still use your experience to affirm another bride, to point her in the right direction if they experience challenges.
5. It helps the bride sift through unreal expectations
Remember your early days? Do you (sometimes) wish you could turn back the clock on some of the missteps? Wonder how it would have been had someone held your hand and shared real facts, not hype?
Well, offering these practical tips to an engaged woman does for her what was not done for you. Your not-so-great experience doesn't have to run down the drain unused.
6. It sets a new standard for her future.
I am passionate about marriage because someone else was passionate about mine. If you had asked me nine years ago where my life would be today, a marriage ministry and books would not have topped that list.
But God sent two couples to pour into our courtship and early days of marriage. A foundation was laid and passion was kindled. And here we are today.
As you help a wife prepare for her wedding night and marriage, you don't know what you are triggering. Our mentors had no idea where God would lead us; they were just trying to help us prepare for marriage.
As you spend time with an engaged woman or new bride and talk about sex and other sometimes-awkward parts of marriage, your ordinary act may be birthing extraordinary things in her life.
Since talking about sex can be awkward, I thought to include a rough guide to help with your conversation.
I have titled it, Girlfriends Talk because that's what it is; one friend sharing with another friend.
Girlfriends Talk: Questions for The Wedding Night
1. Start with personal prayer.
Ask God to lead you and share only what is necessary and beneficial.
Ask God to help you understand that you are only a vessel and your hope is for the bride to learn how to invite God into her marriage, including the marriage bed.
2. Talk about her wedding night s-expectations.
Most brides already have ideas and questions. If she doesn't, then perhaps she needs to put a little more thought into her upcoming marriage!
3. Share your story
Stories are one of the best ways to pass truths. Please leave out the delicate details. But share your thinking before the wedding, how you prepared for your first night of marriage and after. What would you change, looking back?
Be as practical as possible, like what to buy (and what not to waste her money on!), what to pack (I have a whole list in my upcoming book!) e.t.c.
Encourage and affirm, but be real. None of that "the wedding night is purely magical, don't worry it will come together all by itself." (because that is non-sense!)
4. Give her a resource
There are some things she would rather read for herself than hear from someone else.
My book The Wedding Night: Embracing Sexual Intimacy as New Bride is a great tool for personal-learning!
You may gift the book, close to the wedding and then discuss any questions she may have.
5. Understand most brides are not looking for textbook answers.
This might be uncomfortable to hear but your mess makes you relatable.
Your awkwardness let's her know you are human. Let her know you don't have counselor-type answers (unless you are a counselor.) You are just in the trenches with her.
If you find out she has deeper issues that need professional advice, e.g., sexual abuse in the past, please encourage her to get professional help.
Research and give her a number to call (e.g a church number, many churches have a list of recommended counselors.) Follow up with her. The goal of girlfriend talk is to be as useful as possible.
6. Understand she probably knows a few things
Even if she's a virgin, she's been around long enough, if she's of marriage age. Simply find out her fears but don't assume she's a blank slate and doesn't know a thing.
Respect her boundaries. That's why #2 is important. Once you figure out her expectations, you can work from there.
A few Pointers for your Discussion
Remind her;
– Sex does not work all by itself. There's effort involved in creating great intimacy.
– The wedding night is not the end, but the start of marriage. One of the best things she can do is learn to relax and have fun.
– If everything doesn't go as planned, e.g sex hurts too much, he's unable to get an erection e.t.c they can reach out for help. Most newlyweds are afraid to reach out for help because sex was hyped up to be something it is not.
It's okay to ask. Assure her she can talk to you about these things (be sure you mean it!) You might not have all the answers but you can pray with her and help her figure it out.
Your turn! What benefits have you seen in marriage mentoring?

Let's talk about godly intimacy and marriage! It's time to shorten the learning curve and enjoy sex sooner, not later! Check out "The Wedding Night: Embracing Sexual Intimacy as a New Bride" Click here to learn more and to find purchase links.
Psssst..during the book launch week (24th – 28th July), we'll have fabulous giveaways and a bonus to celebrate the release! Here's a peek!
The Bonus
This is for everyone who purchases a copy of the book during the launch week and emails me their receipt.
The Wedding Night Mentoring Guide – A brand new eBook which offers a friendly informal way for married women to talk about sexual intimacy with soon-to-be brides.
The giveaways
A Wedding Gift Pack and a FREE "how to create a DIY photo Booth" download from Simply Yours Wedding Shoppe. (The gift pack will make the perfect gift for your favorite bride! Plus the discount codes will give you access to fabulous deals to suit the rustic wedding!)
"Undefeated" T-shirt from All Things Through Him. Rob and Bethanie are a husband and wife creative team, designing tees to inspire a Christ centered conversation. During the launch week, they'll be offering a 20% discount code off your purchase! You'll want to check out their amazing and affordable clothing!
A copy of Prayers for New Brides, by Jennifer O White. This is an amazing resource for all brides who need to recognize the spiritual battle going on behind the scenes of our marriages. You can check out my book review here.