The Wedding Night: Embracing Sexual Intimacy as a New Bride
What if wedding night sex doesn't have to mean wedding night stress? What if we could lessen the learning curve and get you enjoying intimacy with your husband sooner not later?
You've thought about it, had the uncomfortable talk with fiancé, giggled with girlfriends, endured awkward hints from well-meaning friends. But you are no closer to finding the practical answers you are looking for.
Or perhaps you are a newlywed wife, struggling to wrap your mind around intimacy and how God wired you for sexual intimacy in marriage. You want to make intimacy more fun and less work but it's difficult because it's tough to be bold when you just aren't sure about things!
Well, search no more! –> LEARN MORE HERE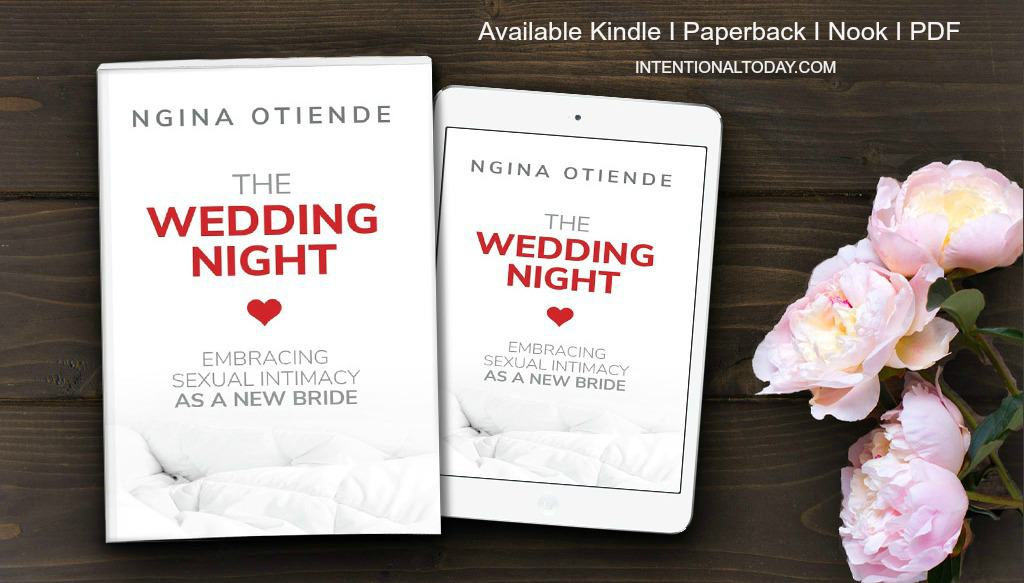 Amazon Kindle I Amazon Paperback I Barnes and Noble Nook I PDF 
Many brides dream about their wedding night but the first night of marriage can be a mixed bag of emotions for most brides. A lot of sweet expectations but also a lot of tension.
Nine years ago, I was the virgin bride; excited about first-time intimacy but antsy about the actual mechanics of sexual intimacy in marriage.
During the engagement period, I exposed myself to learning; books, mentors, discussions with my fiance. Still, the apprehensions remained.
The learning curve was steep!
After nine years of marriage, I now know we cannot eliminate the learning curve.
But we can shrink it!
I am thrilled to share what I have learned about newlywed intimacy in my new book The Wedding Night: Embracing Sexual Intimacy as a New Bride.
I appreciate how candid and straightforward Ngina is about her feelings and experiences in the bedroom. It's a great read for both men and women, and not necessarily Christian either. The book should assigned reading for pre-marriage counseling and first year married couples! Mae, married 35 years 
CHECK OUT THE BOOK -> Amazon Kindle I Amazon Paperback I Barnes and Noble Nook I PDF 

My wedding night was delightful. Breathtakingly beautiful. It was also awkward, physically uncomfortable and oh- so-new!
There was so much I didn't know about married sex (plus I was recovering from chickenpox!), and it was years before I learned some real facts about sexual intimacy in marriage.
Maybe as a new bride or bride-to-be, you have asked yourself questions like;
Can I be sexy and holy or are the two mutually exclusive?
Is it true that all men are wired to want sex and all women are wired to hate it?
We are unmarried but having sex: is it okay to continue having sex since we are getting married anyway?
I am a virgin. How will he fit?
What is an orgasm?
Does using contraceptives mean I don't trust God?
I seem to want more sex than my husband, is that normal?
How do I keep sex exciting beyond the wedding night?
I hate sex, and I am scared. What should I do?
In my book, you will glean answers to these questions and more!
What you can expect from The Wedding Night
-You will learn how to prepare emotionally and spiritually for married sex so you can be confident in your marriage bed.
-You will feel close to your husband after sifting and separating facts from fiction and obtaining practical answers to questions you haven't dared ask aloud.
-You will learn what to do when the unexpected happens on your wedding night and marriage. We can't completely eliminate the learning curve but we can prepare!
-You will learn some practical stuff and how to make sex feel good so you and your hubby can enjoy intimacy!
-You will learn to invite God into your married bed and how to pray over issues.
-You will learn the importance of saving sex for marriage and how to flip the switch once married.
-And much more!
Who will benefit from this book?
Engaged women and newlywed wives.
Are you ready to shorten the learning curve, find confidence and have an exciting start to married life?
BUY THE BOOK NOW
Amazon Kindle I Amazon Paperback  I Barnes and Noble Nook I  PDF eBook 
What are others saying about The Wedding Night?
The Wedding Night is a book not just for newlyweds but all the marrieds to. Hilda, married 8 years
Ngina knows how to say everything in a simple way that any lady can understand. Her honesty that is put across in a loving manner is a bonus! As a newlywed I will definitely be putting into practice what I have learned and will recommend this book! Sandra, newlywed wife
Frequently Asked Questions
Who can read The Wedding Night book?
Engaged women and newlywed wives. I encourage the engaged women to read the book close to the wedding.
Can a husband/husband-to-be read The Wedding Night?
Absolutely! Although I wrote the book with the engaged woman and newlywed wife in mind, there's plenty of information a guy will find useful. In fact, I have sections specifically written for you. And my husband wrote the Forward! That said, you may want to pick up the book close to the wedding.
Can a single woman who is not engaged read this book?
Because of the subject and content of the book (physical intimacy), I do not recommend it. A single woman who is not engaged can purchase it but keep it until such a time when she's about to get married.
Is some of the material covered in this book available on your blog?
A bit of the material covered can be found on my blog. But I have written much much more to make the purchase a valuable resource: the book has more new material than what can be found on the blog.
Can a married woman find value in The Wedding Night book?
Yes! The book not only covers foundational aspects of marital intimacy, but it also talks about how to nurture and protect your sex life beyond the wedding night so you can thrive. I highly recommend it to newlywed wives!
Is The Wedding Night book a how-to sex manual for married couples?
While I cover many practical aspects of physical intimacy, The Wedding Night is not primarily a how-to manual for married sex.
How do I read a PDF eBook?
You can read a .pdf eBook on your electronic device (phone, computer, e-Reader) or print it for easier reading. You can email the PDF copy to your electronic device – Kindle, or iPhone. For some phones, you simply opt to open your PDF downloads via Kindle and it automatically saves your PDF to read from Kindle. Some other devices require you to email your pdf to Kindle.
FAQ and Return Policy
Click here to read our Return Policy and FAQs
It's time to shorten the wedding night learning curve and enjoy sex sooner, not later. Get on the road to better intimacy in marriage Amazon Kindle I Amazon Paperback I Barnes and Noble Nook I PDF

Share these images on Pinterest/Instagram/Facebook!
Please use the hashtag #WeddingNightBook so I can find you! Right-click to save the image.
Facebook/Instagram Images
Pin these images on Pinterest!