So what makes marriage special?
The answer to the question can make the difference between staying married (or deciding to marry) or getting a divorce.
I know that's a bold statement, but here's why it's true: we stay married for the reasons we got married.
In other words, the reason we get married is often the reason why we stay happily married. If you don't believe marriage is special, you'll likely struggle to enjoy it or fight for it.
Today, I am going to help you explore what's so great about marriage. Specifically, we are going to look at what inspired your decision to get married and how you can leverage it for a happier union.
But before we dive in..
I can't think of a relationship more intimate, nourishing and life-giving than that of husband and wife.
We chose our partners for different reasons but a compelling reason for healthy matrimony is a relationship's "fingerprint."
By fingerprint, I mean the distinctive qualities special to your marriage: Characteristics, (often teeny-weeny) unique to your relationship, that made you believe you were meant to be together.
What is your relationship's fingerprint?
So let's look at what inspired your decision to get married!
My husband and I have a few unique reasons we thought we were meant to be together aka the stuff that makes marriage special for us.
1. We *almost* share a birthday!
He was born on the 29th, and I was born on the 30th. (Perk..no forgetting birthdays here!) Being born almost on the same day makes our love feel special.
2. We have a common vision
On our first casual date, we discovered a common thread to our dreams. We saw life the same way, down to the goals and ambitions. Suffice it to say; it wasn't long after that the sparks began to fly!
3. He's a deep thinker and doesn't rush to make decisions
(Except when the car in front cuts him off *sigh*)
I tend to think on my feet, and I am always in a hurry. Even back then, I was drawn to his deep and calm personality. And he was obsessed with my sparkly nature.
Our personality differences drive us nuts sometimes but we've come to appreciate the balance they bring to the relationship. Through them, we see God's love….and humor!
Now, let's talk about what makes marriage special for you!
What are some of your unique relationship dynamics? (Think quirks and setups!)
To help you process, we'll coach around the question in three steps.
1. First, I want you to think about three simple reasons you decided to get married
We all have big reasons for marriage and those are great! But here I want you to think about the emotional and mental pull, the small things that made you think "well, only God could have organized that!"
Surprises and delights you couldn't have planned for but which form the tapestry of your love.

Was it his kindness to a stranger? Your shared love for travel? The way everything fell in place for you to cross each other's paths? Do you share a birthday month..or even a day? The way his calm complemented your heat?
What are some of your small and quirky reasons for marriage? Again, think small, but oh-so-breathtaking. Write them down.
2. Inspect your motivation
If you are going through a rough patch as a couple, ask yourself;
How will what I knew then (#1) change how I respond to marriage difficulties now? How will these memories (#1) change how I fight for my marriage today?
What one thing can I do today to help us grow from where we are to where we want to be?
The purpose of the activity is two-fold. 1) To help you change the lens through which you see your marriage. 2) To help you snap out of stagnation and feelings of helplessness.
3. Focus on the larger goal
If your marriage is at a good place, ask yourself:
What can I focus on to preserve and develop my marriage? What does step 1 of that focus look like?
The goal of this exercise is to help you develop intentionality. Without marriage-positive affections and priorities, your marriage will stagnate.
As you can see, it doesn't take much to make marriage special
Sometimes, we drive ourselves crazy, looking for a miracle pill to make our unions successful. All the while, the answer is right under our nose.
One of the things I love about making marriage special is its simplicity. It doesn't take much. It's the small things, accumulating over time, which create a breathtaking connection.
Like Author Gary Thomas says
The healthiest marriages aren't lived by those who obsess over their marriages.
If you can remember and practice the simple things that got you married, you are well on your way to lasting bliss.
Today, you can begin to seek and nurture your special characteristics and start to see the reason for your marriage.
You don't have to settle for a blah marriage!
If you are feeling overwhelmed by the stress of marriage but don't know how to work through frustrations without losing your mind, I want to help! As your marriage coach, I want to help you create a healthy, vibrant marriage!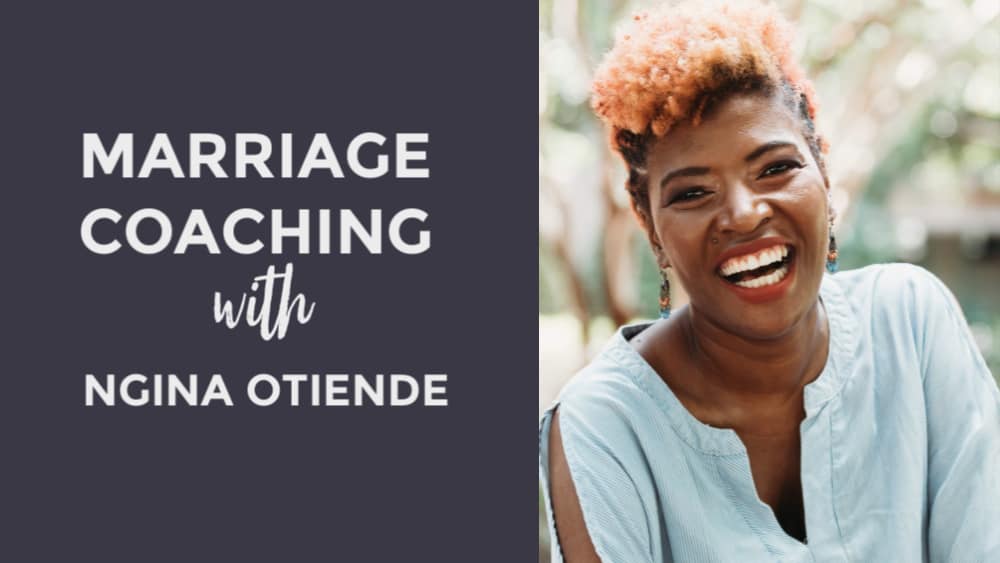 You (yes, you!) can break cycles of miscommunication, kick out mediocrity, and enjoy marriage again! Here's what one wife had to say after our marriage coaching session
I loved how Ngina challenged me to analyze myself to understand the root of my problems. I was able to identify and understand my weaknesses. I then was able to come up with strategies to work on those weaknesses in the healthiest way possible.
Let me help you have the best relationship possible. Sign up here.