What do you do when you want to give up on marriage?
It's easier to work on marriage issues when there's willingness and goodwill from both spouses.
But what happens when one spouse is unwilling to put in any effort? What happens when he is the problem but won't admit it? (even blames you for it?)
As a marriage coach, I talk to wives who are ready to hit the eject button, because marriage hurts.
It's one thing to hurt but feel like you are making positive progress, quite another to hurt and feel like you are the only one who cares.
For the newlywed wife, the early years of marriage can be tough in many ways but the biggest challenge is often the "early" part; as a couple, you haven't developed the muscle, goodwill and perseverance to weather harsh storms together.
But I want you to know that God can use the things that were meant to hurt you to strengthen you. He can turn the tables and lay a stronger foundation for the rest of your marriage.
Let's dive in.
5 things I want you to remember when you want to give up on marriage.

1. It's okay to feel disappointed
The Bible says to be angry but not to sin. Ephesians 4:26.
It's okay to grieve.
Unfortunately as Christians, sometimes we struggle to admit we have emotions. In fact, we feel like the less emotions we feel or display, the more spiritually mature we are. So when we are upset about marriage, we start to feel very unchristian or immature.
But the truth is, we are to grieve at sin and any un-Christlike behavior in marriage. Certainly, we don't throw our emotions around but we allow them to galvanize us to God-action.
Years ago, God set me free when He told me that I am better off bawling and having a fit at His feet, than going off by myself to weep and maintain dignities.
Expressing your emotions in a healthy way is good for your marriage.
When you stuff up everything, with no release whatsoever, it becomes a hindrance to your communication. (Can all wives who have attempted conversation in the middle of an anger fest wave a hand?)
So talk to God, tell Him how you feel. Allow yourself to grieve and remember that God is not disappointed at you.
Sometimes we have to feel the depths of our despair to begin to make sense of where we are and what we need to do.
Sometimes we have to feel the depths of our despair to begin to make sense of where we are and what we need to do.
2. When you want to give up on marriage, reach out for help but..

Whenever we have interpersonal problems, the first person we should take it to is the person we have a problem with.
Ps: If feel unsafe bringing up a conversation, please seek help immediately. Make sure to bring up your concerns in the presence of a safe third party.
For the rest of us, we need to understand the importance talking to the person we have grievances with before we involve a third party.
Attempting internal resolution first is helps you not to isolate your husband: No one likes to feel ambushed. Further, a mentor or pastor cannot have the conversations you need to have with your husband.
It's a lesson I learned the hard way as newlywed wife. After counseling and input from mentors, I'd sit back pretty, expecting my husband to remember all we were told without us having to sit and hash out solutions.
It could be said that I was waiting on my mentors to do marriage on my behalf.
But outside intervention is not a substitute for inside work.
Can I be real with you? Sometimes, especially in the early days when your husband is coming to his own, the last thing he wants to hear is your opinion, again.
I am not saying he's right. But I am suggesting it helps to have a new voice speaking into your husbands ear.
Many wives struggle with that concept because "Dude, you married me!"
There's also the reputation struggle. "But we are newlyweds, what will people say when they find out we are doing marriage counseling?"
Then there's the shame "Our pre-marital counselor did an excellent job preparing us for marriage, we are such a disappointment, we can't go back to them now"
And finally, "My husband has forbidden me to talk to anyone about our struggles."
Well, lets start with #1 "You married married me, why won't you listen to me?".
Please understand, your husband is learning how to be a good husband. He needs a lot of input and will benefit from watching how other men do it.
A time will come (believe me it will) when he won't need so much outside input.
But for now, don't be mad if he needs to hear your words through another mouth. Become his biggest cheerleader.
#2 "But we are newlyweds, what will people say when when they find out we are doing marriage counseling?"
There's no easy way to say this: stop caring what other people think!
Just.let.it.go. People don't care: for the most part, they have no clue what you are going through, unless you are broadcasting it. Nobody's keeping those kinds of tabs on your marriage (they have a whole life to live!)
And often God does a great job covering us, so much so that people will be surprised to learn you walked through such hard places.
Okay, maybe everyone is really all over your business. You have to ask yourself; "What would I rather have, a "good" reputation and a terrible marriage or a "soiled" reputation and a glorious marriage?"
It's your choice.
#3 "Our pre-marital counselor did a great job preparing us for marriage, we are such a disappointment, we can't go back to them now"
The mentoring you received was preparation for marriage. A good swimming coach does not abandon the student once they enter the swimming pool.
He might provide useful theoretical tips (premarital counseling) but he won't allow someone who has never swam before to get into the pool alone and swim effortlessly, based on the theory he provided outside the pool.
He'll do everything to help them practically, including getting into the pool with them so they don't drown (post-marital mentorship).
Your mentors have walked through the same messes, they've earned their stripes.
There's nothing new under the sun! They want to help you because they know you need them more.
When you want to give up on marriage, don't just walk out: Get over that shame and ask for help.
#4 "My husband has forbidden me to talk to anyone about our struggles"
When it comes to keeping things under wraps, "because husband said so" most people are thinking about the verse in Ephesians which reads "understand and support your husbands in ways that show your support for Christ." (Ephesians 5:22 MSG)
But simply picking one text of Scripture, without looking at other texts so we can get the whole counsel of the God isn't right.
In this case, Acts 5 adds another layer to Ephesians 5. In Ephesians, we read how Peter and other disciples got into trouble when they continued preaching about Jesus after being warned by the authorities not to.

They were hauled before the full assembly of the elders of Israel. But they declared "We must obey God rather than any human authority" (Verse 29).
A lesson for marriage? Whenever human authority goes against God's authority, we are free to disobey human authority.
As a wife, you cannot allow your relationship to struggle and limp while you do nothing in the name of obedience and submission to hubby.
Instead, ask God for boldness to respectfully share your heart, to stand your ground and seek help. Pray that God will give you the right words so your hubby hears the spirit of God.
If he refuses to meet with the counselor/pastor or mentor, go by yourself and get the help you need for yourself and your marriage.
3. When you want to give up on marriage, don't be paralyzed by fear – Take prayerful action.

Everything begins and ends in prayer; difficulties are not a cue to abandon God and start looking for options "because God didn't work".
Sometimes we pray so hard against difficulties in marriage that when difficulties arise, we think prayer didn't work.
Like I once did, you may believe that being a Christian couple insulates you from all trouble and challenges.
But consider Jesus, the most spiritual person that ever walked the earth.
He knew sorrow, pain, abandonment at a level we'll never know. We see how these things revealed a depth, reliance and intimacy with the Father. Luke 22:39-46
If Jesus went through these kinds of difficulties, and we are His disciples, whats makes us think our lives will be any different?
So to the wife who needs breakthrough: Get on your knees and cry out to God. Not once, not twice. Continually. Talk to God about how you feel. Find out what God says in His Word.
And then listen. Listen because God will begin to tell you things, give you steps to take.
He might ask you to be the mature one in the relationship and go the extra mile, or He might ask you to wipe your tears and do what He tells you to do.
God can change the dynamics of your marriage through us. Remember you and your husband are one flesh. God can access both of you through one of you.
He can access your marriage and your husband's heart through your words, your actions, your habits, your prayer, your bravery.
Ps: Please note I am not saying you expose yourself to danger or allow sin to run rampant. See #4 below
4. Remember you are not to blame for your husband's issues.
Sometimes wives pressured to take responsibility for their husbands issues.
But don't take responsibility for things you have no business taking responsibility for. A false sense of responsibility will have you fighting for and covering your husband where you shouldn't.
If he has left the marriage, he deserves all the calls and rebukes from his friends. If he's refusing to work and watches TV all day, he needs to change!
If he's breaking boundaries with the opposite sex and thinks nothing of it, he needs serious censure.
Don't cover for him. The embarrassment or shame he's going through, or will go through is not your fault.
Maybe you married him knowing he has a porn addiction or he's abusive or he's alcoholic. Now that's something you can take to God or admit your failure to exercise careful judgment.
But that is not the same as believing you deserve to be lied to and cheated on and abandoned or abused.
His problems are his problems and you need to approach them from that angle.
(*If he's abusive, seek help immediately and remove yourself from danger)
If you think you are to blame for his issues, you'll hardly make any progress because you are focused on the wrong person. Not that you have nothing to learn in the season, but you must separate his problems from yours.
You cannot do your job (as a Helpmate) if you are limping like your husband.
So fight to stay healthy! Refuse to take responsibility for his choices and actions. Call him out on it, with love and respect.
You are in his life for a reason, the same way he's in your life a reason. Ask God to help you see the issues from His perspective.
5. When you want to give up on marriage, don't give up on God.

Maybe your husband has abandoned you, even filed for divorce.
You likely don't want a divorce but it's important not to assume you can change your husband's mind. You see, change is a personal decision. He needs to decide what he wants.
My heart goes to you and I pray that God will turn his heart back to Him and his marriage.
If you are in this situation, please continue to pray. Surround yourself with good trusted counsel. But most of all, lean on God and rely on Him. No one can understand your pain and brokenness and fill you with hope like God can.
I don't know what lies ahead but God is already in your future. Your marriage may limp but God never fails.
Maybe your husband is at home but things don't feel any better..it's like he's checked out. I want you to know that your relationship can change as you work on it.
I know it feels like things will never change (and it's likely why you want to give up on marriage)
Like the woman with the issue of blood, it feels like your troubles have been with you forever and there's no hope.
I can speak from experience and tell you that God changes hearts. You are in the perfect position for a miracle.
So don't quit.
Keep putting one foot in front of the other, celebrate small steps of victory, continue to walk with your counselor or pastor, keep doing your part, keep your eyes on God, not on the marriage.
As you do your part, God will do His. You can't change your husband, but God can.
Winding up..

As you think and plan, please plan from a position of hope, not defeat.
It's not possible to share everything in a single blog post (this was long!) but I've laid it all out in in my book Blues to Bliss: Creating Your Happily Ever After in the Early Years
If you are wrestling with the overwhelm of new marriage and are desperate for a step by step guide to put an end to the confusion and misunderstandings (or maybe you just want to understand marriage so you can love better, create the relationship of your dreams, God's way) my book Blues to Bliss: Creating Your Happily Ever After in the Early Years can help. Pick it up here Amazon I Barnes & Noble I PDF (If you know someone who is going through a difficult time and wants to give up on marriage buy them a copy as a gift. )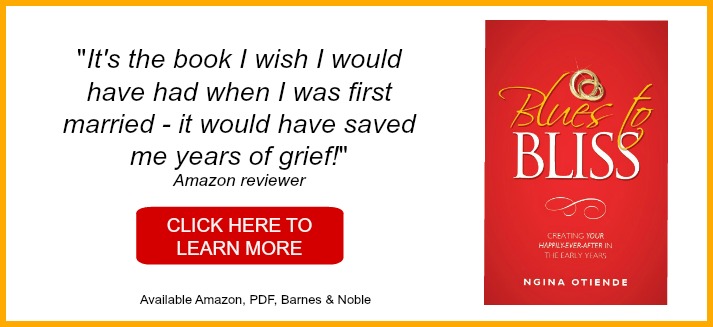 Question – What encouragement can you add? What one thing has made the biggest difference in your marriage especially when you felt "I want to give up on marriage "? Lets talk in Comments.
Sharing with Wedded Wednesday
Save
Save