When a wife is older than her husband, outsiders tend to look at their relationship with suspicion and doubt. 
I recently received a question from a reader, who wanted to know how to navigate age-difference in a relationship, primarily where the woman is older than the man.
People largely tend to get attracted (and eventually marry) similarly aged partners.
One study, done using online dating data found that both men and women are more likely to contact similarly aged partners. Additionally, both genders tended to avoid pairing in which the woman is older than the man.*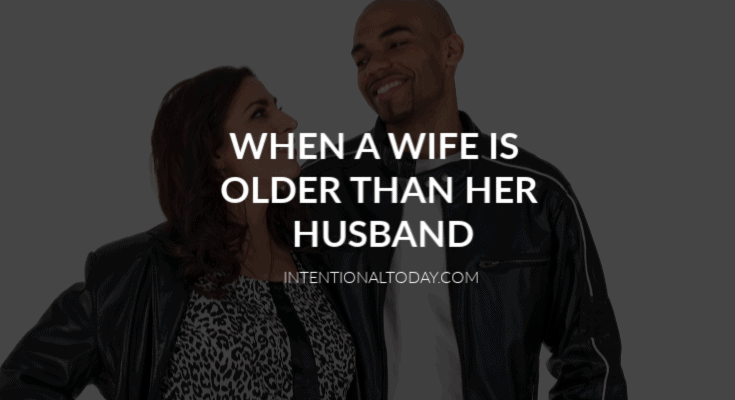 Society for the most part looks at a relationship where the woman is older with a little skepticism and suspicion, compared to a relationship where the man is older than the woman.
The distrust is confusing and annoying for the married couple.
So, let's look at 4 ways a couple can navigate the "reverse" age gap where the wife is older than her husband.
When a wife is older than her husband: 4 ways to navigate their age gap
1. An age difference where a wife is older than her husband becomes a problem when the couple makes it a problem.
I am three years older than my husband. When we started dating, our mentors asked us how we felt about our age difference.
I was born and raised in Kenya, a highly patriarchal society, where men play (or are perceived to play) the dominant role in society. An older-husband-younger-wife is viewed as the proper way of marriage because of that preservation of power.
Where the woman is older, some people feel she will want to "wear the pants," which upsets the customary dynamics.
But then-boyfriend-now-husband and I thought different and communicated the same to our premarital counselors. They believed us but they were not going to leave it at that.
One of them asked us to investigate our true beliefs: Apparently, it was one thing to say age was not a problem, quite another to act like it.
"When you make the age gap a problem in your mind," He explained, "It will become a problem in your marriage."
Whenever we ran into a marriage problem, we had to decide not to blame our age difference. Our approach to resolving issues would forever be skewed for as long as we allowed thoughts like "He isn't getting it because he's young" or "She is trying to lord it over me".
We could not just serve up lip service; we had to believe that our age difference did not matter.
It was asked of us, if we would be willing, from that day forward, to commit to never thinking about our age difference, ever again.
Honestly, we thought he was being a little extra, but now looking back, we appreciate what he did for us. He helped us draw a line in the sand; making a solid commitment to change the way we looked at ourselves and the relationship.
Couples –where the wife is older than the husband– have to commit to not making age an issue in their mind. They have to realize that you can love someone while still harboring confusing and suspicious thoughts about them.
It is important, right out of the gate, to review your thinking and see if it aligns with what you say.
Age is an issue when you make it one. We can have so many excuses in our marriages for why things are not working out and age is one of those crutches.
For the couple where the wife is older, they have to identify age as a possible crutch, commit to each other and in advance, decide to never to use it as an excuse or weapon.
2. A generational age gap can be more challenging.

I am older by three years but we (husband and I)  still grew up in the same generation.
We listened to the same music, watched the same TV shows, and went through the same fashion styles, spoke the same slang etc. Further, our parents were from a common generation too, so our upbringing was generally the same.
Because we are from the same generation, we have a common outlook on life. When he talks about 90's hip-hop, I know many of the artists. When I talk about the hard life of boarding school, he gets it. We reminiscence about the foods we ate, the games we played, and the music our parents and older siblings listened to.
For couples with a generational age gap (10+ years) , these familiar and/or common threads begin to fade. In fact, the bigger the gap, the bigger the fade.
If they are not on their guard, what they value, how they see life and their different experiences can begin to grate on their relationship.
Consider a man that is 23 years old married to 34-year old woman. Early twenties is a different mind-space from mid thirties.
Friends, fun, education/starting a career and adventure might be high up on his list. On the other hand, his 34 year old wife might be thinking about savings, starting or raising a family, better decision-making, and a meaningful and sustainable pace of life, among other things.
Also, women, in general, tend to mature faster than men do. They also happen to have a stronger nurturing instinct. These great traits, when navigating relationship issues, can turn into controlling and mothering.
When you are an older woman married to a younger man, you have to watch certain inclinations-Have your wisdom and experience benefit your marriage but also be on guard against power-plays.
The husband also has to see his wife as an equal, not as a mother or someone who will bail him out of growing up and taking responsibility.
You most certainly can work through these challenges, as mentioned in #1. However, you have to be aware and proactive so you have a plan for how to navigate your differences – decide to never compare your marriage or wish you were with someone your age.
3. A couple needs to own their decision concerning the age-gap when a wife is older than her husband
When first asked about our age difference, I answered, "We are okay with it. But maybe I need to check with my family, see what they think?"
Not quite the fabulous reply.
Now my family had no problem with our age difference. The problem was that I was using them as my filter instead of owning my decision.
When you are an older woman married to a younger man, you have to stare your decision in the face and own it. Not just at the beginning but throughout your marriage.
I personally was not scared about marrying someone younger than me. Nonetheless, I was a culture-pleaser and did not desire the label "cradle-snatcher." I wanted people to think I had made a great decision.
Unfortunately, the general culture is not kind to couples with a "reverse" age-gap. More often than not, people tend to question couples where the wife is older because they do not think their love is real.
To them, the man is being taken advantage of. Or the woman is of a loose moral character. Or she's just trying to relive her younger days.
Some younger women even get upset because they feel like she is "dipping her fingers" into their dating pool and she stick to dating and marrying someone her own age.
Couples, especially those with a noticeable age difference (where people can tell the wife is older), have to be okay with their decision because culture and the people around them will definitely push back on their choice.
They will try to dismantle their love, or at the very least, wear them down and sow seeds of doubt.
One of the ways a couple can withstand this pressure is through honesty – thoroughly look at their own hearts and see where these cultural beliefs are shaping their thinking.
Unless you kick out the views out of your own life, you'll have a hard time shutting out those outside voices.
4. An age difference can provide advantages other couples might not have.
For the man, there's a plus to marrying an older woman. Seriously, there is.
She's lived a little longer and as a result is more mature, less likely to fuss at little things (which is gold). She might be more advanced in her career, and that's good news for the marriage's finances.
She brings real-world experience, which might help the husband get further, faster than his peers.
There are advantages for the woman too. Her husband is bringing a vibrant fresh perspective that is otherwise missing when people are similarly aged. He's likely more adventurous and open-minded.
Women who marry younger men tend to be fun loving and young at heart. Thus the couple enjoy a blend of maturity with a dash of youth other couples might not have.
When your husband is younger
My husband and I have not experienced any issues due to our age difference. It might be because our age gap is small but I really believe it's because we made a solid decision, way back, not to make it an issue.
We changed the conversation in our heads and our action made a difference in how we approach marriage.
I believe the most important thing, when looking for a marriage partner, is finding someone with whom you share common values, interests, and a vision. These are far more important, I think.
So to the couple where the wife is older than her husband, rock on. Age is only a problem when you make it one. Look at your different perspectives as assets, not as hindrances.
Remember what you share in common and use that as fuel for when you need to adjust and grow.
A final thought before I wrap up – we have to accept that older single women do not have as many options within their age group. When a single woman is in her mid-thirties, and upward, many men within her age group are likely married.
It just makes sense to open up to the possibility of marrying someone younger because then it opens up a whole new dating pool!
I would love to hear your thoughts – What was not covered in this post? Are you a wife who is older than her husband, and how are you navigating your age difference? What would you say to single women who want to get married but are nervous about dating a younger man? Let's talk in comments below!
Madly in love with your husband but suspect marriage can be better?
Are you the imperfect girl married to an imperfect guy who is tired of fighting and fussing? You just want healing and happiness, encouragement that marriage can be better.
Blues to Bliss: Creating Your Happily Ever After in the Early Years
walks you through the 8 common hot spots of new marriage, gives you practical skills to help work out the kinks and shows you how to positively influence your marriage and create the marriage of your dreams. Buy it here
Amazon
 I
Barnes & Noble
I
PDF
.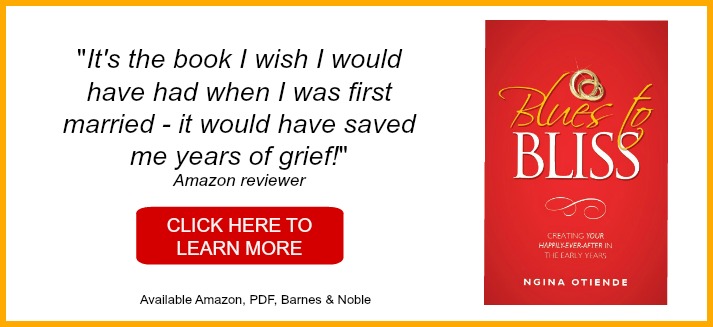 *Source The Marital Satisfaction of Differently Aged Couples