When do you do when you are not attracted to your husband anymore?
While, many people try to value character when dating (and that is a good thing!), chemistry and attraction are also important.
Single women write to me, sharing about a lack of attraction to a guy who really likes them and who checks all the excellent-husband boxes.
They are confused and ashamed because they do want to get married, but unfortunately they have zero feelings of attraction towards the guy.
My advice has always been, "Do not get married without some physical chemistry."
I truly believe that if we are truthful about chemistry and attraction before marriage, we will be better at being honest about it in marriage. However, if we are skittish and ashamed, we will likely struggle to navigate the feelings in marriage.
When you are not attracted to your husband anymore
While marriage is a spiritual and emotional relationship, it is also highly physical.
Today's thoughts are for the wife who feels the loss of chemistry due to his physical appearance, specifically weight gain. She's ashamed, doesn't like what she sees and feels because she loves her husband.
So she just wants practical ideas on how to navigate her feelings.
We are using weight gain as a jump off point because weight gain in marriage is real. Some studies have suggested that people tend to gain weight in marriage due to a heightened sense of security.
General feelings of happiness, larger meal portions or simply eating over longer periods of time are also contributing factors.
According to the CDC, "The prevalence of obesity increased from 30.5% to 42.4% from 1999–2000 through 2017–2018" Source
Generally, we are getting heavier. And where weight gain becomes a problem in marriage, we need to learn how to have healthy discussions about it.
We don't solve an angst by pretending it doesn't exist. Guilt and shame are not the greatest motivators for change, for most people. So it's better to be honest and hold our feelings to the light and discover how to grow and change.
So let's dive in!
12 practical ideas for when you are not attracted to your husband
1. Sometimes we do not feel a physical attraction because of how a spouse is behaving relationally.
I think it is important to point out that how we feel about someone is often related to how they treat us. For example, according to his wife, Mr. Trim-and-muscle who treats her like trash, would have a physical attraction level of next-to-zero.
Meanwhile, Mr. Slightly-heavier who adores his wife will be blowing up the charts, in terms of attractiveness to his wife.
Physical attraction is not always about how someone looks physically. It is a mixed bag of factors.
Consequently, it is always important to dig below the surface when you feel a loss of appeal to your man. Otherwise, you might navigate past his physical looks to only continue struggling with chemistry.
Think through your loss of chemistry: Sure, he has gained some weight but is there something else you want addressed too, and the easiest thing to pick on his physical appearance?
How is your emotional, mental, financial, social, and spiritual connection? Once you address other relational dynamics, you might find your physical connection beginning to change.
2. Be honest about it
When you are not physically attracted to your husband anymore, or the draw is waning, the tendency is to skirt around the issue, dropping loaded hints and hoping he will eventually get it.
But chances are that he won't get it. In addition, your hints may be more frustrating than helpful.
By being honest, I don't mean blurt out, "You are fat, and I am not attracted to you anymore; You need to lose weight so I can find you attractive." That's immature. Being mature means balancing honesty and sensitivity.
Are you concerned about his health? Are you worried he's let go of some things that used to be important to him? Do you feel unloved because he's stepped back on taking care of himself physically?
Then talk about those things.
If we are truthful about chemistry and attraction before marriage, we will be better at being honest about it in marriage. 12 ideas to help you navigate loss of attraction in marriage
Most guys would prefer to be told where to improve rather than be given the run-around. It's easier to understand solutions when you know where the problem is.
So don't nag him about watching too much TV or drinking too much soda and chips. Instead, talk about how you enjoy evening walks and how they help you both stay in shape.
As you walk, hold each other's hands (build that physical connection) and talk about your health concerns and his wellness goals, and how you can support him.
I have a few posts where I share ideas on how to communicate in marriage with an uncommunicative spouse as well as tips for better communication in marriage (in which we talk about how wives hinder communication in marriage.)
3. Don't just complain about a loss of attraction, do your part.
So you want him to start eating healthier, but you order take out four days a week. Or you want him to get control over unhealthy snacking, but you have unhealthy snacks all over the house.
I am not saying you can control his food or snack choices; you can't change your husband. But you can do your part.
And sometimes doing your part looks like forgoing some of the things you enjoy too. Maybe you love chips, but being supportive means letting go of them, as a way to support a healthier lifestyle.
Be the change you wish to see in your marriage.
Think about practical ways to support his health journey; Meal prep, cook at home, swap unhealthy snacks for healthier options, look up fun and healthy recipes, in the long run letting go of your unhealthy eating habits.
4. When you are not attracted to your husband, remember to adjust expectations.
For the most part, I am decisive and opinionated. My husband tends to process slowly and speaks when he has processed or has something important to say.
At the beginning of our marriage, I was frustrated when he didn't "take charge" and I would try to speak for him. We had pretty heated moments as a result.
Eventually, I learned that my husband and his wiring was not the problem. The problem was how I liked to be viewed by others. I desired to be seen as confident and in charge, and I got angry when my husband messed with my image.
In the same way, some people are super picky about their physical looks and appearance can pressure their spouse to value what they value.
If you are frustrated by how your husband looks, circle back, and inspect your own belief system, see if your expectations are realistic. It doesn't mean your husband doesn't need to get healthy.
He likely does. But you'll be addressing and taking ownership of your part of the problem.
5. Create some boundaries or new routines.
So let's say your husband is so heavy that some sexual positions are uncomfortable for you. Perhaps he tires easily and no longer enjoys some of the activities you used to do as a couple and which you loved.
When a husband drops off the scene, many wives feel the pressure to accommodate and yield. And sometimes "letting go" is exactly what a marriage needs. (It's not worth losing sleep over how he squeezes the toothpaste.)
However, there are other times when we need not compromise, where we might even need boundaries.
For example, if a husband is too heavy to be on top during lovemaking, a wife should insist on cutting out stressful positions. If he's stopped being active due to increased weight, the wife doesn't have to stop being active.  She can keep up with her active lifestyle without feeling like she's robbing her marriage.
For the most part, boundaries are a switch of mindset for the spouse who feels infringed upon. You are not as helpless, and you can make empowering decisions that keep you in charge of your own life.
6. Start having fun again.
We tend to sometimes focus on what is not working so much so that we forget what we love about each other.
Physical looks are not everything. I really believe that decisions, not feelings, lead healthy marriages. And we can lead our feelings. One of the ways we do that is by deciding to have fun together, doing those things that stir our sense of adventure and laughter.
As we enjoy our spouse, we begin to see the heart of marriage and other blessings of our life together. We begin to remember, even with a fluctuating attraction, that we married a person to love, not a body to feel physically attracted to.
Indeed, physical attraction is important as we've established, however we need balance.
We need to lead those feelings and not have them be boss of us. One of the ways we nurture attraction is by having fun together and enjoying our friendship and life.
7. Remember you can't force your husband to lose weight.
It's hard to feel attracted to a man you are trying to control. Period. You cannot mother your spouse and feel a high attraction at the same time.
I know it's hard to hear this, but you can't change your husband to make him lose weight. You loved him enough to marry him, and you have to love him enough to let him be.
Even when you are trying to do your part in his health journey, you have to watch yourself, so you don't slip into being the dominant controlling spouse.
I've talked about mothering your spouse and how to clip it. Make sure to read the post so you can fall back when you start to control.
8. You have to be okay with repeating the obvious.
We don't like having to state the obvious: we would rather our spouse do what they know to do without us asking them.
One of my husband's pet peeves is when I don't switch off the lights when I leave a room. It's quite obvious I should switch off lights, and I shouldn't have to be reminded. All the same, I forget all the time.
Recently, I began to think that maybe the reason I lack the mental-muscle-memory is because I grew up without electricity (in Kenya, on a rural farm).
When I finally moved and lived in the city, I lived in small studio-type apartments that didn't require me to switch off lights because it was just a one room, with separations.
The reason I am sharing this is to encourage your patience. It seems obvious to you that he should lose weight, but clearly, it's not as apparent to him.
At this point, you have the option of growing frustrated by his lack of initiative or accepting the role of an encourager, for as long as it's required.
My husband used to be very frustrated with my "forgetfulness" at the beginning, but now he just flicks off the light and makes mention in passing. Sometimes he doesn't even mention it.
While I still forget sometimes, it's gotten better over the years. If he was always mad, I think his anger and frustration would have clouded my motivation.
In the same way, remember it's his life. Do what you can do to support him, but don't get so enmeshed with his decision that you forget your role is that of a partner and friend, not parent or director.
Do what you can do to support your husband, but don't get so enmeshed with his decision that you forget your role is that of a partner and friend, not parent or director.
9. Watch your sexual, mental, and emotional boundaries.
Chances are, if you are not attracted to your husband, you have an image in your head that you want to be attracted to. The gap between what you have and what you wish you had creates room for unwanted third parties.
They might present in the form of a more attractive workmate or comparison that leads to diminishing love. However they present, you have to be on guard and control your thought life.
I have been writing and coaching about marriage for over ten years, and one of the biggest issues I have observed with couples is processing the difference between needs and wants.
I agree that married people should have healthy expectations of each other. Some of these expectations are foundational in nature and a marriage would really struggle without them. However other "needs" (and how they present) are not worth breaking a marriage over.
For example, when spouses talk about sex as a grave need, like they'll die without it, they are crossing into dangerous territory. Sex is important of course but it's possible to forego sex (or have less-than-satisfying sex) for a season.
(For those worried about this idea, think about all the single men and women who are not currently having sex. Or military spouses and long-distance marriages. Or marriages that will never have the traditional expression of sexual intimacy due to physical or mental illness- if sex was oxygen-level important, these couples would not survive.)
My point here is that even when you are not attracted to your husband, you can still connect on other levels and start (or stoke) new sparks in your relationship.

However, you won't be able to do that if your emotional walls are filled with pinup images of other men (including the one in your head.)
I have covered emotional affairs and 3 ways to stop them before they happen in this post. Make sure to check it out once you finish reading this post.
10. When you are not attracted to your husband, learn to accept change.
Neither my husband or I are the same weight we were when we got married. And a lot of things have changed and not just in the weight area.
If you are going to enjoy a long life with your husband, you have to accept physical change as part of a long marriage.
Some of the possible changes that occur as we age include "stiffening of blood vessels and arteries, bones shrinking in size and density, brain changes that may have minor effects on memory or thinking skills, skin thinning and becoming less elastic and more fragile, metabolism slow-down…" Source
Our bodies change as we age. Certainly we should pursue a healthy lifestyle but we have to be realistic about what we can expect from our bodies.
If you are slightly obsessed with his 23-year old body, but he's knocking on 40, you need to make adjustments. It might also help to pull up by a mirror and see your own body changes before you judge him too harshly.
Thank God for the benefits of a long life and marriage and accept the physical changes that come with it.
11. Accept his personality.
One of the topics I coach wives around is passivity in marriage. If you are married to a passive person, then chances are they are not very motivated in general.
If your husband is not very motivated in other areas of life, he might not be motivated to lose extra weight. Now, it is not an excuse for him to be unhealthy, but it's really to help you understand what is going on here.
I've seen wives get really frustrated with their husbands because he's passive in an area she's passionate about.
Then we talk about other areas or how we was when they were dating, and you discover the man has not changed; He's still the same laid back guy, but her expectations changed.
When you think your husband is not attractive anymore because he's added weight and you want him to lose some of it, think about the larger picture of his personality and the level of motivation you can expect from him.
12. Consider therapy.
Some marriage issues are too complex to navigate alone or as a couple, and that's when you need a third pair of eyes to see your problem and examine things you might be missing.
When you feel like you are not attracted to your husband anymore, consider talking to a mentor, counselor, or a close trusted friend.
Being overweight or not physically attracted to your spouse is not an excuse to leave a marriage.
There are other things you can do to increase connection, make marriage fun and restore that spark and joy in the process.
Overall, when you are not attracted to your husband, think about what you enjoy about marriage and focus on putting effort there.
Being overweight or not physically attracted to your spouse is not an excuse to leave a marriage.
It's probably not what you want to hear, but you can regain attraction in marriage even with a spouse who hasn't lost an inch.
Start by focusing on other areas you have in common. Do your part in supporting your spouse's healthy journey.
Check-in with yourself to make sure you have realistic expectations (for example, there's a heaven and earth difference between healthy and skinny. The former is a healthy expectation, but the latter is not.)
Pray and ask God to help your heart in this season. God knows you are already struggling with that, so it's not news to Him. But you need to get honest about it with Him.
There are many ways to wrestle with a loss of attraction in marriage but these 12 top my list! I'd love to hear your thoughts! What would you do if you were not attracted to your husband? Or what can a wife do when there's that loss of  chemistry? Let's talk in the comments!
Are you wrestling with the overwhelm of new marriage?
Or maybe you are madly in love with your spouse but suspect marriage can be better? Perhaps you are the imperfect girl married to an imperfect guy who is tired of fighting, fussing, misunderstanding and distance. You long for healing and happiness. There's hope! Blues to Bliss: Creating Your Happily Ever After in the Early Years will help you work through the kinks, find joy in imperfection, positively influence your marriage and create the marriage of your dreams, God's way. Buy it here
Amazon Paperback
I
Kindle
I
Barnes & Noble
I
PDF
.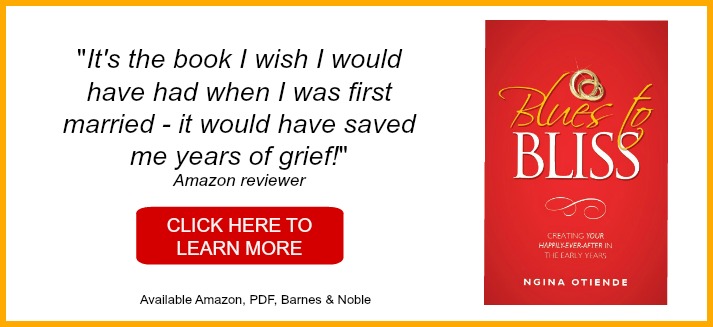 Image by Evie. S. from Unsplash