When The Honeymoon Doesn't Last – 3 Things to Remember
What do you do when the honeymoon doesn't last forever?
While the early years of marriage are fresh and exciting, they can be filled with hard work and sweat.
In fact, we are shocked to discover that the level of effort and work we put in to the relationship is directly related to the level of love and sweetness we enjoy as a couple!
While many couples enjoy a problem-free start to married life, others start on a more uncomfortable note. And it is to be expected because stranger + stranger = learning curve.
But whatever camp you fall under, we can all agree that once married, every couple has to adjust and re-define the concept of "honeymoon".
Today I want to debunk a few myths about why the honeymoon doesn't last.

Because so many people are walking into marriage hoping for peachy honeymoon, only to be hit upside the head with hard effort, right off the gate.
They are hurt and frustrated and terrified about the future.
Singles are scared of marriage because they don't understand how work and happiness go together. (If you are single, make sure you read this post where I explain a bit of that)
So why are the honeymoon years difficult? What do we do when the honeymoon doesn't last as long as we want?
3 reasons honeymoon doesn't last forever
1. Honeymoon doesn't last because you really didn't know each other
Oh you hang out and spent hours talking and staring into each others eyes. You got to know his family and his friends.
You spent a ton of money on your wedding. You feel like you know this person completely and they know you completely – maybe even better than you know yourself!
But then you get married.
Two different people, two genders, different expectations and life experiences. The idea that you will start living together and it will be a perfect fit all the time is, well..how do I say this ..preposterous.
I wish there was a way to sit with all newlyweds and explain the bumps and emotions as they happen. Perhaps I could say things like
Sweet friend, I can tell by the way you are holding that glass of water that you need to put it down. Because once you smash it (or God forbid, throw it) it will escalate everything. It won't resolve the frustrated emotions burning a storm in your chest. And by the way, those emotions are normal…."
But then I know that's why we have the Spirit of God!
And I will ask the Father, and he will give you another advocate to help you and be with you forever – the Spirit of truth." (John 14;16-17)

I had to let go of the idea that my husband and I were a flawless fit.
Oh it hurt!
You see, I believed he knew me. Like really knew me. What I liked, preferred, disliked, hated, everything. And I expected he'd put that knowledge to good use!
But the reality was that he knew a little about me – at least enough to want to marry me! But he did not know the other part of me, the real me.
The one that didn't like to cook, the one that liked to push his buttons, the one that would wake him up at 2 in the morning just "to talk". He didn't know (and neither did I) that I had daddy issues or would one day try to mother him.
Looking back, we should have walked into marriage with the following at the front of our minds: "Forget the person I knew yesterday! If they start behaving like a stranger today, they are just being themselves!"
It's not that getting to know one other before the wedding doesn't help. Of course, it does.
But we also need to recognize the friendship and courtship phase for what it is….bait-ish. It's the sweet crunchy thing that entices you into the real thing.. marriage!
And that, my friend, is why we take marriage vows, not wishes. Because after the wedding, we get enough reasons to want to bolt.
But your vow keeps you in place, working to create the marriage of your dreams.
Ps: Adultery, abuse (please get help now!) or abandonment are not part of a healthy marriage. They are not "marriage growing pains," the type of challenges we are discussing in this post. Get help immediately if your marriage is struggling in any of those areas.
2. Honeymoon feelings feel short-live because we have baggage
Some people are good at hiding their baggage while others have no idea they have baggage at all.
When a guy says "Yes" to the pretty girl standing by his side on the wedding day, he has no idea that he is also saying yes to the girl that was bullied in high school, yes to the the girl that was beat up by a boyfriend.
You have no idea you are saying "yes" to his scars, his heartbreaks, his addictions and bad choices that left him deeply ashamed.
Marriage is a place where we begin to unload our luggage. The honeymoon years consist of two people beginning to come face to face with issues and hurts they didn't know existed.
Some pains and issues will only be surfaced by a spouse.
So instead of bailing out at the first signs of trouble or the moment the honeymoon feelings take a dive, we should roll up ourselves and get growing.
3. Honeymoon is hard because in marriage we need God more, not less
I did not understand the depths of my sinfulness until I got married. As a single I was the active church girl, poured out in service to God and others.
The early honeymoon months began to reveal a person I did not know existed.
The Bible calls it iron sharpening iron.
I called it distractions.
As I came face to face with my responsibility phobic, childish, easily-angered side of me, I had a finger firmly pointing in the direction of my husband. I blamed him for my un-christlikeness.
After all I did not have marital messiness before marriage!
But God wanted me to turn that around. I wasn't saved any less as a married person. I was just more knowledgeable.
Marriage is a refining tool and we begin to feel the edge and refinement immediately.
You get married and begin to need God in brand new ways. And that's God's plan! It's not that He doesn't want you to have a great time in marriage and continue to nurture that honeymoon feeling.
He wants you to have a strong healthy marriage that will last a life-time. But that sweet thing we are looking for comes through being sharpened and molded into His image.
And that's why I think the honeymoon years of marriage can be messy!
Many times it's not because there's something horribly wrong or you married the wrong person. Sometimes it's simply because you married a person. Not an angel.
And if both spouse keep praying, keep believing and (very important) keep working on the relationship, they can create a marriage that feels like heaven on earth.

Christian marriages have an advantage because we have the Author of marriage on our side. Being a Christian is not insurance against trouble but it's a guarantee you'll have Christ by your side helping you get to a better place.
If you have not committed your life to Jesus or He is not Lord of your life and marriage, I encourage you to try Him.
If you declare with your mouth, "Jesus is Lord," and believe in your heart that God raised him from the dead, you will be saved. For it is with your heart that you believe and are justified, and it is with your mouth that you profess your faith and are saved. Romans 10:9 – 10

Tell me, how have the honeymoon years played out for you? What has been the biggest lesson of your marriage so far? Lets chat in Comments!

Are you madly in love with a man who drives you crazy some of the time?
I have covered this areas (and much much more!) in my book Blues to Bliss: Creating Your Happily Ever After in the Early Years. I wrote this book specifically for the newlywed wife who longs for a great relationship but struggles to develop the mindset and habits needed to grow a great marriage. If you are an imperfect woman married an imperfect man, this book is for you. Buy it here Amazon I Barnes & Noble I PDF.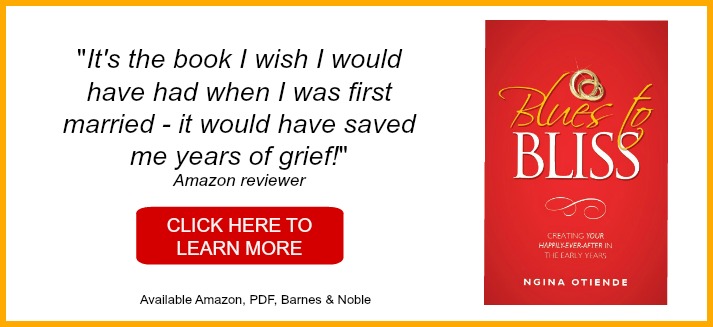 Linking with Wedded Wednesday, Wifey Wednesday
Image by Saksham Gangwar on Unsplash