What does it mean to declutter your marriage for a joyful Christmas season?
It's that time of the year when we deep-clean our homes in preparation for the holidays and visitors.
Because nobody want's a repeat of last year when little Joey dragged the findings of his scavenger hunt (i.e his ten minutes disappearance under the bathroom sink) right into Christmas brunch.
Scrubbing and cleaning the home is wonderful for the holidays. But our efforts shouldn't stop there.
It's Ashley on the blog today! Ashley is my regular blog contributor, and I've invited her to share some tips to help us declutter our marriages in preparation for Christmas:
Over a year, a lot of relational clutter can build up on your marriage.
Unresolved little conflicts.

Uncommunicated expectations.

Intruding life events that mess up your routines and rhythms.

Weeks or months of extra hours at work that eat at your time alone as a couple.
All these things pile up and lead to tension, disconnection, and resentment in the marriage. They jumble up your relationship before the holidays even begin.
I don't know about you, but I didn't put any of those things on my Christmas list!
With the holidays fast approaching, it's the perfect time to declutter some of those built-up issues and make room for the joy and peace of this season in your relationship.
While it's often regarded as the most wonderful time of the year, it can also be the most stressful time of the year.
Compound that with lingering conflicts or a lack of connection, and you've got a recipe for disaster.
Dealing with this relational clutter may seem like another thing to add to your list. But taking the time to do it might make your other holiday lists easier (maybe even smaller!)
So, here are five big things you should declutter in your marriage for a more joyful Christmas:
1. Grudges
Grudges and resentments act like wedges in marriage: The longer they sit, the wider they drive us apart.
But relational distance is the last thing you want during a season about Jesus, love, and family.
Whatever the issue that is silently driving you apart, it needs to be addressed within your relationship. Or forgiven and let go.
Here's how you know you might be resentful or holding a grudge (even subconsciously) against your spouse:
What pops to your mind whenever you're upset with them?
What trait or incident do you randomly joke about to your spouse or others?
These might be a clue that that thing you "let go for the sake of the relationship" hasn't been dealt with.
Before the holidays get in full swing, ask yourself if anything is lingering in the atmosphere of your marriage.
PS: It's okay to have "long-haul" issues: challenges that require more time, information, or resources to work through them. In this section, I am addressing silent grievances and animosities which wreck havoc in your relationship.

2. Uncommunicated expectations
After we got married, the first Christmas, my husband and I found ourselves scrambling to figure out our expectations at the last minute.
I expected more effort and extravagance from him, and he had no idea.
As far as gifts were concerned, we didn't discuss our budget or how to buy the gifts. So I ended up frustrated, running around Kohls on Christmas Eve because I thought he had purchased his family's gifts, and he thought I had.
Going into the holidays, each of you likely has a picture of how the festivities will play out, including family gatherings, the character and feel of the holidays, and those gift exchanges.
If you take the time to communicate your expectations now, you'll declutter any confusion or unnecessary stress from your holidays (and avoid last-minute Christmas eve shopping trips!)
If you are at the beginning of your marriage, this is the time to come together and set the tone for future Christmases: be crystal clear about what you want as a couple.
As you declutter your marriage in this area, consider the following questions for discussion:
Are we exchanging gifts, or not?

How will we budget for gifts for others?

How can we celebrate the birth of our Savior as a couple or family during this season?

Where will we be going and when to see family?

What traditions would we like to discontinue or add to our family?

What do you expect from me during this season?

How will we stay connected as a couple during this holiday season?
3. Declutter your marriage of over-commitment
The holiday season is often overwhelmingly busy, but it does not have to be. Just like any other time of the year, you and your spouse are in charge of your calendar.
You choose your commitments and what you say yes to.
As a couple, you only have so much bandwidth, and we all know that overtired, overcommitted adults are rarely their best selves. We basically become toddlers who need a nap.
As a couple, you only have so much bandwidth, and we all know that overtired, overcommitted adults are rarely their best selves. We basically become toddlers who need a nap.
Christmas is a time to slow down and savor our Savior. It is not intended to be stressful, overwhelming, and joyless.
If there is something you need to say no to or back out of, do it. If you need to set boundaries around your time as a couple and family, do it.
You don't need to attend every holiday gathering or serve in every area at church. Together, take a good look at your calendar for the holidays and declutter anything extraneous or burdensome.
4. Selfishness
The tendency to look inward or put oneself first is an ingrained part of human nature. It's both a survival instinct and a result of sin entering the world during the fall (Genesis 3).
But it is also something we're continuously reminded to keep in check. (Philippians 2:3; 1 Corinthians 13:4-5; 1 Corinthians 10:24; Mark 8:34)
The Christmas season is the best time to take a look at your own heart and see where selfishness has cluttered up your relationship.
Your first step here would be to pray and ask the Lord to seek your heart and reveal that selfishness to you. Repent of anything you find and seek forgiveness from your spouse if needed.
A great way to declutter your marriage (and your own heart) of selfishness is to find a way to serve this holiday season, both separately and as a couple.
Find a way to give back, whether serving at your church, in your community, or monetarily sponsoring or giving to families in need.
Here at Intentional Today (this site), we love Kings Kids Village, Kenya.

Kings Kids Village, an Encouragers Unlimited ministry is on a mission is to provide orphaned Kenyan children with a home where they can become part of a family again.
Kings Kids Village believes in keeping siblings together, in education, and imparting faith-based values.
It's only a few weeks before Christmas and perhaps your budget is bursting to the seems i.e there's nothing left!

Here are creative ways to create a little margin and be a blessing to someone in need:
Skip one favorite Christmas dessert or recipe.
Involve your kids (big or small) and tell them the story of KKV, which you can find

here

. Let this be their gift to a child in need.

Skip your regular cup at Starbucks (or any other daily splurge) for a few days.
In your Christmas gift budget, add KKV as part of your Christmas giving.
Empty the piggy bank or gather up loose coins around the house. Top up if needed. It adds up!

DONATE TO KINGS KIDS VILLAGE THIS CHRISTMAS.
Turning your focus outward will help to keep your Christmas season clear of selfishness and greed.
5. Unhealthy habits
Are there wholesome rhythms, routines, or habits you've let go of this year? Things you've done that serve your marriage that have moved to the back burner?
Have you picked up unhealthy habits, such as binging Netflix or picking up your phone instead of engaging with your spouse?

Have you started sleeping in on Sunday morning instead of attending church services (virtually or in-person?)

Have you let go of some of your household routines that keep things from getting chaotic or messy?

Have you started skipping your time with the Lord more often than you'd like?
It's time to declutter those negative habits and reset.
You don't have to wait until January 1st to re-implement the routines and commitments serving your faith and your marriage.
Doing the right things for us now always serves us better than the things that feel good at the moment.
BONUS: Declutter Your Marriage of Gift Pressure
This bonus tip has changed the way I view the Christmas season.
In the States, exchanging gifts is a normal part of the holiday season. A few years ago, my husband and I made a massive shift in our gift-giving.
We proposed single item gift exchanges with each side of our family (children excluded.)

We no longer exchange gifts with friends.
We decluttered the gift-giving pressure and shifted our focus away from the material. It has made our Christmases so much lighter and more joyful!
That may seem extreme for some of you. It was a hard transition initially, but lightening that load has so many benefits to your marriage and your time with family.
As you prepare for this holiday season, nip the scavenger hunt in the bud: Take a step back and evaluate these five areas before you get swept up in the swirl of holiday chaos.
Take time to ground yourself and your marriage now so you can enjoy this season and be ready to take on the new year.
Are you looking to declutter your whole marriage, one area at a time? Blues to Bliss: Creating Your Happily Ever After in the Early Years of Marriage walks you through the eight critical areas of marriage, offering practical skills to build a strong foundation for your marriage. Get on the road to a great marriage when you pick it up ->Amazon I Barnes & Noble I PDF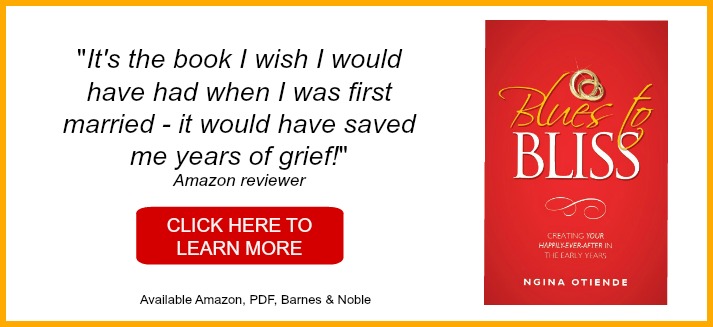 About Writer: Ashley Nicole Harris is a writer and Bible teacher, whose mission is to see women's lives changed by learning to know God intimately through His Word. She enjoys writing at Faithfully Planted , reading while sipping a La Croix, and enjoying God's beautiful creation with her husband of 7 years, Mark.